1st Year of Weekly Selections In Retrospect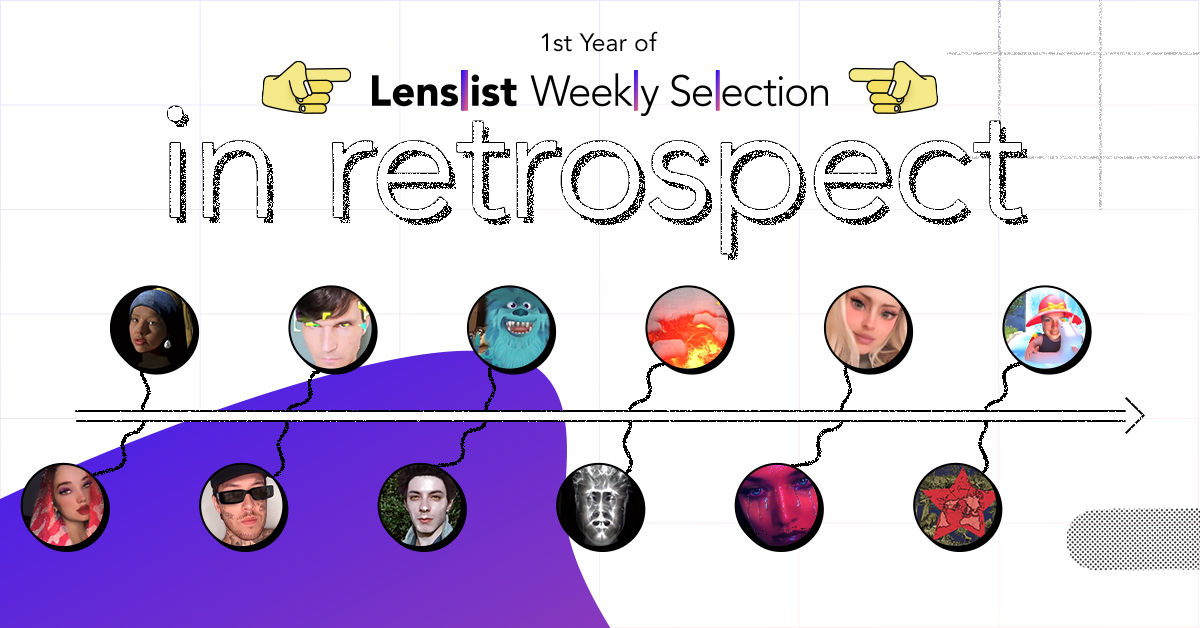 It's been a year since we came up with the idea of 'Weekly Selections' – our team's choice of freshly created Instagram AR effects, published every Friday. As we're extremely proud of how the Spark AR Community responded to them, we're taking a look back to celebrate this past year.
Weekly Selections became a true tradition of the community of Spark AR Creators. Every Friday for the past year, we've been releasing our selections consisting of around 50 Instagram AR Effects published during the passing week.
We've brought them to you as blog posts as well as Instagram stories and posts. From the 32nd selection, we added "related tags" in blog posts to boost your Lenslist experience. What's more, every effect selected has an adequate tag in our Lenslist database, eg. #selection53. You'll find the posters with the links to all Weekly Selections from last year at the end of this article 😊
Weekly Selections in numbers
Overall, to our 53 selections so far, we've chosen 2342 effects.
1734 of them were made by the community of Spark AR Creators as artworks, and 608 of them were published by brands, musicians etc. on their official profiles.
We're very happy that within a year, we've managed to feature filters by almost 800 Creators. We're especially proud of the fact that, even though we had many incredible regular visitors on our lists, every new Weekly Selection introduced an average of over 14 Creators that hadn't appeared there yet! This is why these selections turned out to be so essential when it comes to fulfilling our mission: promoting AR Creators.
Regular Visitors
There are many Creators in Spark AR Community who create incredible AR Effects on a daily basis. Many times, we've had tough decisions to make, and we're sure as heck that we've missed out on some AR masterpieces. We would love to mention every single one of you in this article, but for obvious reasons we can't, so let us give credit to those at the top of the list.
When it comes to studios, an absolute favourite was ffface.me with 48 effects. Other studios that appeared most frequently were locvs.solvs (21), atomicdigital.design (16), morphy.vision (16), popul_ar.experience (14) and areyes.studio (13).
When it comes to Creators, the most regular visitor of our Friday AR parties was Paige Piskin with 36 effects, and a close second was Ksenya Lozytska with 34. Here are those who visited our Selections 15+ times: Denis Rossiev (29), Adrian Steckeweh (28), Craig Lewis (27), Manu Borrero (27), Helena Bahdzel (23), Jonathan Pereira (23), Kyo Park (23), Gijs Wahl (21), Jeferson Araujo (21), and Isabelle Udo (21), Alessandra Matvejchuk (18), Florencia Raffa (17), Helena Dong (17), Aleksey Efremov (17), Elvina Boz-Ali (16), Anne Horel (15), Katya Pavlenko (15), Jorik Rosa (15), Daisy Citti (15) and Igor Ryleev (15).
💡 You can check out all selected effects of any Creator by searching Lenslist for their IG username and adding "selection", eg. "paigepiskin selection".
Why do Weekly Selections matter?
They matter to us because they give us an up-to-date vision of what's happening in the Spark AR Community. Those Friday publications established "research cycles" for the Lenslist team. For us, they also became the time of getting closer with our friends from the Spark Community and of getting to know new, talented Creators. Finally, we believe that Weekly Selections ultimately established Lenslist as the main up-to-date source of fresh AR filters for Instagram.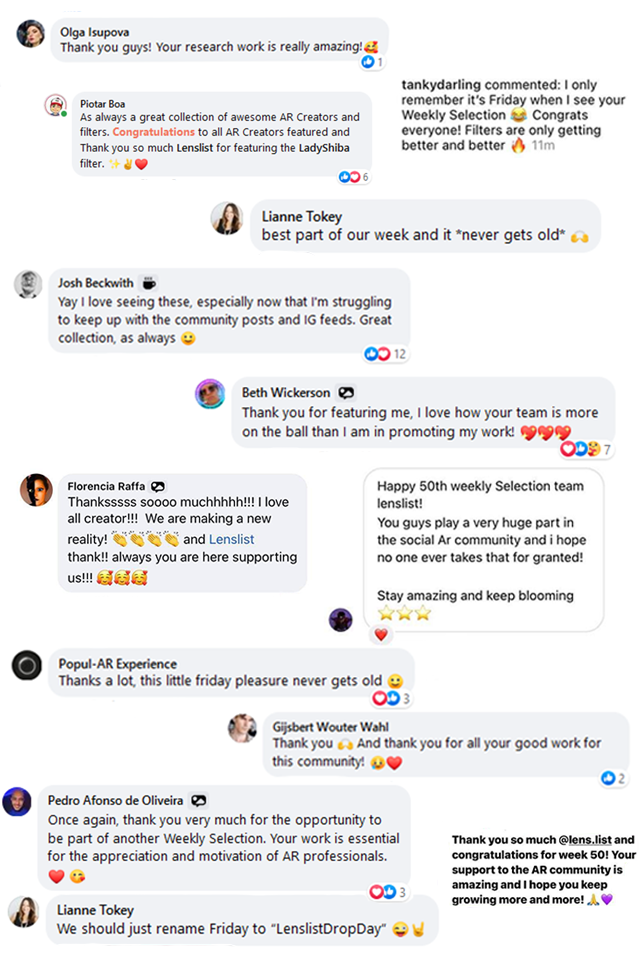 We now know for sure that they matter to the Spark AR Community, too. The "AR Fridays" with Lenslist's selections became an actual thing! We wouldn't count how many good thoughts and thanks we've received from you over the year! It's always nice to hear that our blog posts let some of you know that it's Friday 😅 To celebrate the 50th Weekly Selection, Roman Pillai created an effect especially for us 🦄
'50' by Roman Pillai
by lens.list
We want to thank every one of you – Creators and AR fans – for being with us during this past year. We're happy to add value to Spark AR Community, and we'll continue to do so 🙏🔥
---
Weekly Selections 2020/2021