Lenslist 2022 Rewind
2022 was a really busy year here at Lenslist, but we can't complain! It was a time well spent, and working with so many talented people was and always will be the best motivation for our team. 💞 AR technology is relatively new on the market, so we could say that we are constantly growing with it, expanding our horizons, and introducing new formats.
The beginning of the year is always the best time to sum up all that happened in the last 12 months and think about plans for the future. What have we achieved? What could be improved? 🤔 Those are the questions that everyone is asking themselves as the new year begins, and we are no different. From our beloved Weekly Selections and themed Challenges to new projects that were born this year, we made sure to engage as many talented Creators as we could. And analyzing the results, we couldn't be happier. With this Lenslist 2022 Rewind, we want to show you all the great things that happened this year.
Let's dive right into it! ⬇️
One of our biggest missions is to keep you inspired, and we believe that the best way to do that is through the experiences of those who went through similar paths. Every AR Creator has their own unique story, but they all are driven by passion and creativity. For us, the last 12 months were filled with different projects, made with the thought of motivating ARtists in our community to progress in their journey.
Events
Even though the internet is the foundation of the AR Community, it's always good to move some relationships from online to offline. 2022 allowed us to be a part of several events, where we could hear about ongoing projects, changes, and perspectives for Augmented Reality's future. Being present at the events was a great experience for us, and each of them was a big step forward in expanding the AR Community. In many cases, we shifted from strangers to friends.
AWE EU 2022 – Alongside 3 amazing Creators, Isabelle Udo (@videorbit.studio), Anne Horel (@annehorel), and Isabel Palumbo (@ls.studio.file), we hosted a special panel in which we talked about what it means to be an AR Creator in the modern world. Together we discussed how it's going to evolve in the context of Metaverse, and how the future is going to shape the Augmented Reality World. We exposed all details from the backstage on our Instagram stories, where we interviewed some of the creators and reported everything that was happening during the event.
ARfest 2022 – During the AR event in Prague we invited the Creators to learn more about Lenslist and its journey. We shared our story and unveiled behind-the-scenes of our projects together with the values supporting our work in the Community. In addition to the panels, we had some interesting interviews and documented on our social media everything that was going on in the background of the event.
Niantic Lightship Summit 2022 – we joined creators, brands, and agencies in a 2-days conference where we talked about the AR Community, and why being a part of it is so important. During the opening keynote of the conference, Hall Hoyt, Head of the Developer Community, announced the start of a challenge for the creators between Niantic and Lenslist.
Challenges
2022 was a challenging year – literally!
It's always more motivating to grow when there's a sweet prize on the horizon, and we see it as an excellent opportunity to connect with the members of our community. In 2022, AR Creators could participate in 6 creative challenges, prepared in collaboration with different platforms. Overall we distributed over $360.000 to our community! Looking back at the results, we can easily say that the Creators succeeded in showing off their talent, and thanks to the collaboration with our partners, we were able to not only notice, but also reward it.
Tomorrow Today

This challenge was a result of a partnership between Lenslist, Meta, UAE National Program for Coder's HQ, and Dubai's Museum of the Future. To join the challenge, Creators had to jump years ahead with their imagination and create a special AR effect based on challenge statements from two major brands: Emirates and Accenture. Participants could choose one of two ways to portray their idea: Mobility of Tomorrow or Opportunities of the Future.
Tomorrow Today Winners
Templates Challenge. Explore the Real-World Metaverse

Along with Niantic Lightship, we organized a unique challenge for the AR Community. The topic – Explore – was open for interpretation, so Creators could let the imagination run wild while discovering Lightship's possibilities.
Templates Challenge. Explore the Real-World Metaverse Winners
AR Fashion Month

You don't have to be in Paris or Milan to celebrate Fashion Week! In collaboration with Snapchat, we decided to reward Creators who designed a Lens in one of two categories: Digital Fashion or Make-up and Beauty.
AR Fashion Month Winners
Trick and Treat Halloween Challenge

In collaboration with TikTok's Effect House, we prepared a special challenge for our AR Community to celebrate the spooky season together. To take pARt, Creators had to design an effect linked to the Halloween season in any form – the scarier, the better!
Trick and Treat Halloween Challenge Winners
Showcase your Culture

Alongside Meta, we prepared a hackathon that allowed our Community to express their sense of culture. The subject was open for interpretation: Creators could think about family, friends, homeland – anything close to them!
Showcase your Culture Winners
Holidays Challenge

To end 2022 in style, we invited Creators to join a special challenge prepared with Effect House. December is known as the most wonderful time of the year for a reason: cozy fireplace, glittery party outfits, presents under the Christmas tree, and many more. All of it could become an inspiration for designing a unique Holiday effect.
Holidays Challenge Winners
Interviews
It's no mystery that Augmented Reality is powered by people. After all, they are the ones to make visions happen and we're glad that there are more and more of you! Your own stories can be the best learning tool for other Creators, especially in a community with that many different experiences on their journey to find Augmented Reality. That's why, last year we introduced two new video interview formats: Lenslist on AiR and Augmenting the mARket, where we talk directly with AR creatives about their stories and strategies.
Lenslist on AiR – Instead of writing about AR Creators, we decided to give them a voice of their own. We were honored to meet with so many interesting, creative and passionate people, who shared their stories and experiences with us! MANY THANKS TO Anne Horel @annehorel, Gijsbert Wahl @gijswahl, Mitsuko Ono @mitsukokubota, Denis Rossiev @enuriru, and Eugene Soh @dude.sg. ❤️🙏 It was a pleasure to talk with you, and we hope to see more of your work!
Watch all episodes of Lenslist on AiR
Augmenting the mARket – Last year proved that the use of AR in marketing and sales is here to stay, not only looking at the number of branded AR effects online but also how many AR agencies or studios were launched or grew their momentum in 2022. Sharing the marketing dos and don'ts, in this format, we talk about digital agencies that specialize in creating AR effects for marketing campaigns. We would like to send special thanks to Tim van der Wiel from GoSpooky, and Dima Kornilov from FFFACE.ME Agency for spending time with us and sharing their experiences!
Augmenting the mARket
Workshops
Possibilities of Augmented Reality sure grow fast, just like your knowledge and skills. New features and updates push us to expand our creativity even further and as we know how important it is to keep improving and learning, we're here to support you all the way. That's why in 2022, in collaboration with Meta and some of the most skillful Creators, we prepared educational Workshops for each challenge we did together. It's a great way to start your adventure with the AR world as well as boost the skills you already have. Let's see how it went!
World AR Workshop with Kym Fiala
This workshop was a special event hosted live as part of the Lenslist x Spark AR Tomorrow Today Challenge. Creators could learn about designing and publishing Effects in Meta Spark from Kym Fiala (@kym_fiala), one of the most known members of the AR Community.
Hand & Body tracking Workshop with Balraj Bains
Next to Kym Fiala, this workshop was also a part of the Lenslist x Spark AR Tomorrow Today Challenge. AR Designer and Developer, Balraj Bains (@balraj_bains), explained the process of creating a unique, interactive effect with the use of 2D Body Tracking and Hand Tracking.
Interactive World AR with Mitsuko Ono
In this workshop Creators could dive into the AR world as a part of the Showcase your Culture Hackathon made in collaboration with Meta. Mitsuko Ono (@mitsukokubota) took us behind the scenes of the creative process that allowed her to create one of her effects: "Nun the Wiser". In her tutorial, she focused mainly on the interactive World Effects.
Scripting Workshop with Beth Wickerson
As a part of the Lenslist x Meta Spark Showcase Your Culture Hackathon, Beth Wickerson (@bethwickerson) made her own tutorial on creating an AR Game, using scripting and interactive 3D objects.
Spaces
Each virtual space or gallery is a unique experience, made in collaboration with AR Artists to appreciate and spotlight their personal style, mindset and personality together with the best or favorite projects in their portfolios. In 2022 we had many opportunities to display their ARt, while also making it a fun experience for the viewers.
One of the best opportunities for making a virtual space was our inspiring interviews with the Creators. We were able to create a personalized display of effects made by Gijsbert Wahl (@gijswahl), Eugene Soh(@dude.sg), Mitsuko Ono (@mitsukokubota), Olga Isupova (@visualize.mee), and Kenichiro Takamatsu (@kenxxxooo). In 2023 we hope to see much more of their amazing work!
This year also some of our challenges were supported by virtual galleries showcasing the winning submissions. As a result, after 12 months we have 4 different spaces filled with ARt. If you missed any of the challenges, don't worry! You can still get spooked with Trick and Treat Halloween Challenge Gallery, check out the latest trends in the AR Fashion Month Challenge, see how the Creators are imagining the future or experience AR Culture from Lenslist x Meta challenge.
To make Weekly Selections even more special, we prepared virtual galleries for our favorite editions. Each of them has a really important meaning for us, and it was a great way to appreciate the Creators even more. You can still transfer to the AR world of Weekly Selection #80, #90, #100, and #111 , to explore our favorite effects in the most creative way!
Content features
AR is everywhere: from professional campaigns to everyday life, and with so much content, it's hard to imagine the whole process that has to happen for an effect to be born. That's why in 2022 we introduced 2 new formats that are focusing on the technical aspects of this journey. We asked the Creators directly how their AR experiences were created, where they got the inspiration, and what tools they are using in the process.
Branded Showcase – AR agencies shared with us a glance at behind the scenes of collaborating with big brands and creating effects for specific campaigns.
Creator's Case Study – We invited well-known Creators to share the process of making their favorite effects, so others could learn from their stories. They revealed not only the mechanical aspects, but also their inspiration, useful tips, and conclusions.
All Case Studies You Can Find Here
Weekly Selection
Another thing worth mentioning is Lenslist's Weekly Selection. It might not be a new format, but we are proud to say that in 2022 it officially reached 2 years! 🥳 Every week we are going through hundreds of effects to find new, creative minds with big talents and share with the Community our favorite picks! We hope that you enjoyed it as much as we did, and we can't wait to continue this series next year.
Social Media
Another thing we worked on last year was expanding our social media presence. Each of the platforms brings different opportunities, and we are determined to seize all of them. It allows us to share with you all the projects that we are currently working on, show you all the news from the AR world, and hear your opinion on current events!
➡️ We started our own channel on TikTok, to keep up with the latest trends.
➡️ As a way of getting to know our Community, we introduced a brand new format: Q&A with the Creators. Cheers to the ARtists that we already had the opportunity to talk to: Pedro Afonso (@pedroafonsodesign), Krunal Gendiya (@krazyykrunal), Daisy Citti (@digital_daisy_), and Alexis Zerafa (@alexiszerafa). Check our Instagram to see this month highlighted QA!
➡️ We were using our platforms to share with you our favorite effects through the original series: Jana's Favs, Lenslist's TikTok Favs, and Kuba Explores.
➡️ We started our own Discord channel for Creators, and you could easily say that it had a great start. Our first guest on this platform was Maxim Kuzlin (@maximkuzlin), a digital Creator known for the iconic Yassified Shrek filter. He showed the community the process of designing Effects on 3 different platforms at the same time. Discord was also a great space to host our Effects Battles. After choosing the theme of the contest, Creators could send in their own filters to fight. Then, during the live event, the Community voted on which Effects should win.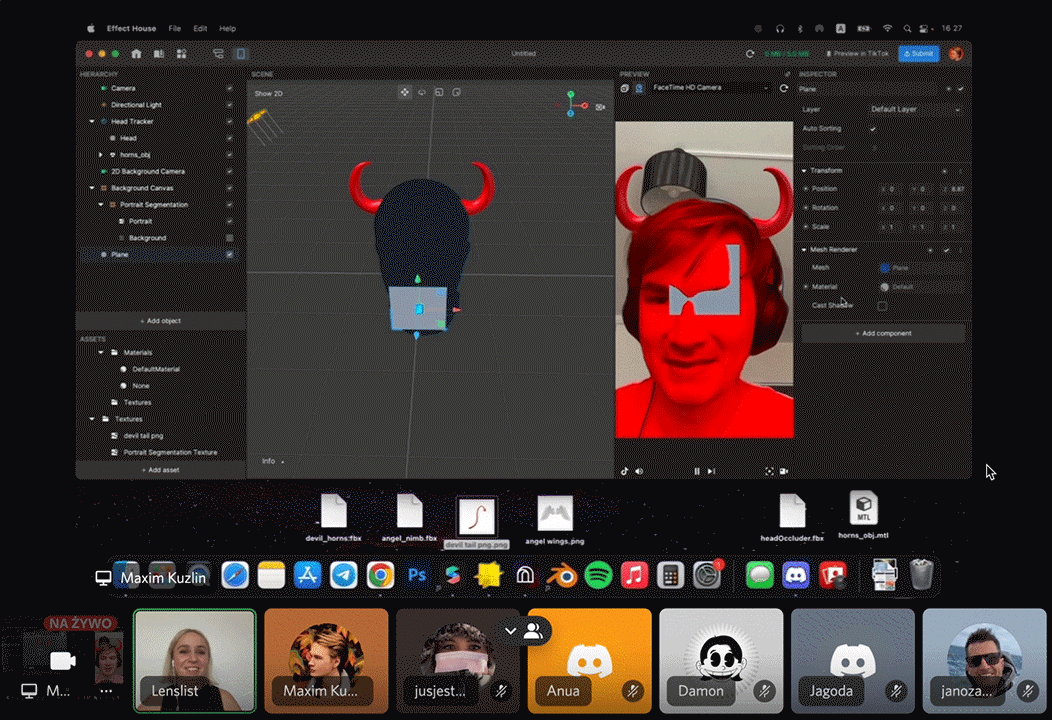 Community Overview
Time to sum everything up! How is our 2022 looking in numbers? Let's find out!
➡️ over 8,000 effects published on our website
➡️ We highlighted over 2,000 effects in our Weekly Selection
➡️ 29 Interviews with the Creators
➡️ Our Community reached 18 000 members 🥳👏
We want to give a shout-out to the amazing Creators, who collaborated with us and designed unique AR effects for Lenslist! 👏To celebrate special editions of Weekly Selection, we worked with @masketing.design, @visualize.mee, @omega.c, @enuriru, and @ohfallet. On TikTok, we collaborated on creating AR Effects with @elias.effects, and @xenia_tiktok! 💜 It was a great experience to work with you!
⭐⭐⭐
There are many people involved in the growth of the Augmented Reality world, and we are really proud to be a part of it! We are saying goodbye to 2022 looking back on all the great things that happened in our community, and we couldn't be more grateful for all of the amazing Creators and their work. 🙏 Thank you for keeping us inspired every day, we hope that you will enter 2023 with new energy and heads full of ideas – we wouldn't be here without you! 💜
We would also like to send special thanks to Meta, TikTok, Snap, and Niantic! 💕 Your trust means the world to us, and considering all the great results, we hope to continue our work together next year. We are grateful for the opportunity to collaborate with you on many interesting projects, and contribute to the growth of the AR Community!
We can't wait to see what 2023 has in stock for all of us! 💜