Winners Announcement: Tomorrow Today – What will the next decade bring?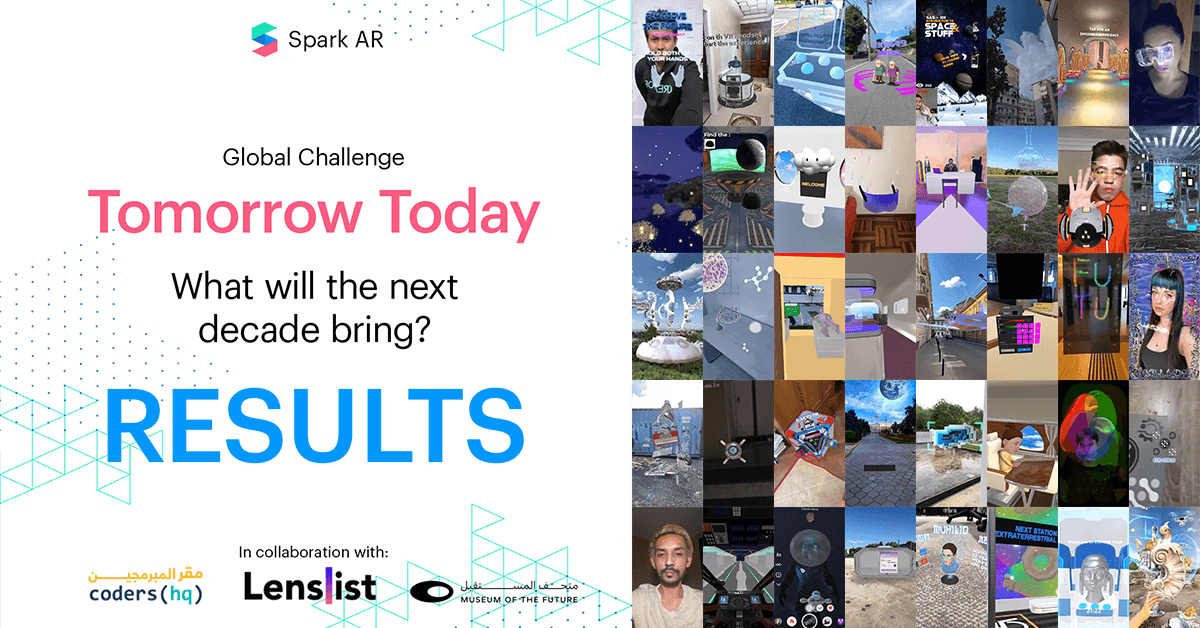 What will the future look like? Will we live in futuristic cities? Is technology going to change our habits? 📱✨ These are some of the most intriguing questions people can possibly think of… and for our recent Global Challenge we asked you, the Creators, to show us your visions. 🙌🏻
Today, together with our partners and collaborators at Spark AR, UAE National Program for Coder's HQ, Dubai's Museum of the Future, Emirates Airline and Accenture, we're coming to you with the long-awaited Winners Announcement and a SPECTACULAR showcase of Effects! 🔥 Each one of your works and visions of the future blew our minds! 🤩 You took us on a magical journey inside a world full of innovation, connectivity, creativity, entertainment and one we can all share together through AR. 💫
The tracks and corresponding prizes are as follows:
Track #1 💫 ✈️
Emirates Airline: Mobility of Tomorrow – the next era of in-the-clouds journey ☁️
Track #2 ✨ 💼
Accenture: Opportunities of the Future – visions of work, jobs and careers in the future 👩‍💻🧑‍💻
In each of two tracks above you could win:
1 x $6,000 🏆
3 x $3,000 🏅
6 x $1,000 💰
10 x $500 for honorable mentions ⭐️
All prizes combined, our Creators Community was awarded over $50,000! 🥳 Not to mention the awesome opportunities to see your winning Effect used by Emirates Airline's and Accenture's social media accounts. 🚀 Also, top 2 prize winners are invited to attend the Awards Ceremony in Dubai at the Museum of the future, happening in late August! 🤩
WE BASED OUR CHOICES ON FOUR USUAL CRITERIA:
25%: Craftsmanship: technical achievements, capabilities used, ability to take advantage of the platform;
25% Originality: uniqueness, difference from other submissions;
25%: Creativity: creativity of elements used to create the Effect;
25%: Theme: how well the Effect makes use of the contest theme;
To bring the future closer to you, our team at Lenslist and the judging panel of experts from Accenture, Emirates Airline, the Museum of the Future, and Meta, had worked hard to choose the Winners. As always, this is the most challenging part. You showered us with over 400 unique Effects – putting in a lot of time, hard work, and passion for which we are grateful and we could never feel more proud of our Community. 💛 So THANK YOU and CONGRATULATIONS on creating so many masterpieces! ✨💜
Before we let you dive into the Winners and Effects showcase, we'd like to share our motto for every challenge – to us, you are all Winners! 🥰 What matters the most is your growth, engagement and doing your best. 💜 Don't forget to provide us with feedback so we can keep supporting you in the best way possible.
Huge thanks also goes to our friends, partners and collaborators at Spark AR, UAE National Program for Coder's HQ, Dubai's Museum of the Future, Emirates Airline and Accenture, for an amazing collaboration, support and making this challenge a very special one! 🌍
🥁🥁🥁
Without waiting any longer… Spark AR x Lenslist #TomorrowToday Challenge AWARDEES and their winning Effects! 🏆🏆🏆
Track #1 Winners:

Track #2 Winners:

Honorable Mentions:

Full #TomorrowToday gallery
Are you excited for the next decade? 😏 If it looks like all these breathtaking Effects above – count us in! 🌍✨ We hope you enjoyed the Challenge and all the works – for us #TomorrowToday has been an extremely creative, joyful AR adventure! 🧡 We can't wait for where you'll take us next – stay tuned for future activations! 😎