10 AR Filters' Creators You Should Follow | January 2023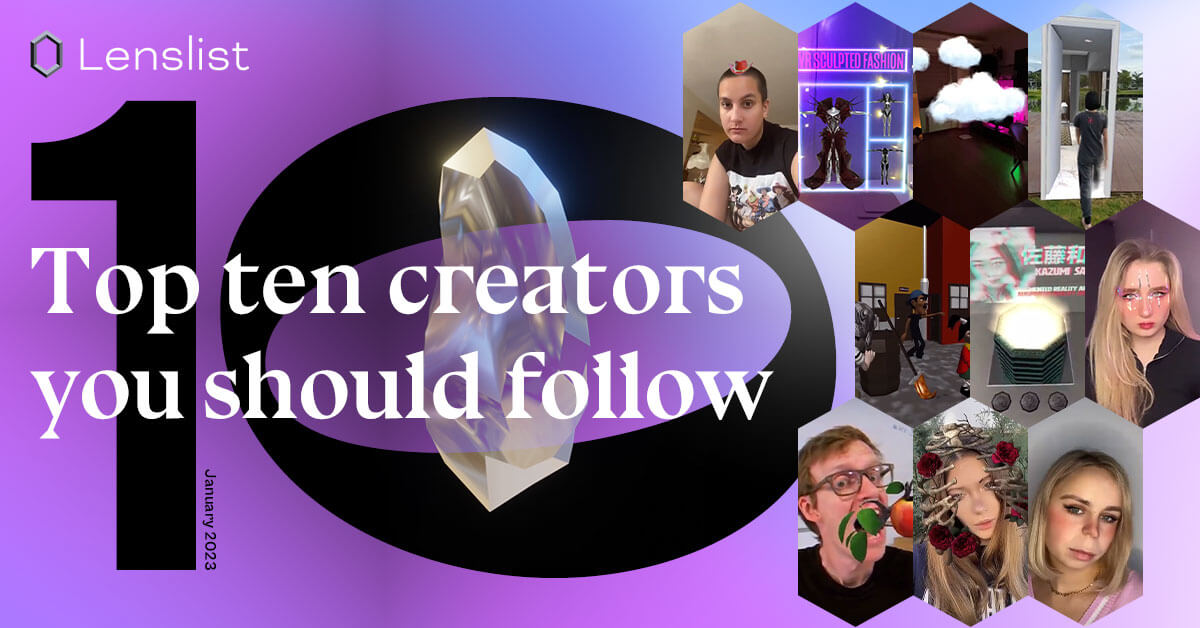 One of the headings closest to our hearts, which allows you to find out about the formation and growth of various ARtists in this awe-inspiring and, admittedly, vast AR field, is our selection of 10 AR Filters' Creators You Should Follow. 💎🌸
Explore today's compilation of the brightest minds, with a lot of interests, hobbies, and passions, who talentedly use all their abilities to create extraordinARy artworks. 🎭 Each of them has developed their own style and confidently goes, modifying our space, along the path of their imagination, and wanting to reach the very depths in the study of this extending fAR down the ocean place! 🌊 Today we have one more opportunity to discover their endless worlds. 💙🪐

Giulia

@una_giulia_artistica
Giulia is a young filter Creator, who quite recently got into the AR niche, but thanks to her talent she has already earned herself a large audience. She is definitely a master at creating adorable face masks, as well as matchless and accurately drawn heroic ones. She herself doesn't recognize herself as an artist, however, we can confidently call her mind incredibly innovative and ARtistic!
I made my first filter almost 9 months ago, just out of curiosity honestly. At first, it was difficult for someone outside this field, but that was just a motivation not to give up. Most of my filters are about recreating a character or a style using makeup, face deformation, 3D sculpting… It amazes me how AR can bring to life an idea that everyone around the world can use and share. However, I never thought that one day some of my filters would reach millions of people, even famous ones. This is still shocking to me. The power of social networks is truly amazing, now I know and I will be forever thankful. Effect House helped me discover a part of me, the artistic one, that I thought I was no longer allowed to show when I choose my course of study. As I always say I'm not an artist, I'm just an artistic person, like many others, who love to learn and experience new creative ways to express art.

– Giulia
Daria Keller

@lastxlr

Lastxlr is a really passionate AR and XR developer with a futuristic vision, 100% dedicated to Augmented Reality. She creates effects for Instagram, TikTok, and Snapchat. A truly creative and deep soul, having many interests and skillfully combining them in her AR performances.
Sometimes it feels like all the dots have connected when I discovered Augmented Reality. I always enjoyed working with photography, videos, graphic design, and coding. It was a pleasure to use skills from different areas I used to work in and create a whole new world.
I like the idea of changing reality into something new and special. You can bring something from your imagination or be inspired by great or funny ideas and everyone can experience it with you and share the emotions.
I'm also fascinated by different forms of how people can transform their look.
In my effects, I try to change the appearance, at the same time keeping the user in the center of the effect. It's important for me to augment reality while not replacing the whole image.
I love making effects that are inspired by the game industry, cinema culture, fashion, and art as my biggest passions. I also think that there's a bunch of inspiration around us all the time and we can change our perception in many directions.

– Daria Keller

Mike Tully
@mikeweb3d

Mike Tully is a CGI specialist, 3D Generalist, and XR developer based in the United Kingdom, who, due to his interest in the technical side of the work, tends to create complicated interactive effects. The reason for his coming to AR and success in this field was his long work in the 3D industry. Let's see how it affected his style!
I have been working in the 3D industry for close to 20 years and would describe myself as a 3D Generalist; having professional experience with 3D modeling, animation, and coding. It was @csavenables who saw a piece of Unreal Engine work I posted online last September and suggested I take a look at AR creation, specifically filter/effect creation. I was immediately hooked and impressed with both the toolset available and the incredibly helpful community. I could easily see the huge potential AR has for the future and loved how social media channels were providing the platform to spread AR to the masses.
My focus is on creating AR experiences that have a challenging technical element to them and that brings something new to the field. I aim to create effects and experiences that benefit from being displayed in AR and maintain a connection between the user and the real world.

– Mike Tully

Kazumi Sato

@kazumi.sato
As a multi-disciplinary artist from Japan, Kazumi has a huge advantage in creating Augmented Reality art at a really high level. Her works are vARied, and the world that she has built with her numerous abilities seems borderless. Her main strengths are makeup, photography, painting, 3D, and of course digital art itself.
I'm Kazumi Sato (@kazumi.sato) and I live in Tokyo, Japan.
In 2020, I started creating makeup filters inspired by the artistic makeup I learned while studying at an acting school in Brazil.
At that time, I saw the artworks of other Creators and was fascinated with the countless possibilities of creation through the software, and that motivated me to study new techniques and create combinations of my art with Augmented Reality, mixing different styles such as photography, painting, 3D and digital art.
I'm always looking for new knowledge to explore new possibilities.

– Kazumi Sato
Natali

@natvillz
Natali is an ambitious digital and 3D artist, who recently got into the circles of AR Creators, which did not prevent her from becoming on the same level with them! Amazing, unique, and unimaginable, her designs will blow your mind. This talent didn't have to hide for long!
Hello, my name is Natali also known as Natville. Nat-ville is like a city, my creative city, it's a place where my ideas and creations come to life. One of Natville's goals is to make people laugh and enjoy themselves, which is one of the biggest reasons I started creating AR filters. My AR journey has been amazing, I started creating AR filters about two months ago and have received incredible feedback. I strongly believe I have found one of my passions, and I will continue learning/ creating until I become a master creator. Scripting is a challenge but then again so was learning 3D software. I'm here for it.

– Natali
Josephine Miller


@josephinemiller
Josephine is a truly imaginative XR, AR, and 3D artist from London, whose art is clearly influenced by surrealism and modernism. It is also impossible not to notice her passion for fashion, which fills her universe with even more abundance and style. And we strongly invite you to immerse in her cyberspace!
As an artist and technologist with a deep interest in fashion, I have dedicated myself to exploring and experimenting with ways to enhance immersive experiences through the use of 3D modeling and Augmented Reality. Throughout my studies in Art Direction at University and beyond, I have worked to push the boundaries of traditional expression and challenge perspectives on self-expression. My ultimate goal is to continue using AR to confront social norms and create meaningful, personal interactions between individuals and technology.

– Josephine Miller
Jo
@nonfineary

Nonfineary is a multidisciplinary artist, AR Creator, and another undeniably artistically gifted soul for you to explore. Atypical hobbies forced the designer to do ARt in their spare time and achieve the same atypical effects. We want you to know their amazing results!
I am a nonbinary Brooklyn-based multidisciplinary designer and creator. I work full-time as a Senior Creative Strategist at DeepLocal and spend my free creative energy making filters, hosting parties, and working on a variety of ad hoc projects. I started making filters in 2020 for fun which swiftly transformed into a large portion of my artistic practice. The core themes of my filter practice are joy, humor, and my love for queer culture. You can see more of my work at jojojo.ooo

– Jo
Xaverius Steve
@xaverius_steve

Steve is a filter Creator and AR developer specializing mostly in 3D modeling. He is an experienced player in our digital ARena, and thanks to his knowledge, the projects are distinguished by special technical components and image accuracy. His filters are not only about entertainment, they play an important role in promoting his services – brilliant approach!
My 9 years journey as an AR developer has been very exciting, especially when many social media companies came up with their own AR platform. It makes the experience so much easier to access.
I myself have been focusing on bringing realistic 3D style through AR Filters. Never thought I could use AR filters not only as entertainment but also as functional marketing tools for my clients (especially property developers).
There are limitless ideas we can present through AR Filters, which makes it super exciting for everyone.

– Xaverius Steve
Slava Sirman

@sirmanslava
Slava is a promising Ukrainian AR designer who has a whole gallery of effects of vARious stripes on his Instagram. But it's not everything he does. He also does not miss the opportunity to study related areas of the digital world, such as VR and AI. In his projects, one can trace a clear predilection for postmodernism and inspiration from contemporary art.
Hi, my name is Slava and I'm an AR freelancer hailing from the vibrant city of Kyiv. I dove into the mind-blowing world of Augmented Reality back in 2019 and let me tell you, it's been one wild ride ever since. Before that, I had over 5 years of experience in marketing and had previously led a creative team at an advertising agency. But thanks to my deep understanding of social media, I soon got into the Spark AR beta, I was able to create my first Instagram AR filter and it was all uphill from there.
At first, it was just a hobby, but once the gigs started rolling in, I knew it was time to go full-time as a freelancer and AR creator. With the help of some top AR creators in the Ukrainian community and a lot of self-education, I was able to level up quickly. Now, I'm working in Meta Spark and TikTok Effect House environments, creating cutting-edge AR experiences.
I'm always exploring the exciting world of VR and AI in my spare time, constantly looking for ways to incorporate these technologies into my AR creations.
I can't wait for Augmented Reality glasses to hit the market and take us to the next level of immersion. And when I'm not working on client projects, I'm always experimenting with new ideas and concepts, whether they come to me in the shower or from the pages of Philip Dick or Isaac Asimov novels. I'm also constantly inspired by science fiction films, postmodernist stories, and the modern art scene in Kyiv's museums such as M17 and Pinchuk Art Center. And I'm excited to be a part of creating the future and the Metaverse with the help of AI and VR.

– Slava Sirman
Isabel Catherine Yayla

@icybitch3d

Isabel is an Armenian Jewelry Designer and XR Creator, an ardent ARt fan with extraordinary ideas. It is obvious that this girl is skilled in the technical side of creating Augmented Reality and has her own technological progress. The main mission is to amaze us and discover new possibilities of the virtual universe.
As an XR Designer, I am extremely passionate about staying up-to-date with the latest advancements in technology and software, while also striving to create more immersive and engaging experiences for users in my own style. My ultimate goal is to push the boundaries of what is possible with XR. XR can change lives, and we are just scratching the surface. I've been incredibly inspired by the potential of XR to change the way we interact with the world and to create new opportunities for communication and connection. XR makes the impossible possible.

– Isabel Catherine Yayla
How can we not admire the abundance of dizzying designs of these talented Creators? 🤩 So many visions, full of the most unusual colors and diverse objects. We will monitor your progress because it is inevitable! 🚀🚀🚀