Lens Fest 2020 Full Recap 👻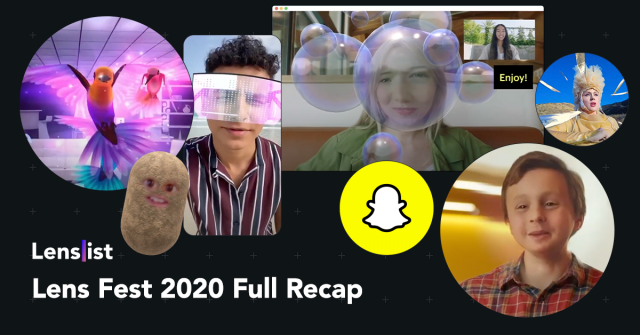 Last week, between 8-10 of December, we were totally immersed in the most exciting social AR event there is – Lens Fest. Together with our friends from Snap and Creators from all over the world, we could celebrate what we, as a community, have managed to do over these last 3 years and also look into what the future (and engineers from Lens Studio) is going to bring.
We wanted to make this recap really worth your read, so even if you missed the event, now you can exactly know how it went.
Table of Contents
So, on DAY 1, we had three major sessions. The first one:

was opened by Eitan Pilipski – SVP Camera Platform at Snap, who emphasized the role of Creators in their strategy and the importance of cameras in connecting people across the globe. He also listed some very important stats on how Lenses are used:
There are already tens of thousands of Lens Creators from over 200 countries and territories,
Over 1.5 Million Lenses were already made,
180 Million engage with Lenses on Snapchat everyday,
Lenses, overall, were used over 1 TRILLION times!
Then, Jonathan, Manager at Lens Studio quickly introduced us to the features added to the newest version of Lens Studio – 3.3., We list them below.
Next, Sophia, the Head of Camera Platform Partnerships at Snap, introduced us to recent novelties in the Snapchat app itself, like Public Profiles, Lens Favourites or Spotlight Snap, that make your Lenses easier to find by Snapchat users.
Then, Snap Creators and Partners took charge with a summary of Lenses Distribution Channels within Snapchat Ecosystem.
To end with a section called: Fueling the Ecosystem, where they focused on new ways Snap is going to bring new opportunities to the Creators. The first and most important info here is that Snap has pledged $3.5 Million (almost 5 times more compared to last year!) to invest in supporting AR Creators with activations like Residency Program or partnering with brands to allow Creators to work on sponsored projects.
They have also introduced partners like Verizon, LACMA and iDTech, who expanded on real, straight-forward opportunities like scholarships for 75 AR students, a Verizon 5G Creators Fund and Lab, or a chance to work with LA-based artists on digital monuments. Super exciting stuff!
Then, the second session:

was all about what Snap wants to do to bring more opportunities to AR Creators. Here, Snap showed that brands are ready for implementing AR in their marketing campaigns, based on examples like NFL or Estee Lauder. Aubrey Peacock, Social Content Strategy Manager at NFL explained how they utilized AR in their social media communication all throughout the year and made Snapchat one of their most important channels, with which they reach new generations of football fans. With stadiums half-close due to the pandemic, Lenses became a way to transport Snapchatters into the NFL experience.
They have also spotlighted many successful AR Agencies, like:
Camera is the future keyboard.
– Mike Khouri (Tactical)
All of it points out how far we've come in the AR Economy – there are already many successful AR Creators all around the world and huge, global brands are ready for your creations!
The third session of the day was more focused on the software itself and this is where we got to hear more about the new features added in Lens Studio 3.3 update:

src="https://www.youtube.com/embed/8ZSv609OEW8″ frameborder="0″ allow="accelerometer; autoplay; clipboard-write; encrypted-media; gyroscope; picture-in-picture" allowfullscreen>
Followed by a demo:

So, here is the list of all new features you can already test in Lens Studio! This time, they're not only widening your capabilities, but also improving productivity:
Afterwards, there was another demo, this time on visual scripting – a no-code solution, making Lens Studio even more approachable, and a Q&A with Lauren Halsey, an artist whose recent movie was shot entirely with Spectacles and used the first-person perspective to inspire taking action and supporting our communities. Last but not least, the day ended with a Creators Meetup hosted by Next Reality – an AR newsroom.
On DAY 2, we've also had 3 main sessions. The first one focused on the social impact of AR and building Lenses spreading awareness about causes important to the global community.

This part was hosted by Marcio from Snap and the Creators themselves:
Atit Kharel – who made a Lens recognizing objects and translating their names into different languages – making it way easier to learn a new language,
Jimena Soledad Depresbiteris – focused on sharing a good, supportive and educational message and making the people a part of it,
Olivier Bos (MeshMinds) – partnered with UN to support environmental education with playable AR experiences.
Brielle Garcia (Tacolamp) – with the Pride Pacific W Lens – highlighting champions of the LGBT community and celebrating the diversity.
Art has the power to change the world and technology enables the change.
– Olivier Bos (MeshMinds)
We were super excited about the next session, exploring SnapML – probably one of the most powerful features in Lens Studio:

Here, another amazing Creator and Creative Developer – Noland Chaliha -immediately pointed out the utility aspect of Lenses powered by machine learning and continued to explain how the technology works from start to finish. Together with Denys Makoviichuk from Snap, they listed out the benefits of ML:
Processing huge amounts of pictures allows ML models to recognize patterns, objects or characters,
Before bringing AR together with ML, you would have to build different apps and models for different mobile platforms, but now with SnapML you can import your models into Lens Studio, making your Lenses even more powerful,
Even with no experience, you can start building ML models inside Lens Studio with just a few clicks. Learn how.
SnapML makes machine learning more accessible to a wide array of Lens Studio users that are already excited about machine learning but might not know how to use machine learning (…), but want to build complex and beautiful solutions (…).
– Noland Chaliha
During this super insightful session we could also see and listen to:
They've presented their tools helping Creators to combine AR with ML into a powerful mix, focusing on no-code or low-code approach. Both solutions are web-based, so you don't have to download any software to get started.
We try to make the entire process – from data collection through training and deployment – all seamless, easy and accessible for any type of Creator.
– Dan Abdinoor, the CEO of Fritz AI
And then, we proceeded to the final big session of the day:

which was a deep dive into best practices for building innovative and engaging Lenses. The whole session was made out of demos from Creators such as:
Sallia Goldstein – who showed us exactly how she sculpted, painted, animated and deployed her viral Gecko Lens,
Jerome Rotfarb – who let us in on how to speed up the creation of 3D characters with Headshot Plug-in for Character Creator and Marvelous Designer,
Mohamed Ouahbi – presented how to build an UI Slider for your next Lens, allowing users to customize their AR experience,
Michael Porter (Models by Mike) – who told us a bit about himself, his family and background and then showed us a few tips and tricks on how to make the best of Lens Studio capabilities, focusing on Text Texture.
The main session was followed by a live, more comprehensive demo on Avatar Creation from Jerome and then another one from Max van Leeuwen, who showed us how to enhance your Lens with Custom Materials.
And now, we're moving on to DAY 3, which started off by our Lenslist Meetup, hosted exclusively for Official Lens Creators and Snap Partners.

First, I gave a quick presentation about what we do at Lenslist, how it all started and where we are planning to go. I also got the chance to launch our first Call for Content we've organized together with Snap, which is an amazing opportunity for all Creators to get noticed by Snap and anybody interested in AR and get access to all they've teased at the event. During the networking session we met so many amazing people – everybody was so positive and open-minded! 💛 Thanks!
– Zuza Śliwińska, Lenslist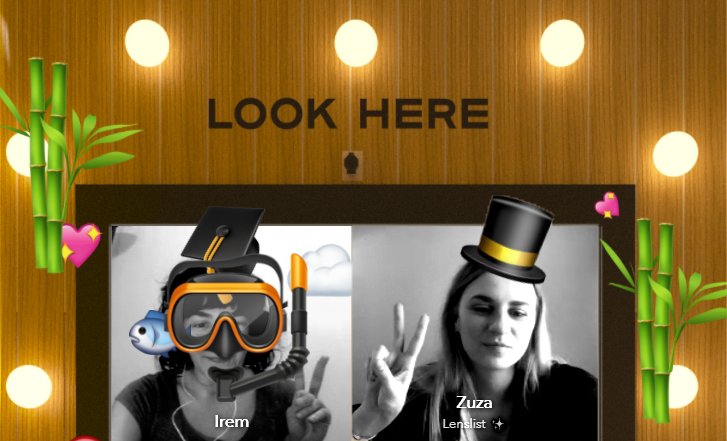 Then, the first session of the day started off.

Qi and Ed from Snap London's Computer Vision Engineering team talked about most exciting features and products pushing the boundaries of AR with a few sneak peaks of what's coming to Lens Studio in the future:
World Transformation (Depth + Normals) – better understanding of 3D spaces through 2D images,
Spectacles 3 – allowing to capture the world enhanced with AR without a mobile device. Here Clay Weishaar (WRLD.SPACE) walked us through his journey with Lens Studio and designing Lenses for Snap's AR hardware,
LiDAR – a high-tech solution that enables instant metric scale and understanding of surfaces around you. Charles Hamblen showed us exactly how he uses LiDAR in his newest Lenses,
2D Full Body Tracking – Matan from Snap introduced us to a full scope of use cases for FBT, showing for example a Lens directing our exercise routine or a Push-up Counter Lens. Matan also teased 3D Full Body Tracking, showing off our videos made with Snap's Halloween Lenses. Then, Helen Breznik took the stage as a champion of Full Body Tracking Lenses,
Local Lenses – the evolution of Landmarkers, allowing to map entire city blocks and enjoying a joined AR experience with friends,
Landmarkers – recognizing and tracking specific places/buildings around the world, here you can download all the Landmarkers available right now.
Then, the second session of the day:

…was started by Kaitlyn, Community Specialist at Snap, who works with her Camera Platform team and other Creators on new AR experiences all the time. She focused on the ways in which you can distribute and showcase your Lenses to the world. She pointed out:
Making sure the icon for your Lens is appealing and shows how the Lens actually works,
Snap Camera & Lens Explorer as the two core ways to search for Lenses,
Scan Triggers – allowing you to explore Lenses suitable for your surroundings,
Some of the most popular, viral Lenses from this year, for example Spaghetti Lens made by Pam Taylor and utilizing SnapML,
Keeping in mind that Community Lenses are distributed across the globe, so try to make them universally accessible and understandable by using helpful visuals.
Then, Jye Trudinger (Jinnie the Wew) took the stage to talk about using Lenses in Snapchat and the ways to elevate your creations. He focuses on creating Lenses that are interactive and allow users to make something of their own and possibly become a meme legend. He also talked about working with Snap Stars and making Lenses in collaboration with other artists.
Next up was Don Allen III who walked us through his experience of making Lenses for Spectacles 3, using sky replacement and transporting users into whole new AR worlds. Then, Khyati Trehan from Ideo, who uses Spectacles to create background for her Lenses. In the middle of this session, we met Yusuf Omar from Hashtag Our Stories, who's also a creator of a Snapchat Original show called First Person, shot entirely with Spectacles.
And yet another Creator we're constantly inspired by – CyreneQ – took the stage to talk about Camera Kit and utilizing Lenses outside of the Snapchat app, mentioning partners like Squad and Triller. She also talked about one of her Lenses that surprisingly went viral on Linkedin among doctors and medical professionals.
Next up, the final main session of the event:

A panel of Lens Studio Interactive Engineers talked about new technologies empowering Creators to make even more advanced AR experiences, like SnapML, which enables totally new features, even they haven't foreseen. The team have also pointed out specific templates that will help you explore and experiment with machine learning. The most useful resources they've mentioned are:
They've also emphasized how all these new features and technologies will make AR experiences more natural and interactive with our surroundings. Mobile cameras are getting really close to working and understanding the world just like the human eye does and Lenses can enrich and enhance this experience with AR. It was a great summary of everything we've learned during Lens Fest.
The session was followed by an Apple & Snap Q&A on what's possible with LiDAR and by two demos – one also on LiDAR and another one on Spectacles 3. During the course of the event we could also watch two more Spectacles Films – A Love Story, Reimagined and A Fantasy Adventure, Reimagined.
ENDING REMARKS
So, that was quite a ride 😎🚀 During these three days, we got to learn so much about the capabilities of Lens Studio and also about the approach Snap is taking when it comes to supporting the Creators Community. It was a pleasure to meet so many amazing, creative people during our Meetup and hear the stories of Creators we've been already so inspired by. After this comprehensive recap, we'll also post two more articles on Lens Fest and about what most of the audience couldn't see – the Q&A with Evan Spiegel and Bobby Murphy, as well as the coverage of Lens Fest Hackaton! 🤩
A big thank you to the whole Snap team and to all AR Creators, who enjoyed the event with us. Don't forget to submit your own vision of Changing the Lenscape to our Call for Content!