AR talks | Joshua Keeney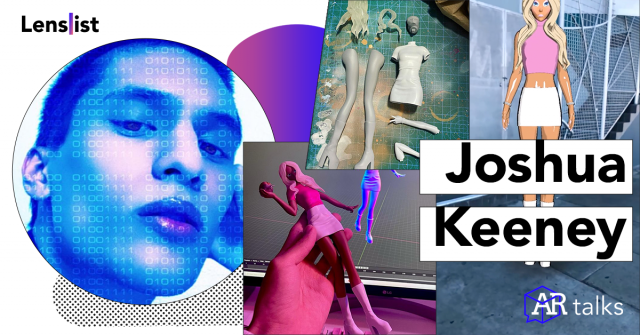 Joshua Keeney is an artist and Official Lens Creator with lost of inspiring and spiritual artworks made. We've talked with him about art's ability to help defining one's identity and Lens Studio exciting new features.
Hi Joshua! It's a great pleasure to guest you in AR talks. First, please tell us something about yourself. How did you become Snapchat Lens Creator? What was your breaking point as an artist?
Hi! I'm Joshua Keeney and I'm a 3D artist, creating works in CG, AR, and physically. I'm based just outside of Seattle, Washington and I've been doing this for about 6 years now. I became a Lens Creator by seeing Lens Studio mentioned in an article shortly after it released and it piqued my interest – up until that point I had always been interested in AR but the tech and tools available for free and publicly were not of a high quality. I struggled trying to create an AR experience for a project just a year before Lens Studio released and changed the landscape. I applied to become an Official Lens Creator on Snapchat in 2019 and it's an opportunity that I'm always thankful for. There isn't a singular moment I could describe as a breaking point for me as an artist but rather I feel moments of affirmation everyday that remind me that this is what I love to do.

Go to Joshua's Artwork Selections
You've got an amazing collection of artwork other than AR in your portfolio. What's the difference between creating Lenses and the rest of the digital art?
For me my Lenses and artwork are one in the same. Each lens is a piece and while my aesthetic senses and technical abilities have rapidly changed since I've begun – each lens has a place within my body of work. In a sense I don't consider Lenses and AR experiences as a whole to be too far removed from the idea of fine art.
From a technical perspective however creating Lenses has unique challenges as opposed to creating rendered CG artwork. While I have freedom on my workstation to push it to its limit, for Lenses I have to create experiences that work on a variety of devices. This often means simplifying geometry of 3D objects or reducing resolution but it has rarely proven to be a barrier for creativity. It's rather a challenge that can sometimes prove to be rewarding when you are able to preserve your vision within technical limitations.
You perceive art as a means of defining your own identity. Your landmarker Lens is one of the most significant of your Pride filters. Could you tell us more about it and about the way in which AR Lenses can help people to define their identity and celebrate LGBTQ community?
My artwork has increasingly held much more of a spiritual and emotional significance to me. Part of this is the power I have to define my own identity through my art. I've never liked being put into a box or told what or who I am. My artwork allows me to define myself on my own terms. The Landmarker Lens allowed me an opportunity to juxtapose the idea of masculine/feminine and ideas of ID/Superego/Ego. While these might not be very literally expressed concepts a lot of the energy spent during creation is towards what it means to me and how it connects to my soul, this Landmarker Lens was an opportunity to express these feelings. And connecting it to the LGBTQ community and concepts of expressing identity it was an opportunity to celebrate people who are themselves.
And what about working with this technology? Do you think that another buildings will be added as landmarkers so that such Lenses become more popular worldwide?
Creating AR in context of the physical world is the future. I think of AR through its relativity to one's body and scale. We've reached a point where working within the frame of one's face and body has become standard. The next step has always been creating experiences in context of one's surroundings and Landmarkers are an immediate vector for achieving this type of world AR. I do hope more Landmarkers are added soon, but more importantly I await for the roll out of Local Lenses (https://www.youtube.com/watch?v=4jA1RM5_WMc) and I hope that Lens Creators will be able to create with this technology.
As an Official Lens Creator, you've had a chance to work with Republic Records artists Nicki Minaj and Post Malone. This must have been a fascinating experience. Could you share with us anything about the process of creating Lenses for them?
These were actually the projects that introduced me to Lens Studio! I had to learn LS very quickly and I'm thankful for the opportunity. I was also 18 and this was one of my first big client experiences so it taught me a lot. It was just a really exciting time and those Lenses taught me a lot.
Did you have an opportunity to create using any of the new Lens Studio features? SnapML? Body tracking? LidAR? What are your thoughts on them?
I've played around with all the new features and I think there's a lot of potential. The more tools we have to create new AR experiences the better. Machine learning opens up a lot of potential for so many new types of lenses. LiDAR is something I'm particularly excited about and I've made a few basic Lenses but I'd really like to dive in deeper and explore more of what I could create.
You're Instagram's day to day user, yet we haven't seen any of your Spark AR projects up until now. Are you planning on giving it a chance or is Lens Studio completely sufficient for you?
My artwork and by extension my AR work is extremely spiritual. Creating work specifically on Facebook's platform does not align with my philosophy as an artist. While I'm happy to share my work using Instagram, I currently have no plans to create for Facebook's camera platform. I also do not feel as though Spark AR is sufficient on a technical level either.