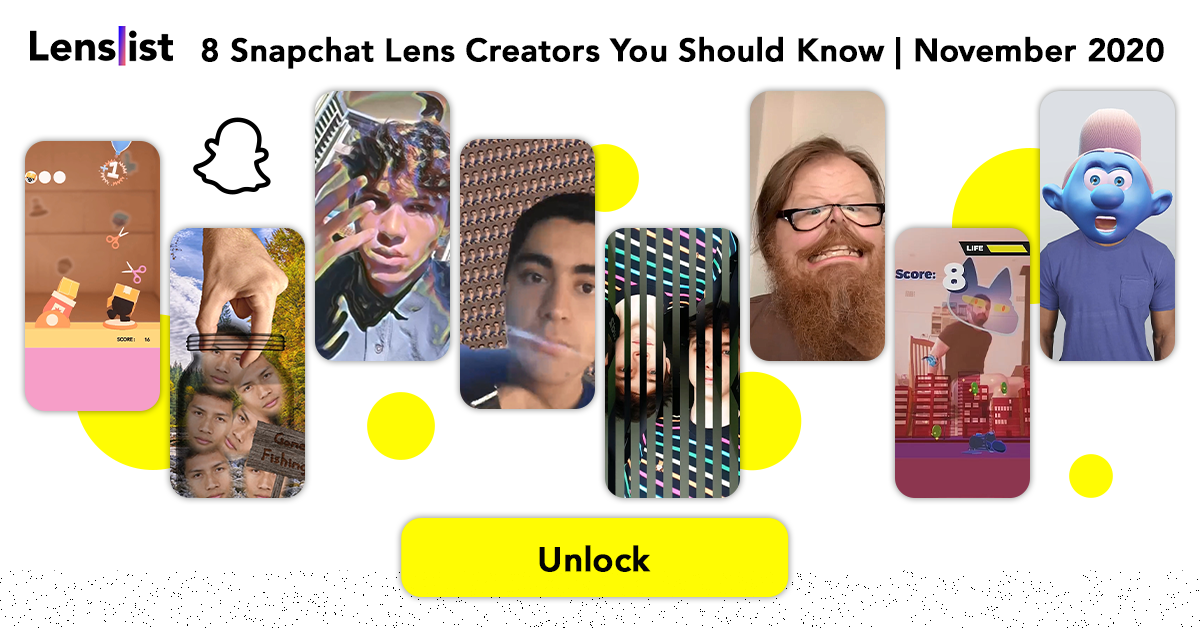 8 exceptional Snapchat Lens Creators of our choosing. Get to know their work, try their Lenses and start following them! Oh, and we've asked them about their style and working with Lens Studio, so you can learn from them first-hand.
Alex Bradt
Alex is an Snap Lens creator from New York. He describes himself as 'Husband, Animator, Dog Dad'. Check out his animations and experience them through Snapchat camera.
I love to create fun characters that bring a smile to peoples face. If one of my lenses can make my 4 year old nephew laugh then I've accomplished my mission. I get inspiration from mobile games and tv shows for kids.
– Alex Bradt on his style and sources of inspiration
Models By Mike
Mike describes himself as 'just some random guy making AR filters who started AR Bootcamp to help people learn how to make their own filters.' Because of that for us, he's quite the opposite. Check out his Lenses and learn from his bootcamp, it's really worth it.
I am not beholden to any artistic agenda. My creations range from a machine learning powered game of bingo (which I trained myself) to sticking your face on a sheep. Some of my ideas come from something I see or hear, others come from programming libraries, and the rest I have no idea. If I think it would be fun to make or use, I give it a try.
– Mike on his style and sources of inspiration
Pam Taylor
Pam Taylor is an Official Lens Creator at Snapchat. She is 16 years old, a junior in high school, and enjoys sharing her creativity through hobbies such as, lenses, music, and photography. She first downloaded Lens Studio on March 1st, 2020, and started getting into ML in early July through SnapML.
My favorite thing about Lens Studio is that you can do whatever you put your mind to. I like that there's always something new to work with, and the tools they provide in the software is versatile and powerful. I like to play around with SnapML and Lens Studio's Material Editor.
– Pam Taylor on Lens Studio
Chris Higa
Chris is an Official Lens Creator, TV Director & GoPro award winning videographer. Featured in Digidays, Sunday Times Magazine, & The Economic Times.
Lens studio's software is a different breed when creating lenses and effects for users over last few years lens studio has excelled in helping small creators and new users to learning quickly and easily when opening the software. Some fun features I've always loved with lens studio is the post effects which are easy and simple to make but can make a huge difference on viewers around the world. AR lenses are always a another sweet and easy drag and drop template which allows new users to drop in their 3D assets into lens studio allowing chance of millions to see your amazing 3D work.
– Chris Higa on Lens Studio
Klemen Ketiš
Klemen is a 19 years old student from Slovenia who loves graphic design and making Lenses.
My favorite thing about Lens Studio is that it allows me to easily create something from my imagination and put it in the real world in a matter of minutes. I love that I can share work with my friends, so they can experience my work in an exciting and engaging way. Lens Studio also lets me put my knowledge of various programs to good use.
– Klemen Ketiš on Lens Studio
Kriptk
He says that he makes the world a prettier place using AR while focusing on distorting faces, making them look like they're made of gum. We don't know if the world gets prettier with them, but it certainly gets to be more fun.
I like to make lenses and filters that exaggerate emotions. Plus I've never liked my own appearance, but wanted to make videos. Heavy face distortions let's people (like me) that's shy of the camera make fun videos while showing natural emotion.
– Kriptk on his style and sources of inspiration
Abbas Sajad
Abbas is an illustrator and AR creator based in Sydney Australia. He created filters Dixie D'Amelio, Sportsbet, Absolut Juice, Sony Pictures and the United Nations.
I love Lens Studio's simplicity and the fact that anyone can create AR lenses no matter their background. The constant feature updates have been unique, but my favourite would have to be Full Body Tracking. I love the idea of having 2D effects playing a more prominent role in AR Lenses. I haven't stopped using them and have a few new lenses coming out that utilise these features, which is so exciting for me.
It took me a while to find my style. I experimented a lot and felt like I couldn't settle on one thing. I feel like my current style has evolved to be very dynamic and involve more body movement. I realised I had so much fun creating lenses that had more of an emphasis on interactivity through animated triggers or games. I hope to continue refining my work to keep making more and more unique AR experiences for people to enjoy.
– Abbas Sajad on Lens Studio and his style
Sallia
Sallia is an AR Designer and 3D animator, nominated for Shorty Awards as a Snapchatter of the Year. She 'creates beautifully "painted" snap art and has turned her fame into being a role model for young girls interested in STEM' (source). Besides AR, she uses Snapchat as a platform to teach about science in a fun, engaging way.
Thanks you for reading, we hope the article helped you in getting to know these amazing lens creators. Don't hesitate to contact them for business purposes or if you just want to congratulate them on their work 😊