AR talks | Tony Wild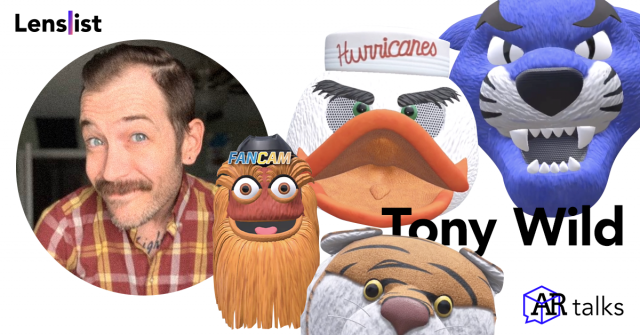 Tony Wild is the owner of Wild Portals, an AR/VR agency focused on sports marketing. He is an experienced marketing specialist and Snapchat Lens Studio Creator. We are very glad to welcome him to AR talks and ask him some questions concerning his experiences with AR and working with clients.
Hi Tony! First of all, please tell us something about yourself. How did you start with Augmented Reality and why did you pick Lens Studio?
Hi everyone! My name is Tony Wild. I'm a seasoned marketing professional who loves flying, cooking, and camping! I recognized early on the advantage of using Augmented Reality as a marketing tool. Snap was the first social media company to fully embrace AR and working with the Lens Studio allows us to offer the best social media sharing experience. It also has the quickest approval times for Lenses to go live.
What does it take to manage an AR studio such as Wild Portals? How many people are working with you?
We have a lot of irons in the fire at Wild Portals and split our responsibilities up between about 4-6 of us, depending on the week. We're always looking for new friends, so say hello!
You divided your portfolio into a few categories: brands, community, college/university (with their teams' mascots) and athletics. Creating which of them is most demanding and which of them brings you the most fun?
Our 'Mascot Mania' project is by far the most demanding because we have to be extremely accurate with the 3D modeling and texturing.
Fun is the reason for all of this and every time we see a piece of our work go viral, we know we've recreated that element of joy.

How did you come up with the idea of a series of college teams' mascots? What was the response? Are they being used across the whole US?
The lightning struck while figuring out plans to an Arizona State University game! We've created the mascots as the perfect example to our clientele on what A.R. effects have to offer. We've had a wonderful response, nationwide, across the 37+ effects in that category and we're building a powerful case study for future athletic partnerships.
You have a lot of experience with working for clients. Do you have any tips for young Lens creators that want to make freelance work?
Sure! Always use a contract. Be clear about IP. Get good at making a creative brief. Build your community resources. Explore new business models for different clientele. (ARaaS) Build relationships with your clients first, AR second.
We could write an entire book on tips for creating AR effects for brands and working with clients… as a matter of fact, we are! Due out in spring of 2021 🙂

…
Do you think about the future of AR? What in your opinion will it look like?
We constantly brainstorm what the future of Augmented Reality holds and more specifically, how to grow that future into more of a more mainstream across entertainment and education services. I personally hope AR continues to grow as a new vertical across all mediums but should we abuse the technology, I always like to reference Keiichi Matsuda's video, 'Hyper-Reality'. Have fun out there! -TW
Tony, thank you very much for your valued insights! Keep up the good work.