Cyberpunk AR Filters Selection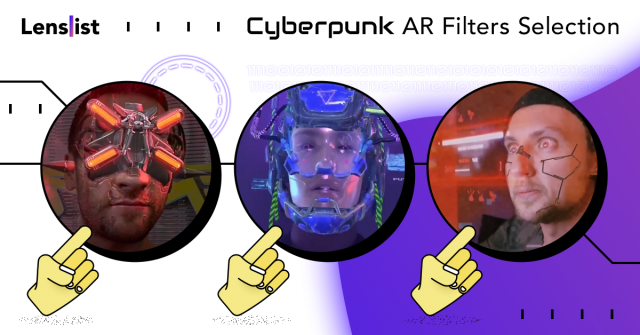 With the premiere of long-awaited video game Cyberpunk 2077 by CD Projekt RED, we've prepared a selection of 49 cyberpunk Instagram AR filters and Snapchat Lenses for you to watch, try out and share with your friends.
AR filters inspired by the game
The new game by CD Projekt RED has inspired many AR creators to develop effects that will correspond with its theme. Some of them are a direct imitation of game's assets and so they can be a real treat for Cyberpunk 2077 fans, and others are a more distant referral or reinterpretation. In each case, the quality and the level of engagement which come with them is just special.
Discover tags on Lenslist
Don't forget to use tags to find new AR filters on Lenslist – we add them manually to every effect. If you like the filters above, you'll want to check out tags such as #helmet, #robot, #chrome or #futuristic.
Inspirations for AR filters
AR creators draw inspiration from lots of things. When it comes to Cyberpunk 2077 and the genre itself, they take from character's supernatural abilities and tech implants as well as mood, #neon lights, colours (like #pink) and cultural shiftings.
More Cyberpunk AR Filters on Lenslist
This collection here is not all we've got. At the time we publish this article,there are over 170 effects tagged as #cyber.
Thanks for watching! We're adding dozens of AR filters weekly, so follow us on Instagram to get weekly doze of fresh AR filters from best creators and daily stories with effects tested by our AR models!