Lens Studio in 2020: Summary from Lenslist, Snap and AR Creators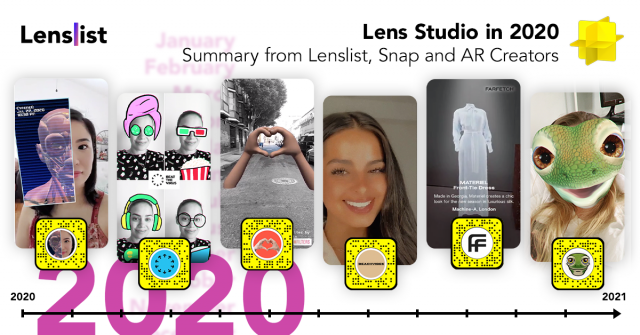 This last year, after the Snap Partner Summit in June, we decided to put more focus on Snapchat Lenses and Lens Studio itself, as since then, each and every update came with truly amazing features and opened new, amazing possibilities to Creators. What's maybe even more important, Snap also took many actions to support the community and provide them with tangible, concrete opportunities, like for example the Residency Program.
To give you the most comprehensive, inclusive wrap-up, we've asked 6️⃣ Creators and 2️⃣ leaders at Snap for their comments. So, let's start off our list of most noticeable, important milestones for Snap and Lens Studio in 2020, with a few words from Jonathan Solichin, Lens Studio Interactive Engineering Manager:
"In 2020, we launched several new features in Lens Studio that evolve how creators and developers can transform the world through AR.

With the release of SnapML, we've expanded the possibilities for Lenses by allowing developers to bring in their own machine learning models to add their own new capabilities to AR. For example, Lens Creator James Hurlbut trained a model to rate surfboards, and turned that into his Board Score Lens! We're excited to usher in a new era of AR creation powered by machine learning, and see a broader range of Lenses created by the Lens Creator community.
In addition, we've made AR more immersive and personal by improving how Lenses understand the world. With Full Body Tracking, developers can track 18 joints across the body, letting them control AR effects with body movements—a super useful and creative addition for dance videos!
And with our 3.2 release, creators and developers can build LiDAR-powered Lenses for the new iPhone 12 Pro to not only map the environment they're in, but also understand what's in it—if you see a table, overlay a book, whereas if you see a ceiling, overlay the night sky—developers can create custom immersive, magical environments for Snapchatters to explore in real time."
Jonathan mentioned 3 ground-breaking functionalities that empowered Creators the most in 2020, but apart from that, we selected another 3, we see as important and innovative:
Local Lenses
Local Lenses is an upgrade on Landmarkers teased during Snap Partner Summit. It's not available to the Creators just yet, but will allow Creators to deliver experiences not just for particular buildings, like in case of Landmarkers but whole spaces, like streets or city blocks. We can't wait to see what the Community will do with this, because City Painter, the first Local Lens created on Carnaby Street in London literally made our jaws drop!
Snap Camera Kit
Snap Camera Kit allows an integration between third-party apps and Snapchat Camera. That's why you can find Snapchat Lenses in apps like Triller, Smule and MLB Ballpark app. and thanks to an upgrade on Creative Kit you can also create Dynamic Lenses, allowing your Lens to receive information from outside the Lens itself. This is not one of the newest updates, but we think 2020, due to the pandemic, was when we were able to fully understand its power and possibilities coming with it.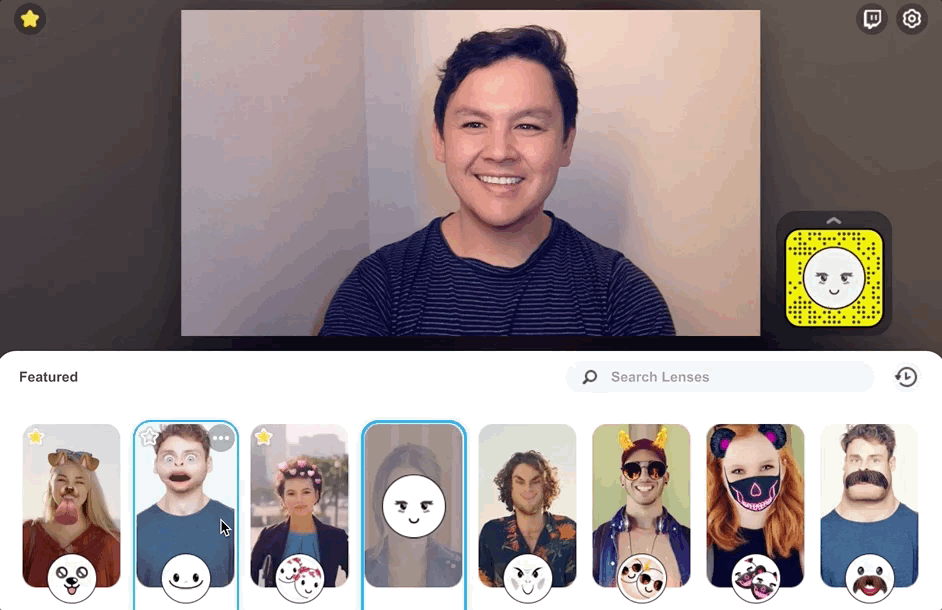 Visual Scripting
Visual Scripting is a huge opportunity, especially for beginners and Creators from more of an artistic, but less digital background to get access to all the possibilities of regular code scripting, except without writing any code at all!
Now which of the features and functionalities introduced to Lens Studio in 2020 are the most exciting to Creators? We've asked 6️⃣ of them, all with different levels of experience and backgrounds, to let us in on their opinion on what Lens Studio had to offer in 2020 and also their own milestones from last year:
CyreneQ, OLC with over 1 BILLION views on her Lenses!

My favorite new feature is Facial Expression. I think it's fun to completely transform my head into another character that mimics and animates my facial expressions.

Combine that with the new 3D body tracking and I become anything! Believe it or not, I'm a little camera shy. Being able to express myself in another character from head to toe helps me dance and do things I wouldn't normally do.

When it comes to my own milestones, I would point to X-Ray Me Lens, because I think introducing education in AR is more important than ever before. With the rise of virtual learning, providing educational tools on a free app like Snapchat that everyone has access to, would help boost engagement and help make learning at home more fun.

Kavin Kumar, who creates not only Lenses, but also original tutorials!

LiDAR and Body Tracking are the features I'm most excited about because they create more openings for anyone with creative ways. As ML is a huge one but not everyone will be able to make filters that use it mainly as not many creators know about it .

We'll be working on spreading the word about Machine Learning to all the Creators out there! 💪 But in the meantime, here are Kavin's TOP 3 Lenses in 2020:

Shimenta, OLC from Milan, spotlighted during Lens Fest 2020!

I think the most impressive feature this year has been SnapML. Although I am not very knowledgeable about the subject, the fact that there is such a powerful tool allows creators to explore much more the universe of augmented reality. I have seen incredible things created with Machine Learning and I used some of the templates myself like footracking or full body tracking. In looking forward to 2021 I am very eager to see new features in body recognition and explore how we can augment people's full bodies.

Perhaps my most representative Lens of this year would be Home Hobbies for MIT Media Lab's Beat The Virus campaign. It was a very used lens, it got more than six million views and almost two years of playtime in Snap Camera(!). It was also a Lens that gave me a lot of visibility as a creator, since I had the opportunity to do several interviews about the project on different occasions. Although it is a very simple lens, sometimes the simple things are the most significant for the users. I hope that people have enjoyed using my lens and have had at least one moment to express themselves with Snapchat during the difficult times we have had to live with the COVID-19 pandemic.

Ryan Shields, who just started to create Lenses last year!

Haha yes, 2020 was a great year in terms of Lenses. I actually started when I was editing photos of me and my friends' cars. I wanted to make it faster and let them be able to edit their own photos faster or on the go and when I was looking at how to export Lightroom presets I came across Natalie Suto's YouTube Tutorial and followed it from there. Once I had nailed lightroom, I expanded into ML with Lens Studio's update which then led me to AR and Material Editor which I focus on now.

I'm really excited about 2 things, one is LiDAR and the other is Visual Scripting. LiDAR is just so immersive to me, I love to decorate the area around me and really make it feel like you're in a specific environment. Using my material editor knowledge I'm able to create walls of lava, turn the floor into a rolling ocean and so many other things that weren't possible before without it. Visual Scripting is also really cool as it allows me to refresh on coding through a graph system that I've already become accustomed to. Without the need to physically type the code out, I can experiment with something more hands on that makes sense to me. I feel like it's definitely going to help me bring my lenses to the next level.

My 3 fav Lenses I made are: BeachVibes as it's my most popular color correction, OceanCrown as it shows how I used material editor to create real looking water as well as transforming and animating it all within material editor and Icy Tree, which is created from material editor as well as FritzAI's segmentation.

Atomic Digital, an AR Agency from Paris!

The most exciting capabilities introduced to Lens Studio in 2020 for us were definitely Body Tracking, LiDAR and Machine Learning. These innovative capabilities allowed us to do what we do best and dive deeper into the software and find new ways to employ it and create innovative and creative solutions for various Lenses.

The most important milestone for us in 2020 was the project we did for Coca-Cola Eurocan European World Cup. We started pre COVID-19, we had to produce 12 Lenses within a short time frame and initially we were supposed to shoot the football players. The aim was to record the players and then animate them for each can. Due to COVID-19 the shoot was cancelled, however the project was not. We had to find a way to execute the project to the same quality and imitate the expressions of the players as if we had really shot them. We retrieved every interview Coca-Cola had ever received with the players and studied them, before bringing each player to life in animation. This project was a real challenge that we are grateful to have been recognised for when receiving two awards Silver prizes at The French National Grand Prix Strategies du Sport.

And last but definitely not least…

Sallia Goldstein, who took Snapchat by storm with her amazing 3D characters!

I mean it when I say the blendshape template is the most powerful tool Lens Studio has to offer. There is something inherently satisfying about being able to control a fantastical creature with just your face! I would like to build more original characters in the future, maybe full body characters!

In terms of my own portfolio, I was able to build a small brand off of the Gecko Simulator. It hits all the pleasure points I would want out of a lens from the bright colors, to the face controls. My personal favorite Lens is the Smurf Simulator. This was the first time I made a mood board for the lens and it made a huge difference!

Top Trends on Snapchat in 2020

Before we move on to the actions Snap takes to support their Creator Community, we wanted to point out two trends that took AR on Snap to the next level and were the most exciting for Snapchatters and made by Lens Studio Team! What's interesting, both trends are powered by Machine Learning.

Trend #1: Time Machine

These shockingly realistic versions of yourself as a Baby, an Old-er person or My Twin got super popular among Snapchatters, celebrities and…basically everybody. Many people have downloaded the Snapchat app this year, just to discover these Lenses!

Trend #2: Style Transfer

Since Anime Lens, style transfer has become definitely one of the most interesting trends that started in 2020 and we can't wait to look for this year, since more and more Creators are jumping on the ML bandwagon!

Snap and its Community

Finally, we wanted to emphasize the role of Snap, not only as a software provider or a social media platform, but also as a team daily supporting and spotlighting the Creators Community. Sophia Dominguez, Head of Camera Platform Partnerships not only summarized actions they took in 2020, but also teased what's coming next:

In 2020, we established a $750K Lens Creator fund to support Lens Creators through various opportunities, including the launch of our Creator Residency Program. We opened doors for Lens Creators to create Lenses for brands, Snap Kit and Camera Kit partners like Triller, and Snap Stars like Dixie D'Amelio and Loren Gray. We made it easier for Snapchatters to find and play with community Lenses by enabling Lens Favorites, adding a Lens Creators category in Lens Explorer, and launching Spotlight, which gives an additional look into how people are using Lenses on Snapchat!

We closed out 2020 by opening our annual Lens Fest to all Lens Creators, where we announced that these opportunities and updates culminated into community Lenses reaching more than 1 trillion views from Snapchatters! And now, as we begin 2021, we're doubling down on our investment in the future of AR and our Lens Creator community by expanding our fund to $3.5 million — funding the next generation of AR and pushing Lenses beyond communication. We can't wait to see what you create!

I don't know how about you, but we're pretty impressed. Both with the software, which improved a lot with each update last year and the approach taken by Snap to include Creators in the whole process.

2020 at Lenslist

And finally, it's time for us to humbly brag about all the upgrades we've made over the past year.

As we're approaching Lenslist's 3rd anniversary, first we would like to thank all of the Creators and AR Agencies for their cooperation, kindness and open minds 💖 We would not exist without you! In 2020, we really pushed the tempo while making relations with Creators our top priority 💪

Over the last year we've added about 3 000 Lenses to our database, set up over 200 Creators Profiles (with portfolios, bios and short interviews). Thanks to allowing brands and marketers to contact Creators directly, many of our partners got to work with clients, some of them for the very first time 😄

Of course, we'll continue to grow and diversify the audience on our blog, posting interviews, industry overviews and case studies and reporting on new functionalities, trends and events.

NEW ON LENSLIST: BRIEFS

In 2021 we want to provide you with even more opportunities to grow your AR experience and monetize your skills. In December, we've published a new BRIEFS section on our website and we're hoping that the events we're about to announce there will help creators gain wider recognition and give them a chance to prove themselves in the eyes of potential clients. On the last day of Lens Fest, we've launched our first activation – Call for Content, organized with Snap in the theme of Changing the Lenscape. You still have a week until January 21st to submit your best, most advanced projects. Don't miss out on what's about to come to BRIEFS in 2021 – we will do even more to help you achieve your AR goals!