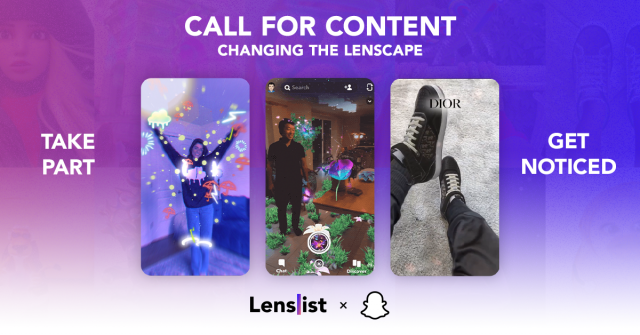 📞 Hello? Are you an AR Creator? We're calling for…
During Lens Fest, at the Meetup we hosted, we launched a Call for Content, organized with Snap to explore the idea of Changing the Lenscape. This is our way not only to celebrate how far the AR Community has already come, but also to point out features and technologies that will definitely set a course for the future of social AR. What's more, it's an opportunity for you to get noticed by Snap and possibly get featured on the Snapchat Camera, Lens Explorer and of course all over our website! 🤩
Push your own boundaries 🙌
In our creative brief, we point out three technologies/features that we consider to be super advanced and empowering for Creators (below), but what's super important – you don't have to use these features to take part in the Call for Content! We're interested in what opened up your horizons and which Lenses pushed your skills to the next level 😎
You can submit up to 10 Lenses. Go for it! 💪
Since you can submit more than one and actually up to 10 Lenses, we don't expect all of them to be new Lenses, made exclusively for the Call for Content. You can submit Lenses that you have already created, the only rule here is that they have challenged you, your capabilities or ideas. All we ask for is… your best, most advanced Lenses! 😄
New to Lens Studio? 🤔
In case you're new to Lens Studio, try your best to get started on the software – you can find a lot of helpful guides, templates and tutorials that will make the beginning much easier for you. And don't worry if your first Lens won't be your top of the top – trying out new software is the definition of Changing the Lenscape!
Create → Get Noticed → Monetize 💛
Getting recognized by the AR Community and of course by Snap – did you hear about the $3.5 million dollars fund they set up to support Lens Creators in 2021? – is the way to start monetizing your work or make your already existing business even more validated and successful.
Don't miss out on the opportunity, submit your best work until January 21st and let's kick off 2021 right! ✨🚀🎆