Virtual Spaces: Art Galleries, Museums and Brands Creating Their Own Metaverses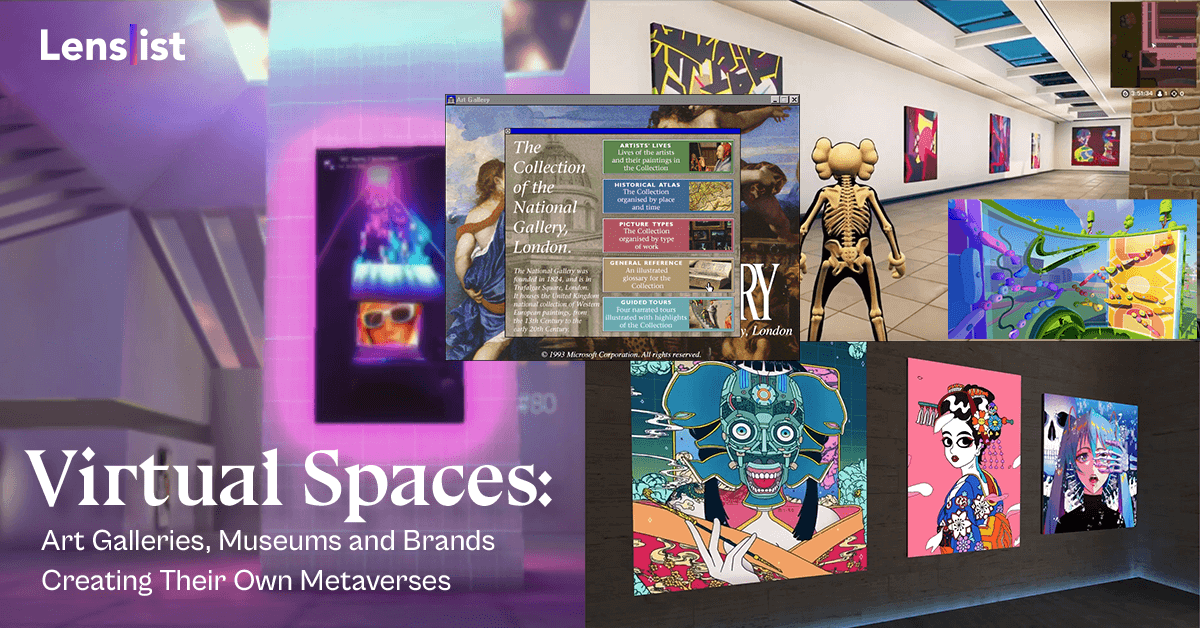 We're living in the times of a true digital revolution. Traditional ways are being succeeded by constant innovation, delivered mostly through cutting-edge technologies such as Augmented Reality (AR), Virtual Reality (VR), Mixed Reality (XR) or AI (Artificial Intelligence). The rise of high tech has sparked a need for a new kind of space – a place of the future for those who seek more immersive experiences. Something like a digital playground or rather, a construction site, where everyone can be an architect of their own virtual space. These unique online environments have started a new chapter in the world of art, business, and therefore, lifestyle, allowing brands, museums or even individuals to have their own metaverses.
How can this so-called virtual space actually be managed? For whom is it suitable? Can it be filled with artworks, 3D product replicas, organize a digital exhibition, or a showroom? The answer is: yes. Virtual spaces and creative freedom go hand in hand – using technology, there are no limits to how you organize your digital scene. Whether you're an artist, curator, brand, or a metaverse enthusiast, there is huge potential waiting to be discovered – by everyone, from anywhere. Users can view 360° galleries and showrooms via desktop, from a smartphone or enter the "world" through AR glasses or VR headsets.
Investing in virtual spaces has now become an essential part and a key element in the gaming industry, e-commerce and art initiatives. What's more – all these spheres can interact and be connected with one another – why not create a virtual art exhibition inside a game? Take the latest solo exhibition from KAWS, NEW FICTION. Accessible both physically – in London, and digitally – in the well-known game Fortnite.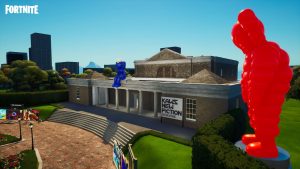 Fortnite KAWS New Fiction
Another immersive 3D space built inside a game is NIKELAND – a creative world in Roblox, where Nike fans can construct their own mini-games, play together with friends, wear custom Nike outfits and share everything together – without barriers or limited access.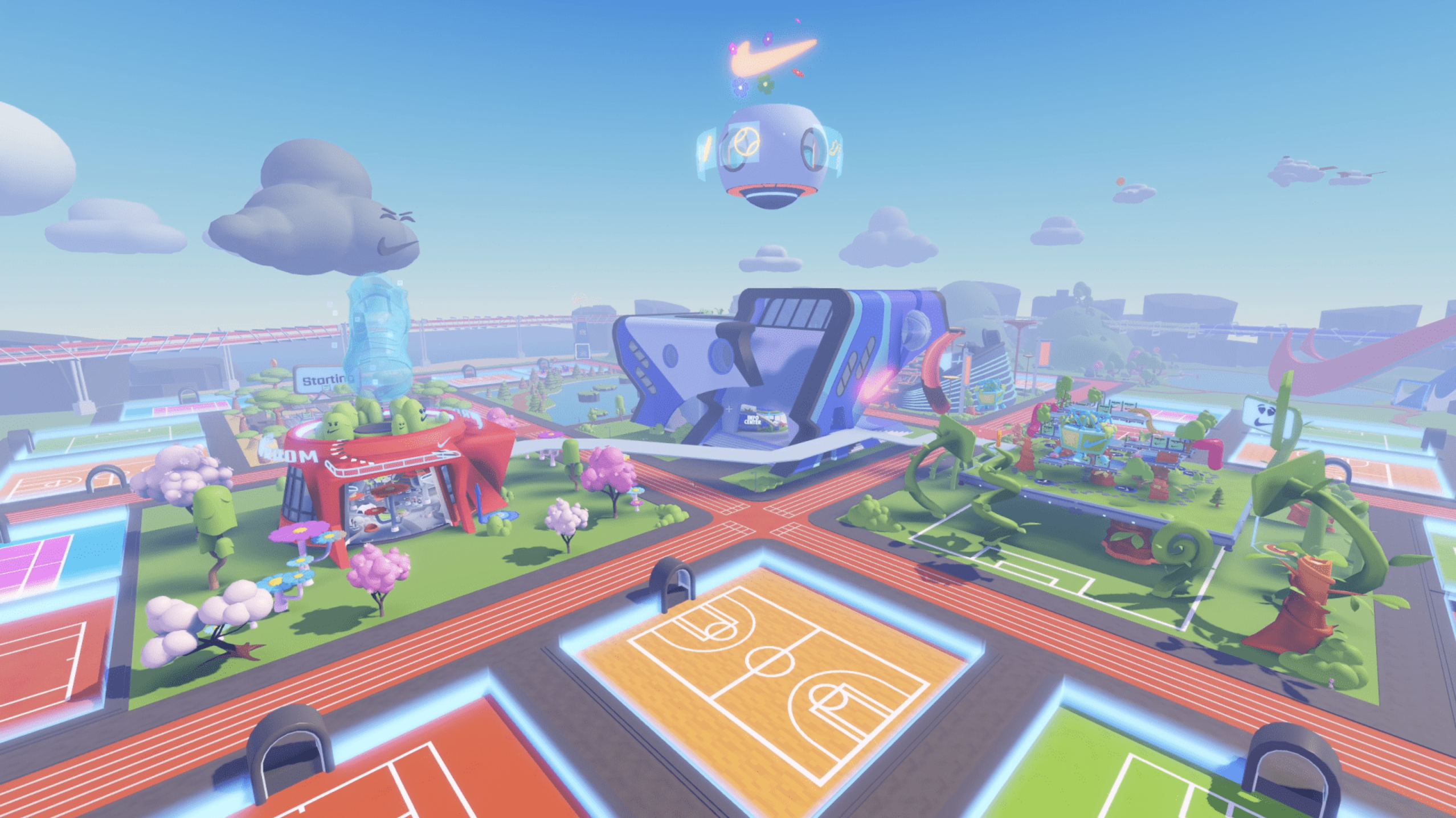 NIKELAND
Breaking down barriers is precisely what makes virtual spaces stand out. Just like games may include artistic elements, art galleries or exhibitions can surprise visitors with interactive, simple games or challenges – it really does depend on one's vision. Let users decide how the space will change, what will appear inside, and allow them to participate in building it.
The very beginnings of the digital transformation of art galleries can be traced back to the year 1993, when Microsoft published an educational and interactive guide for the London National Gallery, called Microsoft Art Gallery.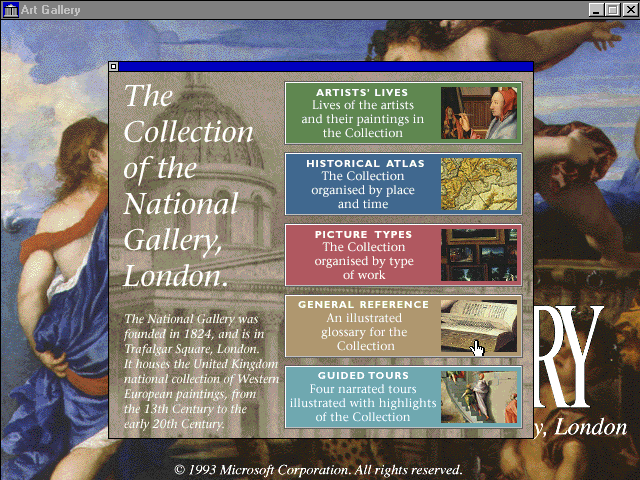 Microsoft Art Gallery
Since then, art culture has been progressively settling in the digital spaces and looking for ways on how to deliver something truly mesmerizing in an innovative way. Museums, galleries and individual artists have been trying out taking their collections and exhibitions to the next level – virtual and more immersive. When it comes to the visual final outcome and how the artworks are presented and blended into the digital sphere – everything depends on the artist's visions.
Apart from art exhibitions located in games (which is a pretty recent phenomenon), some are created as a 360° virtual space, such as The Vincent Van Dough Gallery, filled with pieces from artists worldwide. When approaching a specific work, users can find out more about the piece itself, whether it's the artist's name, link, attachment, or description.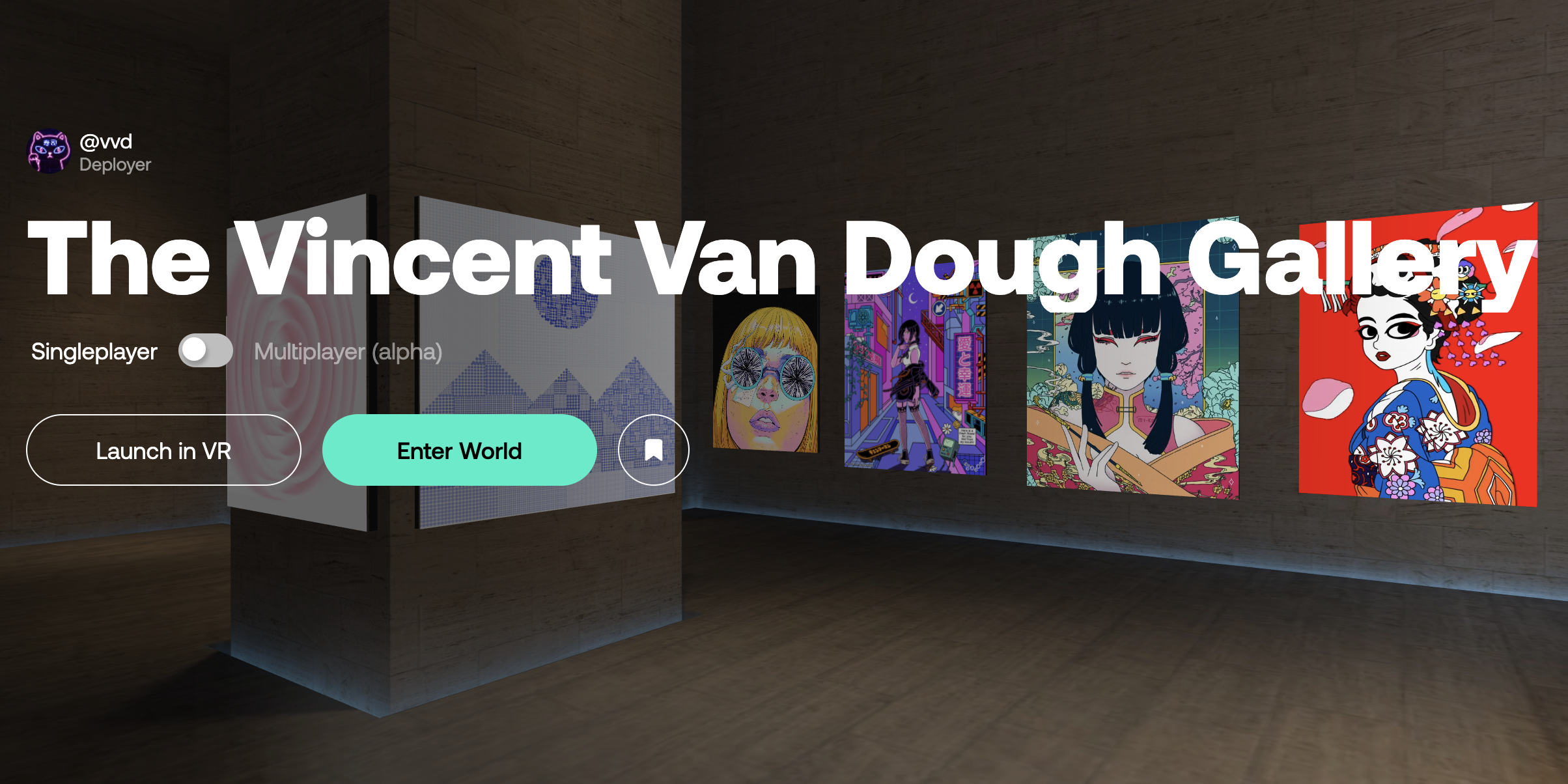 The Vincent Van Dough Gallery
For those seeking an almost fully-immersive art experience, some museums allow visitors to admire the exhibition through VR. Let's have a look at the Digital Museum of Digital Art (DiMoDa) and their third full exhibition, New Talismans. Each featured artist created their own magical immersive show, which is accessible via VR, which takes you into a world full of stunning visuals, surrounding sounds and intriguing feelings.
Here at Lenslist, following various artistic paths, seeking innovation and supporting Creators' visions is what keeps us going – and wanting to do more. That's why we simply couldn't miss out on the opportunity to create a virtual space ourselves.
With this idea in mind and an extremely talented and creative team behind the project, we've built four Lenslist Virtual Galleries so far, two for round Weekly Selections #80 and #90 and two together with our Lenslist On AiR guest – Gijsbert Wahl and AR Talk star – Olga Isupova.
Our first two virtual spaces, celebrating the whole AR Community – artists, creative developers, innovators.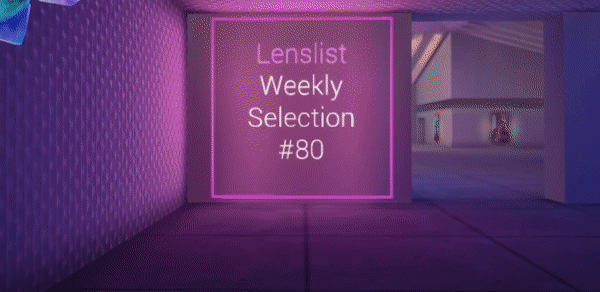 First virtual Lenslist AR Gallery for Weekly Selection #80
Weekly Selection #80 Virtual Gallery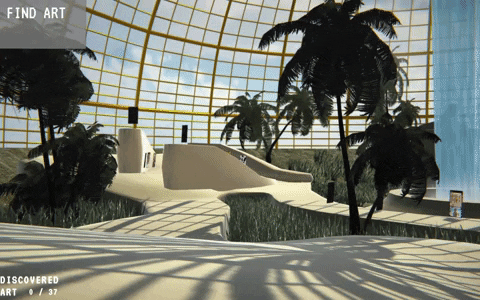 Second virtual Lenslist AR Gallery for Weekly Selection #90
Weekly Selection #90 Virtual Gallery
Find yourself transported onto an island, where you're surrounded by the sound of waves, Gijs' artworks, hidden concepts and a true self-discovery AR journey.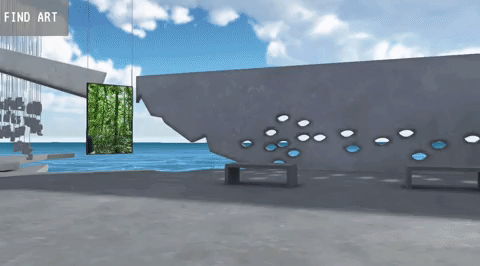 The Entropical Island, created by Gijs Wahl and Lenslist

Gijs' Virtual Gallery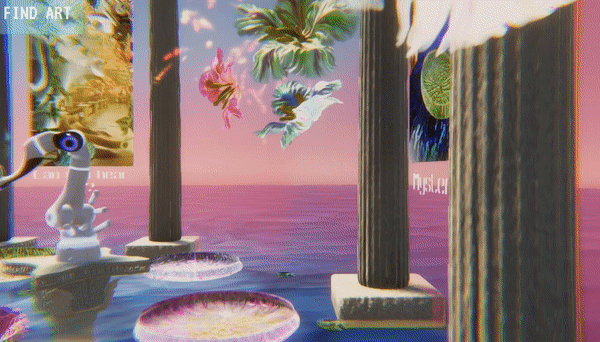 Immerse Into a Dream with Visualize.mee

Visulize.mee Virtual Gallery
Transcend into magical, botanical surroundings filled with Olga's pieces of art – the more you look, the more other-wordly it gets!
We cannot express how excited and proud we are about the virtual galleries – definitely not stopping here!
Now, what if instead of artworks, the space was filled with… products? And the space itself was a virtual showroom accessible to the customers, designed according to the brand's image, values and open for discovering various goods, cars, clothes, makeup or furniture…
There is no need for 'What-ifs'. Immersive digital commerce experiences are already here. Through 3D virtual spaces, brands can create their own commercialized metaverse, where brand's products and services are not only visualized in an innovative way, but allow for a practical and personal customer experience.
Without being limited by time or space, brands are able to open as many shops as they wish and place as many products as they want in virtual shops. The benefits of such solutions go beyond increased sales and lower costs – talk about interaction between a customer and a product, 24/7 access from almost anywhere, or engagement which is not only fun and interesting, but also effective. Anyone with a smartphone, let alone a VR set or passion for innovation, becomes a potential client.
Many top brands are already adapting digital solutions – look at Toyota's Virtual Showroom, Kärcher Virtual Brand Space, Ralph Lauren Beverly Hills Virtual Store or IKEA Place – an app that lets users virtually 'place' furniture in their own homes.
Each of these spaces has a unique character and not only does it showcase a wide range of products, but also communicates the brand's values – thanks to virtual showrooms, the relationship between a user and the brand tightens and the communication itself leads to a brand-new purchasing experience.
On a final note, digital showrooms and galleries are only examples of what can be done, experienced and achieved in a virtual space. The freedom it gives, be it artistic or entrepreneurial, is something that turns every initiative into an unforgettable adventure. The evolution of digital realms has truly been an extraordinary phenomenon. Virtual spaces can transform what we're passionate about – whether it's art, business, or lifestyle. It adds a new, digital layer which translates to experiencing something unique. The time for re-designing spaces has come and with so much potential waiting to yet be discovered – it seems it's going to stay for a while.