10 AR Filters' Creators You Should Follow | May 2022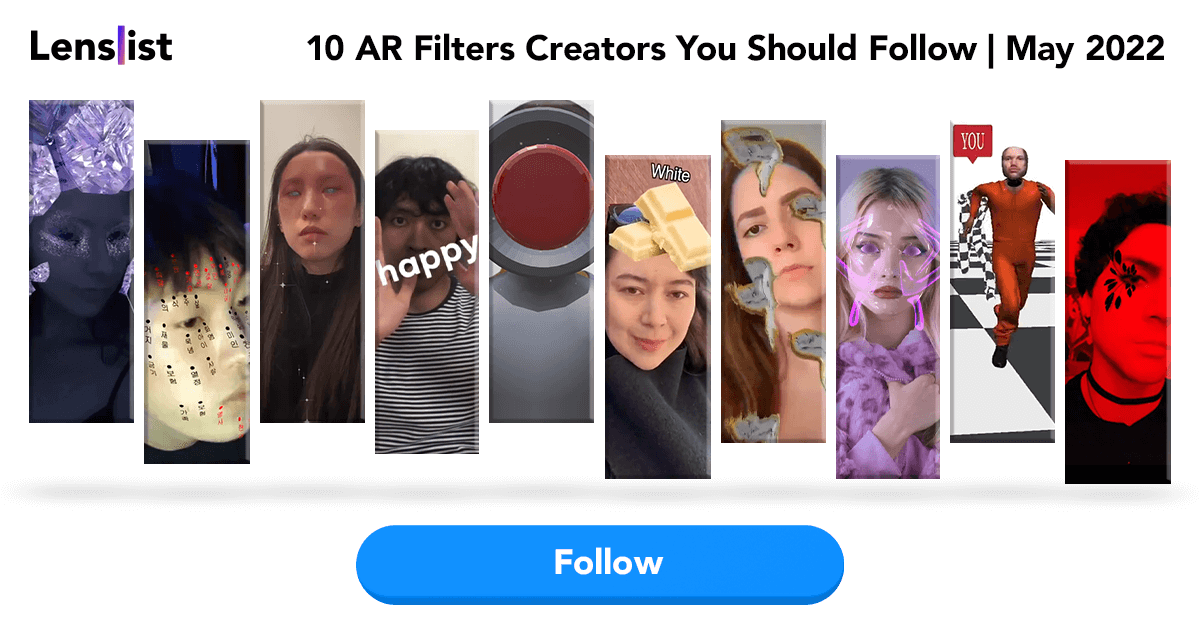 Hungry for knowledge, ambitious, creative, full of energy – there are many words to describe the Community's finest – our dear AR Creators! 🙌🏻🥰 We're excited (as always) to release this month's edition of 10 AR Filters' Creators You Should Follow, which will top up your feed with brilliant AR minds and their favorite projects. 🚀 Now, go meet them and see how your Instagram, Snapchat and TikTok brightens up. ⭐️
Squibs

@thesquibs
Squibs is an American mixed-reality artist and co-founder of Volumetric Design Lab. He has worked in AR/VR for several years and done official filters for Gunna, Young Thug, Future, Death Row Records, Ashe and many more.
Hi I'm Squibs and I'm an artist. I think AR filters are one of the best mediums of art right now. They allow the user to exist inside of the piece and can be interpreted differently based on the user's intent.

My work relies a lot on social commentary.

The most recent TikTok filter I made "Free Clout" touches on this. It allows the user to act like they're replying to a comment from stars like Adele, Jay-Z, Pete Davidson and more. It's funny… Everyone who had a video go viral because of my filter actually got free clout.

I also have an agency "Volumetric Design Lab" where we build filters and AR experiences for musicians and brands that act as advertisements and create ways for fans to better interact with them.

– Squibs
Fadi Matury

@fmatury
Fadi Matury is an AR/VR Creator, working on many different projects and platforms for around 2 years now. Being a Snap Lens Network Member and an Effect House Creator, he still broadens his creative and artistic horizons and looks for interesting ways to engage with people around the world.
My name is Fadi Matury, designer and Creator of Augmented Reality Lenses and filters. I started learning Augmented Reality about two years ago. Then I started researching a lot until I got to know some friends who started their passion for AR and from here I started dedicating my life to learning the basics of the augmented world. How the future will use Augmented Reality in our daily life, such as shopping, fashion, even space science and many old cartoon characters, making people want to see these Lenses or filters, making life processes better and more interesting, what attracts me more with the design of Lenses is that I can't set boundaries for ideas to make them virtual reality, for example, the BUBBLE. This Lens has been one of my works that has inspired me in recent times. I was thinking of making a weird Lens for a more fun atmosphere.

– Fadi Matury
Nicole Santos Rachid

@nicrachid
Nicole Rachid is a Brazilian motion designer at Nubank and an AR enthusiast that started creating filters in 2018, when Spark was still in closed-beta.
She has created experiences for brands like Universal Music, leads the Niantic Lightship AR community, and plays Beat Saber in her spare time.
My history with AR goes back to 2018, at Spark AR's closed beta. Since then, I haven't stopped thinking about technology for a single day, having even written my final college thesis about it. I'm looking forward to the next steps of AR: Glasses. I think we'll be creating experiences for it in no time, so I'm studying from 3D to UX to be able to transition to this new format when it arrives. The themes of my filters are usually two opposites. I'm either creating a filter inspired by historic renaissance artwork or by futuristic and dystopic aesthetics. The coolest thing about AR is that you can do just that, and bring to life anything that your imagination desires.

–
Nicole Santos Rachid
Laura Gouillon

@lauragouillon
Laura Gouillon is a French-Chinese immersive director based in Montreal, originally from California. Through her fun interactive AR filters, aesthetic sarcasm, and cinematic storytelling, Laura (aka "Filter Queen") aspires to make AR experiences that are funny and playful. She leverages her background in computer science, immersive filmmaking, and product management to push the boundaries of digital storytelling, partner with brands, and engage with her audience of 400,000+ followers on TikTok.
Bonjour, hi! I'm Laura, I started designing AR filters because they are fun to play with, and easy to share, and I wanted to try something new!
I studied computer science + immersive filmmaking at the University of Southern California, and after building AR/VR products as a product manager in the immersive tech industry (Unity, Felix & Paul Studios), I decided to become a Creator full-time in March 2022. My style has been described as everything from "weirdcore" to "aesthetic sarcasm" to "disturbingly beautiful". I love how there is no "right" way to build filters, and how a unique sense of humor can be embraced on TikTok. From randomizers to 3D characters, to interactive filters, some of my most popular Effects have been community requests ("Which Bread Are You?"), while others came to life by experimenting with new AR features like segmentation ("Toothpaste in the Sky"). It's crazy to think that in my first month developing filters, my filters have reached over one billion viewers worldwide, and I've grown my TikTok community by 78% to now over 400,000+ followers. At the same time, I've been featured by TikTok, Mashable, Techcrunch, and XR Today, which is insane!

I admire how close-knit the AR/VR Community is, and I've enjoyed meeting and learning from numerous talented XR Creators. I've collaborated with brands such as Amazon, Soundwave, and LingoDeer, and I truly believe AR Effects are revolutionizing the way brands can engage with their audiences. I'm looking forward to partnering with more brands and Creators to bring future creative projects to life!

– Laura Gouillon
Brendan Stow

@moondunedesign
Brendan Stow, known as Moondunedesign, is a multidisciplinary artist based in the USA. His works revolve around abstract expressionism and through AR he turns his visions into extraordinary Effects available on Instagram, Snapchat and TikTok.
I am an Abstract Expressionist located in Raleigh, Nc. Augmented Reality has allowed me to share my artwork with millions of people! Unlike my paintings, AR experiences can be enjoyed anytime & anywhere. For the first time in history, artwork is being absorbed by people in different places, simultaneously!

– Brendan Stow
Ikram Hakim

@kaberikram
Ikram Hakim, Malaysian based Creative Technologist focusing on XR and full-time Spark AR developer at Gowaaa. he loves all interactive things. Making virtual immersive experiences feel human is my passion and ultimate goal.
I've been doing interactive media for about 2 years on my own (including school, personal project + freelancer stuff). I do see myself as a creative technologist/XR dev & designer. I'm not a master on the technical coding side yet! But I'm on my way!

My degree was literally in Virtual Reality Design, I've made games and VR/AR experiences with Unity for my degree projects. I got serious with AR after my internship at Petronas (an oil 'n gas company in Malaysia). I was in charge of building a prototype for an AR shopping experience in their convenience store.

But what really got me into doing AR full time, are social AR experiences from Snapchat/Instagram. I made my first ever AR filter on Snapchat before Spark AR was available on Windows. Then I just fell in love with Spark AR.

My style of AR to shortly describe it is basically making simple experiences feel/look good! I play around with the area of interactivity and simple assets such as 2D textures and also just even text! I am highly interested in making new ways to interact! AR made me feel like I have superpowers! A simple quote from me would be "AR shouldn't replace your reality but rather enhance it". My goal is to create memorable experiences within 15 secs or less with AR.

Keijiro Takahashi is my number 1 inspiration on making interactive art! He is amazing. I wanna be like him one day. Currently, I'm working with Gowaaa full time under the supervision of the great Aw Boon jun! It's been fun and I hope to grow. Future plans are to make more filters on TikTok hehehe.

– Ikram Hakim
Chloe Lin

@Uq10
Chloe is a London-based AR creator who mainly creates 3D related works.
Her creation is an interweaving of fantasy and romantic, aiming to blur the line between the virtual and reality.
Elegant is another word to describe her works.
My AR creation is mainly 3D due to my enthusiasm for 3D modelling.
I like to bring my imagination into existence through Augmented Reality, and that's my passion.
As an AR Creator, I would define my works as a mixture of romantic and fantasy styles. They're between reality and a fictional world.

Recently, I'm creating some face and body filters. I found it interesting to create things you can wear digitally.

– Chloe Lin
Fucksidnay

@fucks1dney
Known as fucks1dney, this amazing artist from South Korea not only creates graphic designs and playful, captivating Effects, but also works as a model. With his filters you can tell your own funny and aesthetic story!
The source of my inspiration is the camera in my eyes. My goal is to have this eye that feels happy with different races, but with different feelings, with that camera, all over the world, with love and peace. Someday my filter will be on the billboard in New York. Oh! And my style always mixes Korea with new trends! Korea is so cool!

– Fucksidnay
Marinela

@maryy.filters
Marinela is a 23-year-old medical student and AR creator based in Italy. Her work is driven by curiosity and the desire to express her artistic side outside of the academic world, hoping to inspire others to join AR, no matter their background.
Filters are unrelated to medical school, but who says I can't do both?
I discovered AR through Instagram two years ago, and since then, I've been eager to learn how to bring my ideas to life through filters.
I think AR gives us endless possibilities to express our creativity. That's why I like getting lost in the process, coming up with an idea, and seeing where my imagination leads me.
I take inspiration from books, movies, artists on Instagram, and other fellow creators. I enjoy creating experiences that are either completely surreal, fantasy, and extravagant, or very realistic texture-wise. There's no in-between!
Lately, I've been trying to widen my creative range and experiment with different filters and platforms, get out of my comfort zone, and feel the challenge I look for in everything I do.

– Marinela
Nathan Schager

@ns.x0x
Nathan is an AR Creator and a master of glitchy, fun, pixel Effects that will turn your TikTok content into trippy tunnels – and more!
I like AR because it encourages us to go out and look at the world in novel ways! No matter what AR algorithm we are making an effect with, we can help users look at the world in a new context and help them creatively reimagine their environments.

–
Nathan Schager
Do you also feel extra inspired right now just like us? 🤩 We hope so! Everyone started somewhere and now the Creators and their works have evolved into something huge and other-worldly. 🔥🔥🔥 Stay on the lookout for even more creative minds!