Immerse Into a Dream with Visualize.mee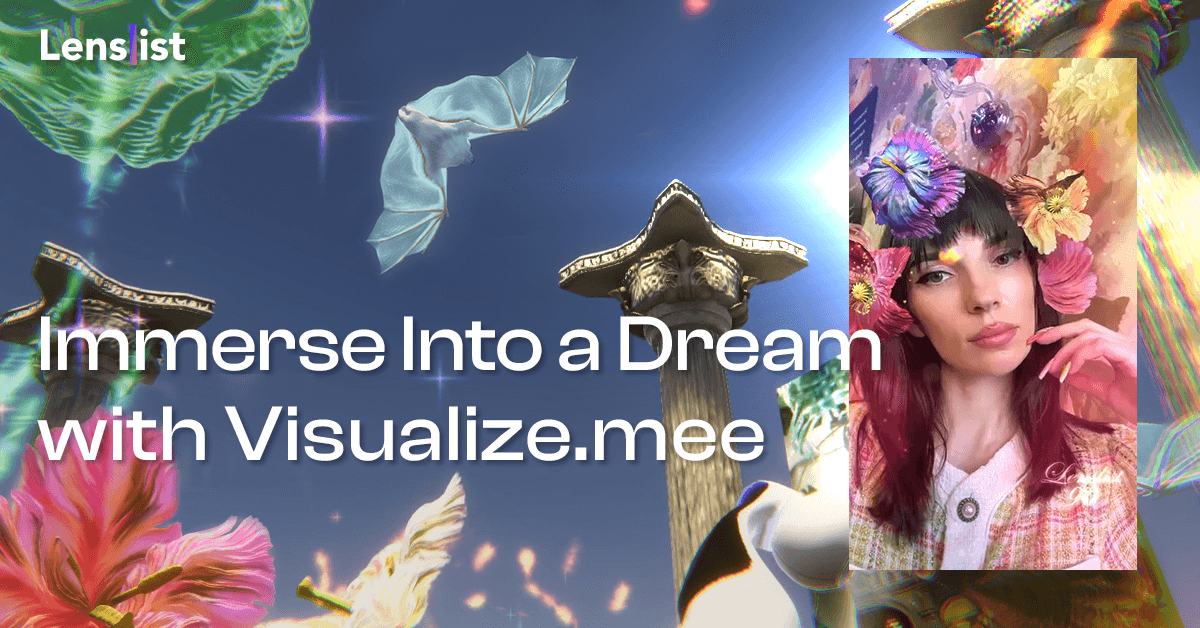 Have you ever dreamt of being inside a botanical fairy tale? 🌸🧚Just imagine – you're surrounded by different magical species, sculptures, the sea… And now, let's add something more to this beautiful scenery – art pieces by the amazing and talented AR Creator – Olga Isupova (@visualize.mee). Together with her, we made this fairy tale come true and that's how Olga's Virtual Gallery became real. ✨Welcome to yet another virtual space filled with surreal works, find out where she found her inspiration and dive deep inside every part of the gallery.
Don't wait any longer and start exploring Olga's world! 🐚🫧🌊

⭐️⭐️⭐️
⭐️⭐️⭐️
With your filters, you tend to create your own fairytale and it seems like this virtual gallery is exactly this – your inner world. Why did you choose this way of expressing yourself?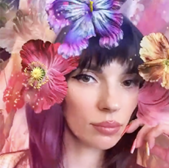 There is a huge advantage in creation of this type of world filters – I am not bound by any frames or limitations. In this field of art activity, you are restricted only by the size of assets and technical tricks. In contrast to the face and body AR I don't connect here with any person directly, so it works more like the traditional art. There are creatures and a viewer who communicates with art objects without the help of a viewer's body. Therefore the necessity for the filter is just a plane and it works more independently. While creating the gallery I was standing completely in a field of artistic freedom and imagination. Actually, I create this type of projects mostly for myself rather than for others, in this sense the filters live inside their own obscure world according to the incomprehensible logic of their plot.
Please tell us a little bit more about the gallery itself. What is the main concept of it? What was the main idea you put into it?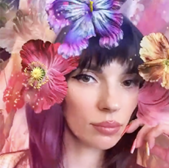 This space is inhabited by creatures of various species such as biological, technogenic, anthropogenic, and virtual. All these objects correlate with each other in the background of my previous works which were created last year. This new gallery unites them in a newly formed world where they can be seen all at once. The viewer has a possibility to dip into each of the filters with the means of the demo-video and the link to it, which are like the doors to the other sub-worlds. It was so fascinating to build the gallery without any sketch and thanks to Lenslist – with all my freedom. So the circle space of the gallery appeared fast around the columns and a little fountain inside it which finally helps to see the human brain calmly floating above the scene.
Most of the time, your Effects come with a backstory or a bigger idea behind them. Could you tell us stories behind the effects you've placed in the gallery? And why did you choose them specifically?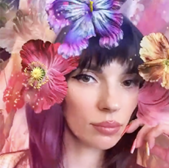 The trip starts from "Human Ocean" which was the first interesting filter for Snapchat, where the parts of the human body undergo metamorphosis in relations with sea animals, coral structures, anemones, and finally you see swaying reef hands, waving lips, fish and pulsating coral brain. All these sea creatures multiply and fill the space of the filter in real-time with the help of the LiDAR function, so it looks really like an alive world which was born before our eyes.
Then we have "Can you hear me?" which is fully dedicated to listening perception with a sculpture copy of the David's ear by Michelangelo and the realistic ear. These objects are surrounded by surrealistic flying sinks as metaphor symbols of the ear which can catch sea sounds.
The third filter "Mystery" recreates the sacral atmosphere of an old cave where a timeless divine bat with huge stained-glass wings dwells with her little assistants, other bats. They are disguised from human eyes and they hold mystical knowledge.
The last filter "Le carrousel" represents a richly decorated cake in rococo style. In order to create something pretentious and artsy, I adorned the crayon cake with architectural elements and rococo pieces of art. For a more dynamic picture, I also added the doll-like horses, the pink bows and dancing strawberries…
What was your main inspiration, while creating this digital space? Is it the way you imagine your inner world looks like?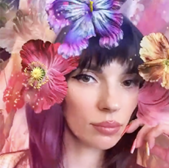 The inspiration for the gallery was my experience of adventure to Greece, art research and exploration of nature.
What would you like for users to take away from your gallery with them? A specific message, a feeling or maybe a memory?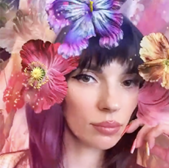 I want them to imagine the whole vast of possible worlds which can be created by them too or maybe to inspire them, as a paradox, dream more often in their own minds.
How do you see the future of the AR world? Do you think the concept of AR and how people perceive it will change?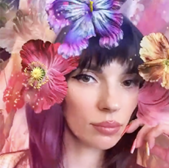 I guess it will be a more different and specific area. Thus it will be developed inside the branches of really various directions that will be focused on the distinct sides of reality, such as human design, garments, fictional characters and fantastic creatures, world objects, architectural tracking and many others. Eventually, users themselves can choose what is more interesting for them, so they will decide in the end what AR would look like.
⭐️⭐️⭐️
What a view! 🧚🤩✨It felt as if we travelled to another world – and what's more – became completely immersed in it! 🫧This interview was truly eye-opening and Olga's visions are perfectly reflected in the gallery's atmosphere – we're proud to have created this together. Once again, a big WOW and THANKS to you, Olga! 💛