Lens Fest Behind the Scenes: AR for Good #BTS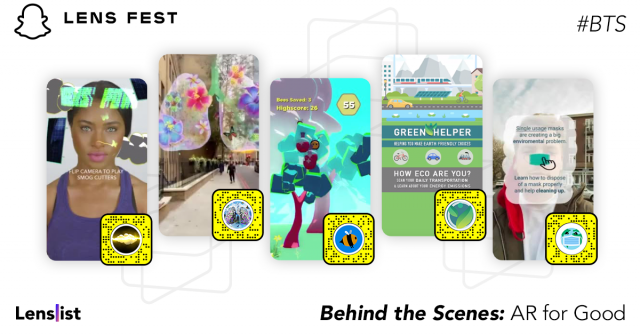 We know that Lens Fest ended awhile ago, but so much happened during the event, we're still not over it 😄 This time we want to invite you behind the scenes to explore Lenses submitted for the Lest Fest Call for Creation.
If you're wondering why you haven't heard about it – it was an exclusive opportunity, only for Creators selected by Snap. But no worries, we have a way for you to get noticed and potentially join the club 😉
AR for Good
Even though Snap didn't hold a Lensathon, like they did in 2019, they wanted to do something comparable to continually ignite the notion of innovation and community, this year – fully virtually. Instead of focusing on particular new features to create against as they had in years' past, this time Creators were asked to build utility-based Lenses along the theme of AR for Good. The exact prompt was:
What changes do you believe are necessary to protect our planet as well as the wildlife and the people that live on it? Create a Lens that serves as a tool to encourage Snapchatters to make the world a better place!
Selected Submissions
Snap asked over 100 Creators to participate in assigned teams and received 29 submissions, all shown during the final Lens Fest Meetup. From these, Snap selected 5️⃣ Lenses which impressed them the most and we think you should all see how they worked:
Self-named DreamTeam, consisting of creators Danny Marree, Atit Kharel, and Gera Fine, submitted Mask Cleanup
Team Green Footprinters, comprised of JP Pirie, Ashley Fletcher, and Miha Malensek, submitted Green Helper
Team How BeeZarre, including Daniel Robertson, Abbas Sajad, and Sufee Yama, submitted Save the Bees
Team WE AR, encompassing Steve Snygin, Benoit Pagotto, and Olga Isupova, submitted Earth Breath
Team POWER RANGERS, involving Joshua Keeney, Christopher Manning, and Michael Nicoll, submitted SOLARPOWER
And here's what JP said about working on Lens Green Helper with his team:
The lens we created will identify these modes of transport, it displays a carbon saving rating in real-time and accumulates the user's score using persistent storage on the user's device. Switching the camera to selfie mode indicates the score the user has gained by scanning the mode of transport through the week – cars for instance being the most polluting cause a negative score, where bikes are green and score more encouraging more planet-friendly transport choices for users and educating them in the process. – JP Pirie
Gifts for Good
After comments from the selected teams of Creators, Kaitlyn from Snap surprised the teams making the announcement that the selects would receive gifts from Gifts For Good, the first source for corporate gifts with a social impact. Gifts for Good sells life changing products made by over 50 nonprofits and social enterprises, changing lives in 19 states and 65 countries around the globe. From candles made by women refugees and cutting boards handmade by individuals transitioning from homelessness to chargers that support environmental efforts, every gift supports a nonprofit or small business in need.
In addition to the gifts from Gifts for Good, Snap will also send the members of the 5 selected teams the new iPhone 12 Pro, a pair of Spectacles, and Video Prints of their Lens Previews to commemorate creating a Lens together at Lens Fest 2020 🎁
Lenslist x Snap Call for Content
It's great to see the relationship between Snap and Lens Creators being so tight and warm and in the spirit of that, we've organized another Call for Content together with Snap. There are no monetary or material prizes to win there, it's not a contest, but you can be sure that the whole Snap Team will definitely see your submissions and hopefully you'll stand among the spotlighted Creators during Lens Fest 2021! 🤩