AR talks | JP Pirie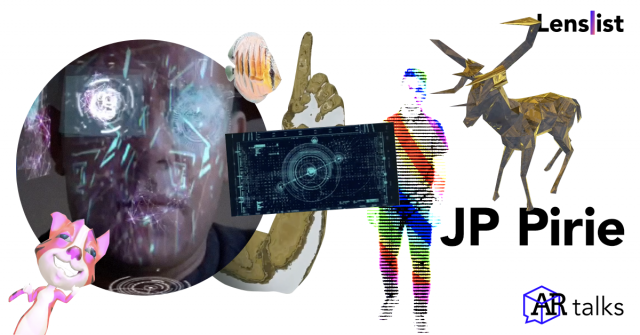 JP Pirie is an AR creator and Official Lens Creator living in London. JP works professionally in the field of digital design and is likely the most prolific producer of Snap Lenses on the planet averaging 2-3 lenses a day; having produced over 2000 to date!
Hi JP! First, please tell us more about yourself. How did you become an AR creator?
Totally by chance! I met a guy who contacted me through Insta about a 'project mapping project'; we met in a train station coffee shop. He was creating an African tribal mask lens using an early version of Lens Studio. I asked what the software was and he filled me in.
This was June 2018, I went home, downloaded and instantly became addicted. I haven't stopped making lenses since!
You've made a crazy amount of filters. And they all are high-quality artworks. What is the count now? And how do you find time to develop them?
I've made over 2000 lenses now.
I have been working daily in digital design, as a day job since 2000, I am a fast worker, I combine a range of digital skills and deliver them through Lens Studio. My logic is this: lenses are often 30-40 second experiences, a user will use a lens and move on (unless they absolutely love it, favorite it etc). Two years making lenses, using the software daily, makes for seriously speedy work and an idea for what people love (they tell me and make ace suggestions/requests daily)
As a designer or artist, you want people to see and experience your work. No other platform has given me the ability to have the eyes of over 2 billion people on my creative works in just two years; producing lenses on Snap has enabled this.
You consider good filters to be realistic, imaginative and to be able to surprise the users. Most of your lenses are halloween-themed 3D masks. Why is this your main interest and what does creating lenses mean to you?
Making mask lenses is a quick way to get into making your own lenses and when I started I found it the easiest way to create and publish a lens. Yes, you are correct; I have made hundreds of horror related masks, I am known for my scary face masks but I actually create just about every type of lens there is. I like to make scary, freaky, sci-fi, dystopian, cyborg, clown, zombie and some downright evil masks because people love to be scared, freaked out, and transformed.
Most of your social AR you have done for Snapchat, but you've also developed some Instagram effects. Which of the platforms do you prefer and why?
I prefer Snap over Insta – every person I have met from Snap is a genuinely nice, talented, hard-working human being. Each of them believe 100% in their mission. They make OLCs feel like family and spend a lot of time and effort engaging the creator community. The amount of new functionalities available in Lens Studio is staggering and keeps me interested. I prefer the snap ecosystem, I can make a lens, create a preview and thumbnail, and submit a package that in most instances is LIVE within minutes. I can also see all my lenses and all the related stats in one piece of kit. With Insta you make a filter and go through an odd submission system that is linked to your Facebook profile. I have made 10-15 Insta filters but feel totally disconnected to the users and the stats; my biggest gripe is the fact that you can submit a filter and sometimes it's anyone's guess when it will go live.
I like some things about Spark AR and how some aspects work but I get more eyes on Snap. Spark appears to ape much of what Lens Studio does, but rolls it out far slower than Snap, plus I don't feel part of a community like I am with my fellow OLCs (who I love) and Snap. I do plan on making a ton for Instagram for the sake of entertaining those users and making Insta versions of my most popular lenses at some point.
What do you think is the future of Augmented Reality?
The future of AR is going to be AMAZING. When Apple drop their 'glasses' its going to bring AR into the mainstream (remember the iPhone?), then after that we'll be able to insert AR contacts (the tech is already available). Currently we are restricted to 2d devices, in the future our data will surround us – I am so excited about the direction the industry is taking, the limitless possibilities in terms of augmenting our world in a plethora of helpful ways! Roll on the future.
JP, thank you for your time and for hours of AR experiences that you gave to the Snapchat community. Keep up the good work!