8 Snapchat Lens Creators You Should Know | December 2020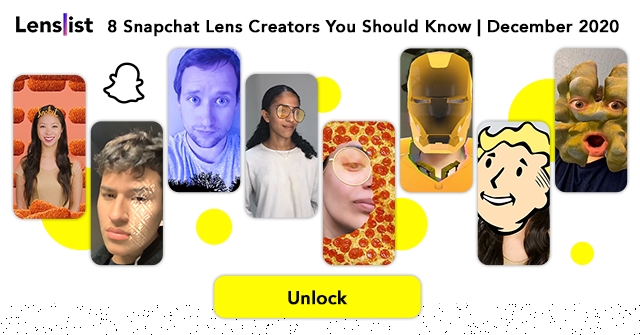 Meet these 8 extraordinary Snapchat Lenses Creators, try their AR filters and follow them to be up to date with their future projects.
We are thankful to Zara Shapiro, Malcolm Walker, Shimenta and Reinhard for the quotes they shared with us.
Reinhard
Reinhard recognizes himself as an 'artist, traveller and animallover'. He is an imaginative Lens Creator and an art teacher in Belgium. He also creates elaborate stories by drawing on top of his pictures (source).
I mainly create 2d lenses. With pictures or drawings that I made. So segmentation and face assets are my favorites to use. Funny creative lenses made for youre face. They can have all sorts of themes. I love it when you can use my lenses to create a story. – Reinhard on the style of his lenses
Christopher Manning
Christopher is an Official Lens Creator from Alberta specializing in face filters, stickers and playing with colour tones and corrections to 'make people feel comfortable'.
Shimenta
Shimenta is a freelance digital and motion designer as well as an Official Lens Creator. She graduated from University of Buenos Aires. Based in Milan, Italy, she creates witty Lenses using her extensive experience.
What I love about Lens Studio is how easy and intuitive it is, once you learned the basics it is easy to create an amazing lens. Also, all the object trackings (face, body, image, landmarks) work awesome. The face tracking combines with the face occlusion can give very realistic effects. These aspects render any AR experience easy and fun to use for the users.

My favourite features are the new body tackings, including foot, hands, and full body. For these last years, we explored a lot what we could augment on the face, now, a new universe of possibilities has been unlocked. Though I'm still testing some of these new features I can't wait to discover what is possible to achieve with them. – Shimenta on Lens Studio
Matty Platty
Matty is an Official Lens Creator from Michigan, US. He graduated as radiographer and became a Snapchat content creator. Working with Houndstooth Media Group, he developed Lenses for Pet Boss Nation and The Wedding Shoppe (read more).
Zara Shapiro
Zara is a talented Lens Creator working at Bigtent Creative. She is a student from Miami, US skilled in graphic design.
Lens Studio gives users the unique opportunity to create something meaningful and share it with an audience. From the ease of guides and templates to rapid prototyping with previews, Lens Studio's features are incredibly easy to use, their scope and impact expanding with a user's skill level. – Zara on Lens Studio
Dombeef
Dombeef is a student from Florida, US who describes himself as 'tinkerer and maker' (see his github). He considers creating his witty Lenses very rewarding because of the amount of people who interact with them.
Malcolm Walker
Malcolm is a French living in New York. He is an experienced artist and experiental designer by profession. He creates AR filters for both Snapchat and Instagram from 2017. Check out his Social Media Campaigns and other works on his website.
When I create filters it usually starts with a concept or a sketch. Usually I draw inspiration from something I felt or saw. To bring these ideas to virtual reality, I work in 3D modeling and texturing. These tools give me the ability to range the filter's style from realistic results to cartoony ones. Filters allow me to express whatever I or my client are interested in. This kind of expression is addictive and inspiration is everywhere! – Malcolm on the style of his lenses
Filip Baba
Filip is a CEO & Founder of Anyworld from New York. He is an experienced developer, AR/VR creative technologist and Snap creative partner. He managed AR/VR projects for such brands as Calvin Klein, Sony Pictures, Universal Music Group or Prada.
Thanks you for reading, we hope the article helped you in getting to know these amazing lens creators. Don't hesitate to contact them for business purposes or if you just want to congratulate them on their work 😊