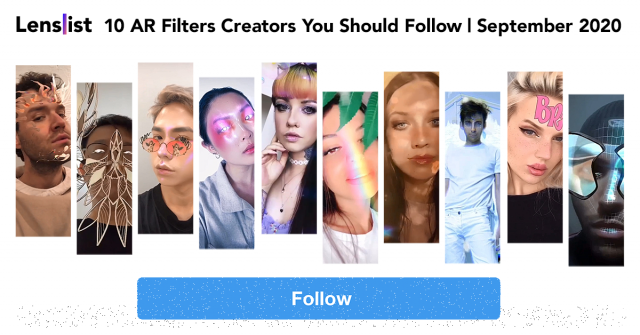 This month we've asked another 10 creators that we believe you should follow about their favourite filters. Check out what inspires them, what in their opinion makes the effect great, and start following them!
Ωmega | @omega.c
Ωmega is a German architect living in Japan. He's made many quality filters for both brands and the community, such as Omega.C for Reserved, The Matter, Crystal Tentacles or Behing the Waterfall. He specializes in water and glass effects.
…
I really like my Behind the Waterfall filter. It adds a layer of falling down water on people and distorts their appearance. – Ωmega's
Chung Chi Ying | @chungcy
Chung is an AR filter creator, 3D artist and animator from Singapore. He has been working in the design industry for more than 20 years, so he developed his uniqe, glassy style of winged masks. The effects by Chung we present here are Gold Bird Mask, Silver Wave, Silver Blood and Crystal CHUNG.
…
I have been seeking inspiration from nature when creating my filters. My favourite filter – GOLD Bird Mask symbolizes a bird in flight. I hope to inspire other AR creators and users to be creative and let their imagination take flight in the limitless world of AR. – Chung Chi Ying
Howie Kim | @howie759
Howie is another brilliant AR filter creatore from Singapore, though his style is completely different from Chung's. His witty, creative, shiny masks will put a smile on your face when you mostly need it. The effects by Howie we present here are: Cherubique, Calories Pt. 1, Electro Star and Garden of Qiastera.
…
Cherubique is one of my personal favourites I've made. I think its a simple filter but I like that it fits right between the lines of reality and fantasy. – Howie Kim
Helena Dong | @helena_dong
Helena is a designer experienced in fashion, 3D and AR located in New York and Melbourne. She's also involved in a very interesting project New Reader. Ms. Iyaaa x Vogue, CRYSTAL FACE, GLASS RIPPLES and HD-SYSTEM are some of the filters representing her emerging style.
'Ms. Iyaaa x Vogue' is the first AR enhancement of an editorial commissioned by American Vogue. This beauty filter was created to encapsulate the sleekness and dynamism of the magazine's September editorial, which featured the upcoming debut of European luxury brand Byredo's beauty collection in collaboration with make-up artist Isayama Ffrench. – Helena Dong
Digital Daisy | @digital_daisy_
Daisy is a freelance French filter creator who developed over 50 filters so far, for both and community. Her filters are all about colourful, often neon masks, SF, fantasy and cultural references. The effects presented here are nexus-6, fantasy, volume 3 and gameboy game.
Daisy wanted to share her leitmotif with you, so here you go:
Get inspired and be creative! 🌼 – Digital Daisy
Anastasiya Tkachenko | @triutra
Anastasiya is a Russin creator that says that the key to a successful effect is to make them with soul (source). She specializes in crafty photo presets and subtle, resourceful masks like Girl with skateboard, i'm hot you're not, miracle and bw vibe.
I love this effect, 3 customization options: fire heart glasses, fire make-up, and a version that emphasizes natural beauty, what could be better? – Anastasiya Tkachenko
Visualize.mee | @visualize.mee
Olga is an AR creator that is able to blend beautiful floral arrangements with crafty, shiny elements and visualizations of contemporary problems. The effects below are dystopia, sunkissed, B♥e♥l♥l♥a and paradise.
My project "Dystopia 2020" depicts the reality of the society where we've suddenly woken up 👀

The COVID-19 pandemic, the Hong Kong protests, mass riots in the United States #blacklivesmatter, the amendments to the Constitution of the Russian Federation — are powerful reasons for state controlling machines to create systems of global tracking through a carefully built bigdata-network of tracking users.

"Dystopia 2020" visualizes the extreme point of the state digital control. Cameras and sensors are everywhere. They fancifully mimic and hide even in virgin natural objects. All of these are for the sake of digital power over our lives.
Bertrand Lapierre | @zaker
Bertrand, an AR creator from Reunion Island, believes that the good filter is the one that transports the user into a different world (read more in his Spotlight). The wide range of his Instagram effects do just that. Check out the ones we find most appealing: ZAKARIA, Angel, liqmarble and cyberlic.
Zakaria is one of my favorite filters because I mixed so many techniques that I learnt by doing masks! The most difficult part for me was to rig the 3D ears that I sculpt and gave it the good movement depending on the head direction! Also I wanted to have a more immersive effect by adding particles in the world space. And the inspiration behind this filter is a mix of Ahri, Avatar, and aliens! I love to take multiple ideas and make a mashup with all of that!
Anastasia | @vvesnaleto
Anastasia is a Russian freelancer AR creator. She's an author of dozens of cute makeup masks, presets etc. such as bratz doll, lambo, bad girl or butterfly.
Justin W. Laurent | @justinwlaurent
Justin is a French designer and AR creator located in Basel & Paris. He made over 50 Instagram filters, often commenting on reality, like Post Modern Beauty, Futura3, heads or MADE in_$.
We hope that this article let you discover some new amazing filters to have fun with, as well as creators that may develop an AR filter for your brand. Feel free to contact them! Also, if you have any AR-related questions or would like to suggest a creator for the next month's decad of creators everyone should follow, write to us.