Creator Spotlight: Anastasiya Tkachenko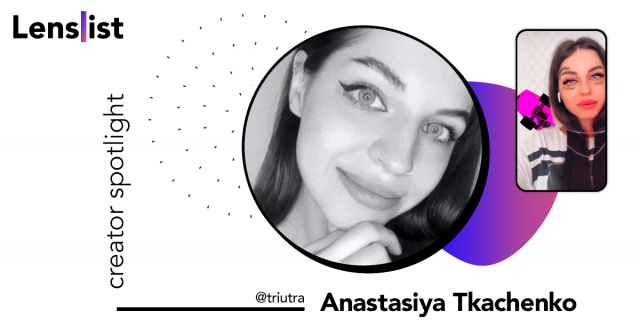 Creator from 🇷🇺 Russia
Hi, Ran! Please, tell us something about yourself.
I am from Russia, Far East. I have always been a creative person and tried to find myself in different professions. But nothing fascinated me as much as creating filters. All the skills were very useful to me, I think that fate led me to this. Creating filters is very interesting, every day you can learn and invent something new and it helps a lot to unleash your potential.
How many effects have you created so far and for which platforms?
I've created over 50 effects for Instagram and Facebook.
Name the best three effects you created and briefly describe them.
ADD YOUR TEXT is one of the most popular and difficult to create effects. In this filter, people can write any text they want using letters and symbols at the bottom of the screen. The mask also saves the entered text, so it does not need to be rewritten every time.
Girl with skateboard is one of my favorite effects that shows how much I love using 3D objects in masks. This is an image of such an American teenage girl with tattoos, a bright make-up, a skateboard and headphones.
Don't care – a two-person effect with animal-themed glasses and a bright filter, which really love a lot of people. You can put glasses on your head by tapping the screen.
Which platform for creating AR filters is your favourite and why?
Instagram because I rarely use other apps.
What in your opinion makes an AR effect successful?
This is a very difficult question. You never know what people will like, they always surprise. The main thing is to make filters with soul and they will definitely be appreciated.