How AR Can Change The Fashion Industry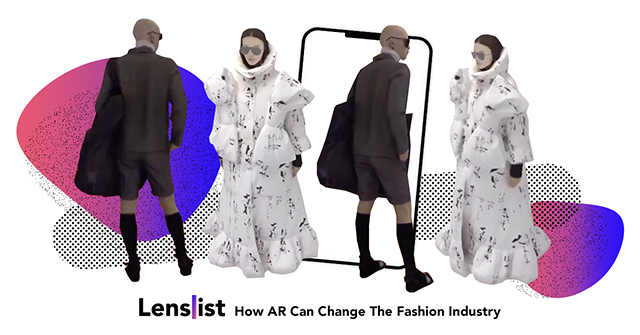 If the recent COVID-19 related lockdown taught us, creative marketers, anything, it's that we need a change when it comes to doing business and marketing. It made us think about the future of retail, e-commerce and of course the part AR and VR will have in transforming many businesses or even whole sectors of our global economy. One of the sectors that will probably do a 180 in the next 5 to 10 years is the fashion industry.
Before we will give you our overview of how social media AR is utilized by the fashion industry now, we've asked Darragh Dandurand, a journalist, futurist and expert in immersive technologies to point out some of the trends and aspects, in which fashion is going to change over the next 5 years:
There are 3 aspects in which immersive technology and fashion overlap:

Use of technology in designing fashion,
Digital clothing – fashion within digital spaces,
Using immersive technologies in the clothing itself

Right now, whether it's short term or long term, a lot of us are working from home. We're using our bodies differently than we ever had to use them before and this trend is going to continue, so fashion is absolutely going to change in the next 5 years. We will incorporate technology into the clothing itself and, personally, I hope that the act of making clothing will become so much more sustainable, both when it comes to environmentalism, as well as human labor.

We're becoming the citizens of a digital space and clothing redefines itself through this paradigm shift. The way in which we will learn to (re)express ourselves via digital garments is absolutely going to become crucial—it is a new performative act. There's going to be an expectation that not only do you have good design, but good graphics, and good clothing physics, too.
– Darragh Dandurand
As Darragh points out, all of us spend more and more time in digital spaces. That is exactly why AR and VR will play such a huge role in the transformation of the fashion industry, both when it comes to manufacturing clothing and consuming it. Right now, thanks to democratizing these technologies via social media and gaming, brands are starting to take notice and incorporate them (especially AR for now) in their marketing and business operations. Since we're focusing on AR in social media, let's have a look at some of the most interesting campaigns we've seen coming from the fashion industry.
A digital fashion show / AR product visualisation by FINCH
While talking about truly groundbreaking work when it comes to merging AR with fashion, the first company that has to come to mind is FINCH, an Ukrainian brand created by Kateryna Biakova & Maksym Holub, who, as they state on their website, brought IT values to their brand, connecting their experiences in IT with a passion for design and creation. In February this year, they decided to present their new collection using AR and 3D printing. First, they printed out sculptures of models wearing FINCH clothing and then prepared Instagram AR filters for each of the models/looks.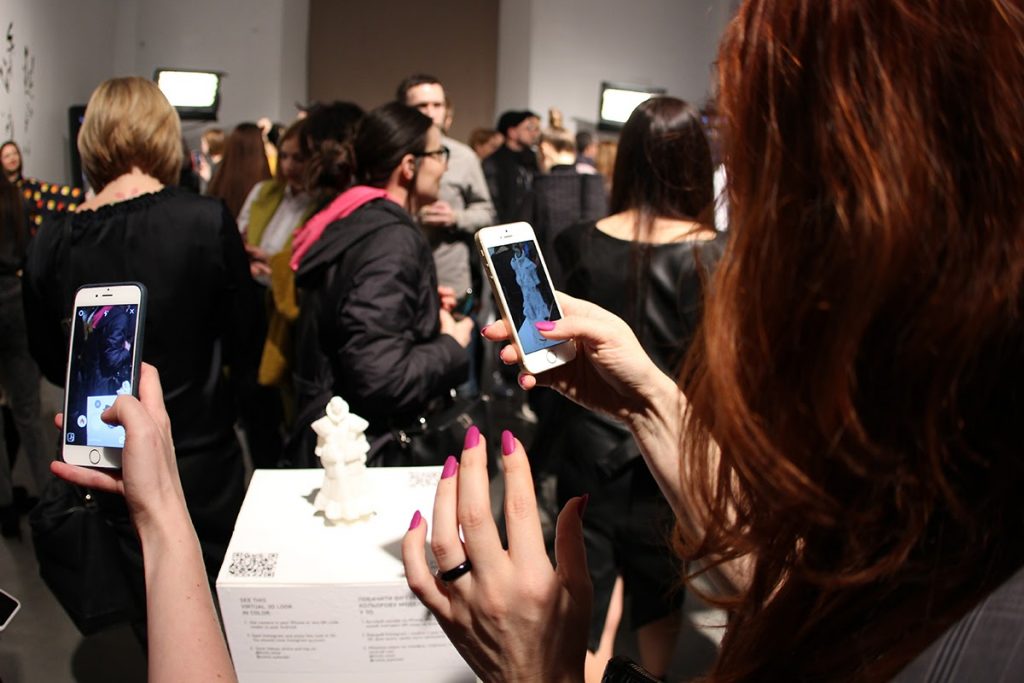 Source: fashionweek.ua
Augmented Reality Clothing by FFFACE x FINCH
Again, FINCH as a groundbreaker in merging AR with fashion, came up with a limited capsule collection of the first ever clothing with 3D animation activated with an Instagram AR filter. As the brand states on their website: We showcase our looks via digital more frequently than offline nowadays, a statement which coincides perfectly with Darragh's description of a trend that gains more and more momentum everyday.
FINCH collaborated on this one with FFFACE.ME, also an Ukrainian company, creating AR filters for Instagram. This project is super special, not only because it utilizes an AR effect, but also broadens our perception of how we can interface and create content with Augmented Reality and how we can combine technology and fashion.
Most of us, when thinking about merging tech and clothing, think about smart watches or athletic wear measuring your body temperature, but as you can see, this combo can take many different forms.
Check out more #FINCH filters on Lenslist
Virtual Fitting Room / AR Try-Ons
Most of the fitting rooms available on both Instagram and Snapchat utilize the selfie camera and allow users to try on eyewear, jewelry, hats and bags, just like you can see in these filters below, published by Balmain, Dior, P D PAOLA and Magda Butrym.
Examples:

Read more: 100+ Instagram AR Filters to Try On Glasses Virtually
Recently, Snapchat has announced a new functionality that will allow brands and creators to develop try-on filters for the rear-view camera, too. The first and actually very promising example is a shoes fitting room from Gucci. The feature itself is called Shoppable AR and it's great to see these huge, couture brands invest in such innovative solutions. Hopefully, we will see more and more filters like this one, created by smaller brands and creators themselves. What's really cool in this particular case, the filter allows users to click through directly to the product page on the Gucci e-store, which means the brand could embed more than one link inside the filter, which is currently unavailable on other platforms, even in the Facebook AR Ads paid format.
What's next?
Considering how fast both AR and fashion develop and change, it's hard to accurately predict what's going to come from this beautiful combination of tech, creativity and commerce, but just like Darragh pointed out – we can be sure that there's so much more to explore. From new, innovative solutions provided for consumers, to XR-supported process of transforming designing techniques, manufacturing and distribution. We hope that both AR and VR will enable a more sustainable and democratized future for the fashion industry.