Lenslist Ebook Is Here! Download It Now to Explore the World of AR Filters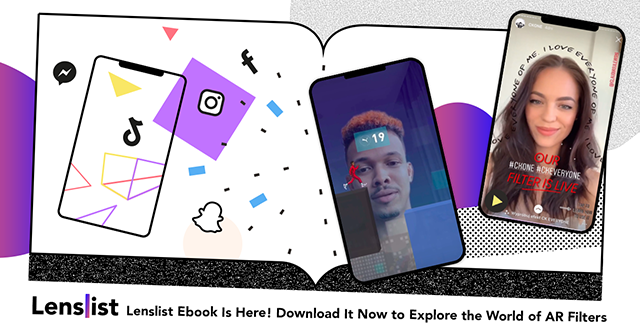 After weeks of hard work, we are proud to present to you 220 pages of our ebook about AR in social media. It contains information essential for every brand or artist that wants to publish their own AR filter on Instagram, Facebook, Snapchat or TikTok.
Our goal is to help anyone interested in Augmented Reality, no matter how much knowledge they already have. From this ebook, you'll learn:
how to use AR filters on different platforms
what are the differences between platforms
how to publish AR filters
what are hot trends in social media AR now
what are best practices when publishing AR filters
about case studies of branded AR filters
and much more!
Here is a sneak peak of the book:
The most comprehensive description of our publication is found within the ebook itself:

This ebook aims to present technological capabilities of Augmented Reality on most popular social media platforms, point out best practices, discuss trends, but most importantly provide a definite answer to whether AR is a legitimate marketing tool.
Our ebook is mobile-friendly when it comes to its readability. You can learn about AR filters right where you'll use them. What's more, you can try out filters that are mentioned in the pdf with just one click.
We decided to do it for the whole community that has emerged around AR filters for different platforms. We felt that many marketers still lack sometimes basic knowledge about this incredible and prospective medium which AR definitely is. So even though we knew that it will consume months of our work, we faced the challenge. And I believe that we've created something special: the source both comprehensive and clear, for anyone who comes into contact with AR filters.
– Paweł Jarco, Lenslist CEO

AR in social media ebook is completely free. We only hope that it will serve you well and encourage as many people and brands as possible to start their AR journey. Enjoy! 💜