Snapchat Finally Adds Brand Profiles with AR Lenses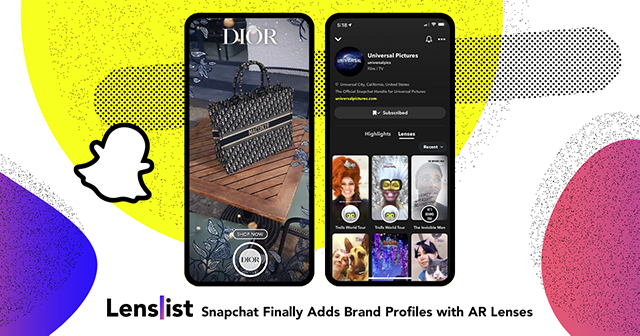 One of the biggest advantages of Instagram AR over Snapchat lens was the clarity that came with the creators' and brands' profiles. Now, with Snapchat adding its own brand profiles with lenses tab, Snapchat has a chance to get back on track when it comes to branded AR.
Brand Profiles, which are now in a closed beta, are the next step after the last year's introduction of "Public Profiles" for Creators and Shows. There are four main components of a brand profile: Native Store, Highlights, Story posts and, finally, AR Lenses.
Brands can save and showcase Lenses on their profile, allowing any Snapchatter to discover and/or revisit a brand's unique AR experiences. These Lenses will be discoverable through both Snapchat Search and Lens Explorer.
Source: forbusiness.snapchat.com/blog/introducing-brand-profiles
How does it work?
The most obvious way to get to a brand profile and use brand's lenses is to search for it in Snapchat. We're showing you the whole process in the video below 👇
Brand's snapcode
Not only lenses have their snapcodes (scannable yellow tags). Every brand profile has its own link (eg. https://www.snapchat.com/add/dior). On mobile, it will open a brand profile directly in Snapchat app. On desktop, it will open a website containing a snapcode which you can scan with Snapchat camera.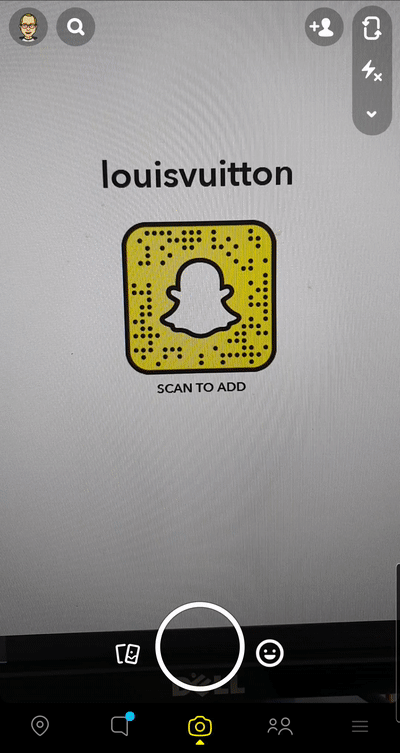 Snapcodes are actually a very powerful distribution tool. You can place it on your products, tickets and street posters to be scanned by brand's fans. Now, they gain even more power with the advertising stability that comes from owning a constant brand profile.
Why it's so important for everyone involved?
First of all, they're mostly important for brands that include Snapchat in their marketing strategy. Phoebe Bain explained it perfectly:
Permanent content and a clear branded profile page, plus solid analytics and content management tools, could push Snapchat further toward the center of your social media strategy.
Source: morningbrew.com
Second of all, they're important for brand's fans and lens users, because it gives them a clear access to what they fancy. Last, but not least, it's important for our team at Lenslist 😁 This gives us the best opportunity yet to be as up to date with branded Snapchat lenses as we are with Instagram filters. So, if you're a fan of Snapchat lenses, make sure you keep track of our huge collection at lenslist.co.
Brand profiles with available lenses
On desktop: scan the snapcode with your Snapchat mobile app
On mobile: tab the snapcode