NBA Basketball AR Filters for Instagram & Snapchat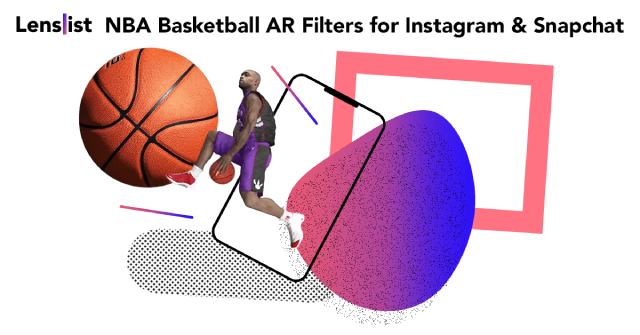 As NBA is about to come back in a couple of days in a Disney World "bubble" campus, we take a look at how franchises are using AR filters in social media marketing 🏀
Even though most of the teams don't have any Instagram filters on their profiles, the trend is clearly visible: AR has become a legitimate part of marketing in a world of professional sport, including basketball. Franchises and NBA-related brands publish filters that provide entertainment, visual support for teams, the spirit of celebration and creative throwbacks.
Celebrating Vince Carter's career
When Vince Carter decided to officially declare the end of his amazing, 22 year long career, NBA Canada published a Thank You Vince A/R filter to celebrate his iconic dunk from the 2000 NBA Dunk Contest. It's simple, yet resourceful, and what's most important, it lets fans use their own creativity by making Vinsanity dunk on their private baskets (read more on nba.com)
From simple masks to AR games
You can expect that AR filters by NBA franchises will be high-quality productions, even if they are just simple supporting masks like Mountain Eyes from utahjazz. At the same time, you can stumble upon more advanced, two-player compliance games like Most Likely: Kings from sacramentokings.
Throwbacks
As NBA loves to celebrate its legacy, a few throwback AR filters have already been created. Utah Jazz used their legacy logo as background for Instagram photos in Throwback Background effect. Meanwhile, Orlando Magic celebrated one of their most important players, Horace Grant, with the Horace Grant Googles filter that lets users wear his iconic old-school googles 🤓
Randomizers
The most significant AR trend of 2020, "Which _ are you" filters, has become a starting point for a few NBA teams when it comes to AR. Check out Which Celtic? and Which Kings Player? filters, they're pretty awesome.
Instagram and Snapchat filters by NBA2K & others

In Lenslist collection we have two filters made by the producer of the best virtual basketball experience. Snapchat lens NBA 2K18 included fun basketball game and a world lens featuring Shaquille O'Neal and Paul George (read more about its success). Meanwhile, WhatsYour2KRating? Instagram filter is yet another randomizer, but it's extremely engaging for basketball fans because it relates to a hot annual debate about player's ratings in NBA2K video games. Mountain Dew was the author of Mountain Dew X NBA Snapchat lens, and a dancing foam finger lens was the effect of NBA and Snapchat direct collaboration.
Dallas Mavericks & Groove Jones
For three years now the digital agency cooperate with Mavs in developing AR experiences triggered by huge murals in downtown Dallas. Check out Facebook AR filter celebrating Rookie of the Year Winner Luka Dončić (more info and videos here).

Conclusion
It's been almost a year since brands can publish AR filters on Instagram. NBA fans can surely have some fun with Augmented Reality on social media, but unfortunately not every team has acknowledged the importance of this new media format so far. We hope that with the start of 2020/21 season in December, every franchise will let their fans support their teams with AR!
If you have an idea for an AR filter or have any questions, feel free to ask Lenslist Team.