AR talks | Eddy Adams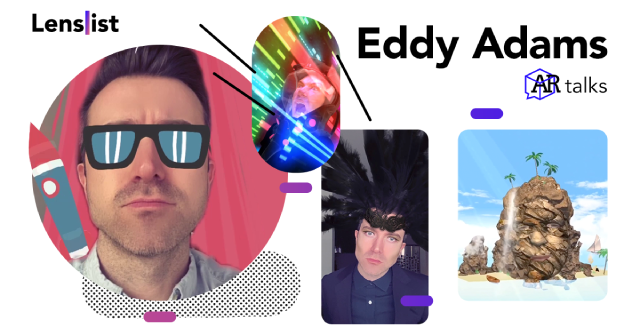 We've been very excited about our talk with such experienced 3D motion designer and AR creator, Eddy Adams (@eddyin3d). And now, we are equally eager to show you all that knowledge and experience that he shared with us. Fellow creators, enjoy!
Hi, Eddy! How did it happen that a 3D motion designer and photographer with so much experience got started creating AR? What's your story?
On August 28th, 2019, I was sent an email from We Are Royale asking if I was interested in working on any one of a list of projects. The project that caught my eye, and changed my life forever, was "AR Masks & Filters." At the time, I had seen a live demo of Lens Studio, but I had never even touched Spark AR. Royale reassured me that an experienced AR developer would be working alongside me as I built 3D assets in Cinema 4D. Over this two-month booking, I started to dabble in Spark while making the assets. Coming from a 3D background, the Spark workspace quickly became familiar. By the end of the booking, I was creating entire filters from beginning to end.
Duality, Future Gaga Couture
After that, I continued working with agencies on 3D motion design projects while I started pitching filter ideas to clients on the side. Early on, I made contact with the creative team of the Seattle Seahawks (the American football team that won Super Bowl XLVIII) and made a one-off filter for them. With two months of training at Royale and the Seahawks filter complete, I had enough under my belt to start approaching more clients.
Your Instagram AR filters stand out not only thanks to the obvious quality of 3D assets, but also because of their level of creativity. What do you think makes AR filters great?
AR filters are a whole new paradigm for interactive experiences. When I'm working on 3D motion design projects, countless hours are poured into making everything perfect. The lighting, the simulations, the photorealistic textures.
But with AR, the need for perfection is replaced with a thirst for interactivity and fun. If you can surprise someone using your filter, you have succeeded.
With the user at the center of the experience, they feel the craftsmanship firsthand. They have a more emotional response as they witness themselves in this altered world. Maybe it makes them look silly or badass. Maybe it helps them express an emotion or core value that a normal photo or video might not be able to. It really opens up a pandora's box of creativity.
Space Warp, Plumage
When it comes to my filters in particular, there are many things at play. With a dozen years of experience as a 3D artist, I'm familiar with that entire pipeline. Modeling, texturing, rigging, lighting, rendering, compositing. All those pillars of 3D motion design are represented in AR, just differently. If I was to boil down what makes my filters stand out, it would be a clever and efficient use of models, textures, and particles. Almost all of my filters use these three heavily.
Models. Being in a 3D environment, 3D objects are obviously the most immersive and effective way to illustrate an idea. And thankfully, 3D models are relatively lightweight in terms of filesize. Start with a few 3D models that are built well and you're well on your way to a solid filter.
Textures. Materials and textures bring the models to life. Using a program like Cinema 4D or Substance Painter, you can add a ton of detail to a model using textures. In Substance Painter, I often bake in ambient occlusion, lighting detail, grunge detail, and so on. Any information I can pack into the 1024×1024 PNG, I do. If the model is more prominent in the scene, I'll also try to utilize the PBR features to add more surface definition. In Spark AR, this can often lead to artifacts, but sometimes it works well.
Particles. Over half of my filters include particles of some kind. It's an easy way to add a lot of detail and motion to a scene without increasing the filesize too much. Here are a few fun effects you can accomplish with particles:
Waterfalls
Birds or fish
Fire and smoke
Environment fog
Objects breaking apart
Breath in a cold environment
Lasers!
Cloud of dust explosion (for transitions)
Jet flames
Confetti
Butterflies
Steam (off coffee or fresh baked goods)
Wow, thanks for such an exhaustive answer! You've mentioned your experience as a 3D artist – now let's talk about your work as a professional AR creator. Up until now you've done more than a few filters for artists and brands such as Steve Aoki, Alok, DVBBS, IMDB, Seattle Seahawks, and Nuun. Can you share some thoughts on what's important when you work on commercial AR filters?
Working with commercial clients comes with an elevated need for communication, precision, and expectation-setting. When I first approach a client with an idea, I build a page on my website that breaks down as much of the concept as possible. This includes an introduction, example filters, the ideas themselves, budgets, timelines, and further technical education about Spark AR's features and limitations.

For the first time ever(!), I'm willing to share my client proposal template publicly in this interview. Visit www.eddyadams.com/lenslist to see what my proposals look like.
A lot of care and strategy has been built into this template. It aims to answer questions while building trust in my capabilities.
Once the concept and budget are agreed upon, I get to work. After the core foundation of the filter is complete, I start sharing test links with the client every day or two to gather feedback and show progress. This is a fun part of the process since the client gets to see themselves in the filter.
One big lesson I have learned is that the larger the client, the more people are involved. This leads to delays in feedback and sometimes opposing opinions on how to proceed. That's when it becomes crucial as the creator to offer solutions that satisfy as many of the requests as possible.
Mistletoe Royale XO, The Boz
Your template looks great! It will definitely point the beginners in the right direction when it comes to building trust in their potential clients. Also, this is another example of your willingness to share your experience with others. Despite the fact that you're a well-established freelancer, you seem not to forget about the community. You are the organizer of Mixer – a meetup for modern creatives – you share on your website a SparkAR file of one of your effects 'Isle of Palms' and you publish very cool videos showing your processes with the addition of your own commentaries. Why is that?
There are two parts to this answer. The former is a bit more selfish while the latter is more altruistic.
Engaging with and supporting communities of creatives in your field has a measurable impact on your own creative career. By giving back, you can become a figure that newer artists look to for inspiration, motivation, and even technical help. In doing this, you also increase your visibility, making it easier for potential clients to find you.
On the other hand, it just feels good. Like you have a little bit more purpose in life. The Spark AR community is a rapidly growing community of people from all over the world. By engaging with this community, I have gained some real friends that I feel comfortable with reaching out to directly for advice or just to give a compliment on a recent filter or post.
Do you think that COVID already had or will have an impact on the development of Augmented Reality?
A global pandemic absolutely has an impact on AR. The obvious impact is that more users are at home on their phones for more hours in the day. This gives us creators more face time with the users.
Beyond that, though, there is a slower shift toward the remote work life. With more and more companies supporting their employees working from home, the ideas of virtual and augmented reality will blend with the existing technologies of teleconferencing and group chats. This intersection is already becoming a reality with desktop versions of filters through Snapchat's Snap Camera or Facebook's Messenger Rooms.
Isle of Palms, Neon Future
Do you have any advice for creators that are just getting started?
Depending on where you're coming from, I have two pieces of advice.
If you're an experienced 3D artist, you can jump right in and follow tutorials for specific ideas you want to create. The official learning center has basic tutorials for most of the core features of the platform.
If you don't have 3D experience, the road ahead will be much longer. I would suggest learning a 3D package that lets you model, texture, rig, and animate. I use Cinema 4D, but Blender is a wonderful (and free!) option. Without a 3D package like that, the complexity of your filters will hit a wall very quickly. Sure, you can download assets and drop them in, but having the ability to build models from scratch or optimize models for AR will quickly become invaluable.
Either way, I highly encourage you to check out the new Spark AR tutorials and resources page on my website to get quick access to everything that I use on a daily basis when building filters. I add to it regularly, so be sure to bookmark it!
eddyadams.com/spark-ar
Eddy, thank you very much for the crazy amount of useful knowledge that you shared with Lenslist's audience. We can't wait for your next projects!
Thank you Lenslist for the opportunity to share my experience with your audience! I'm excited to see what you and the rest of the community come up within the years to come. Cheers!