TikTok AR Filters for Brands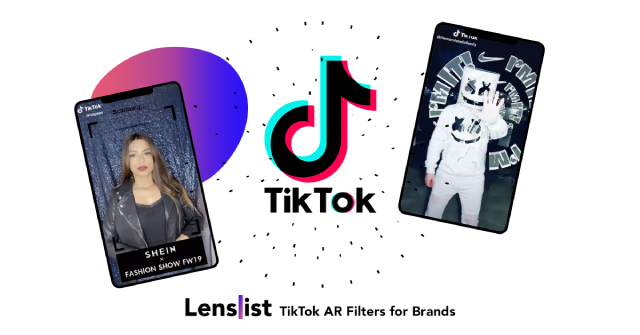 This article is an extract of soon-to-come Lenslist ebook 'AR in social media'. It contains basic information about AR filters on TikTok which can now be used by brands. Keep in touch to know when the ebook is ready or write to us if you're interested in publishing AR filter as a brand on TikTok.
Creative fun with video and audio is a key part of TikTok's DNA. Spectacular editing and frame modifications, accelerations and slowdowns, stickers and interactive color filters – all that, combined with virtually infinite imagination of app's users, positions Augmented Reality effects as a logical, evolutionary step for TikTok, rather than a completely new functionality.
Without a doubt, among all popular social media platforms, it is TikTok that equips its users with the widest range of creative tools for content editing. It comes as no surprise then, that every month it enjoys increasing interest – and number of downloads – across all demographics. And as a consequence – marketers' interest too.
Alex Kawaguchi using many TikTok filters in one video
Branded effects
TikTok's branded effects are categorized into three types: 2D, 2D Pro, and 3D. These names fairly represent the extent of reality augmentations that can be achieved with them.
TikTok is all about super short formats and pure entertainment, so when it comes to AR effects what matters most is a catchy concept, not a sophistication level. If your branded effect is to be successful, it needs to provide users with creative fuel, rather than a refined artistic experience.
2D effects
Modifications that are possible in this category include:
Two-dimensional masks responsive to head movements
Static or animated foregrounds and backgrounds (but only partial)
Face and hand gesture triggers
2D facial + 2D foreground | Shein Fashion Show, Coca-Cola
2D facial + 2D foreground | TikTok 2D
2D hand + 2D foreground | #You'reIT
2D Pro effects
This type of branded effects allows for more advanced augmentations:
Face modifications
Hair color change
Iris color change
Make-ups
Lip color change, Make-up, 2D facial, 2D hand | it's Skin
Make-up, 2D foreground | Ponds
Hair dye | not.zoey.101
Make-up, face distortion | Face Deformation
Eyeshadow color change, Make-up | Eyeshadow Color Change
3D effects
Just like the name suggests, it is all about three dimensions here:
3D mask (or entire head) – animated, responsive to facial expressions
3D object for anchoring in user's surroundings – animated, controlled by face or hand gestures
Highest level of detail and interactivity, most advanced textures, most realistic immersion
3D elements control | 3D Elements Control
3D head | Nike
3D character | 3D character
Triggers
TikTok's camera recognizes an impressive number of 19 hand gestures (including 4 kinds of hearts!) and 7 facial expressions. These are called triggers and can be used to control, change, launch or finish elements of a branded effect.
Number of triggers supported in an individual branded effect depends on its type:
4 triggers in 2D effects
2 triggers in 2D Pro effects
1 trigger in 3D effects
2D facial, 2D hand, 2D foreground | Maeil Dairies, #CODMZOMBIEDANCE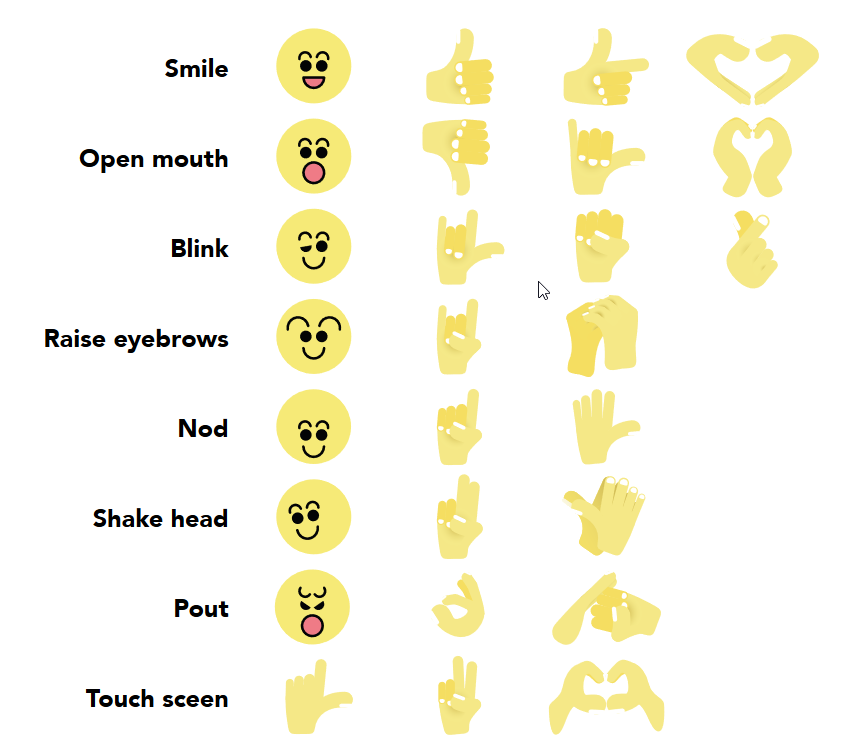 Accuracy and stability of triggers may vary depending on lighting conditions, user's distance from camera, and device used.
Upon launching an effect that utilizes triggers, user has hint text displayed on screen – e.g. show your palm, swipe – so they know what interaction is possible in it. The hint text is provided by the effect creator and must not exceed 30 characters.
Thank you reading our first article on TikTok Augmented Reality! We hope that it'll inspire you to create your own effect on this platform! Check out the growing collection of TikTok effects on Lenslist: