Why Luxury Brands Love Instagram AR?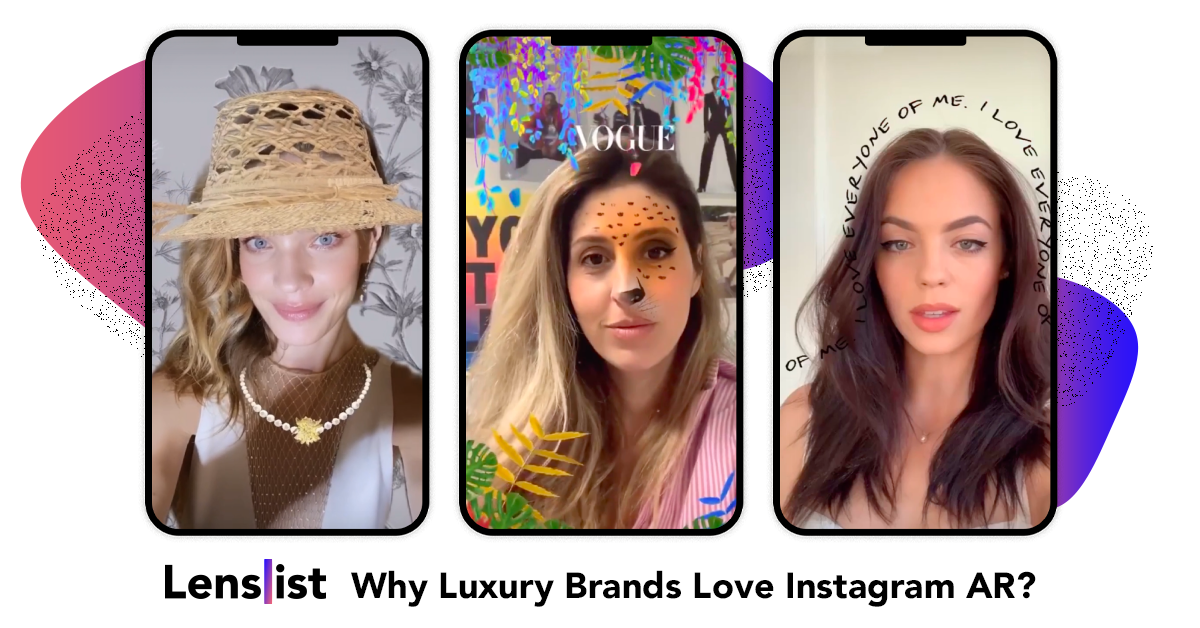 Snapchat and Instagram AR effects are sometimes treated as silly, immature and unnecessary – unfortunately also by those who are decisive when it comes to digital marketing strategy. But luxury brands like Dior, Louis Vuitton, Gucci or Prada prove them wrong by consistently implementing Instagram AR effects into their campaigns.
Let's start with a cliché: digital marketing is changing so fast that it is hard for some to comprehend. This sentence is especially true when it comes to new trends rising among young people. Now, teenagers are on TikTok, Instagram, and Snapchat – and they use Augmented Reality all the time. And it's not like they will mature and move on from it, because they are getting used to the technology and to the brands they are interacting with.
The goal of this article is not only to show how luxury goods and fashion brands use Augmented Reality in marketing but also to use them as a valuable case for other brands to implement AR into their digital strategy. Here are the main thoughts that can be gathered from the observation of luxury brands' AR effects:
Most of the luxury brands have already used AR

7 of 9 most valuable luxury brands in the world already published AR effect on their Instagram profiles, and a majority of them have done it more than once or on other platforms, too. Dior and Louis Vouitton are probably the most consistent two of them, and it seems like with the beginning of 2020 Dior is starting to publish new AR effects for each of the new collections. At the moment, it has 4 active Instagram filters: Spring-Summer 2020, Men's Fall 2020, Check'n'Dior & KaleiDiorscope.

Men's Fall 2020 by @dior, Damier by @louisvouitton

Instagram is the social media platform for fashion brands

Instagram serves as the main medium for influencers and brands focused on fashion and many other luxury goods. Thus, it is crucial to take part in the trend so viral as are Instagram AR effects. In October, we wrote the article about their rising popularity among celebrities. The most vivid example of these dependencies is the fact that AR models that present luxury brands' AR effects to the Instagram world are actual models, e.g. Dior's newest AR effect is presented on the video below by the Russian model and actress, Natalja Wodianowa.

Spring-Summer 2020 by @dior, Vroom Vroom by @tiffanyandco

This is why not only luxury brands but also many other fashion labels decide to implement AR into their social media strategy, with Calvin Klein and H&M as one of the many examples.

CK Everyone by @calvinklein, GiambattistaValixHM by @hm

Augmented Reality can visualize and personalize like no other medium

AR as a marketing medium stands out as the one where the recipient is most active and cocreates content, adding her personal touch. When it comes to industries like cosmetics and fashion, it can visualize not only the connection with the brand but serve as an actual, virtual try-on. Dior gave their followers a chance to "try on virtual versions of the label's DiorSoLight sunglasses or double headbands (read more here).

Herrera Beauty by @carolinaherrera, Kaleidoscope by @dior

AR trends on Instagram are influenced by art and culture…

…and thus they are coherent with what has an impact on fashion. In our article AR as a Form of Artistic Expression and a New Kind of Art Display we showed how Instagram AR became a new artistic medium and how it is used to reinterpret artwork. In a similar way, culture is met by fashion. In the words of Mikelle Street, "our clothes are woven into our history and heritage", while "across the globe, museums host costume institutes, aimed at contextualizing fashion as the art form that it is".

Optical Medusa by @versace, Golden Glow by @prada

An inspiration for AR effects is often taken from pop culture, too. For example, the effect by Gucci was styled to mimic makeup ads from the '80s and encourage the celebration of imperfections.

Lunaison by @guccibeauty, I see you by @gucci
Conclusion: there is no brand that is too sophisticated for AR
…or at least there is no such brand that is simultaneously present on Instagram. The question that should be asked is how AR effects can suit your purposes and have a positive impact on your brand. To answer that question, go to 10 Purposes of Using AR Effects in Social Media Marketing, where you'll find out most of the reasons why AR could be used in a digital campaign.