AR as a Form of Artistic Expression and a New Kind of Art Display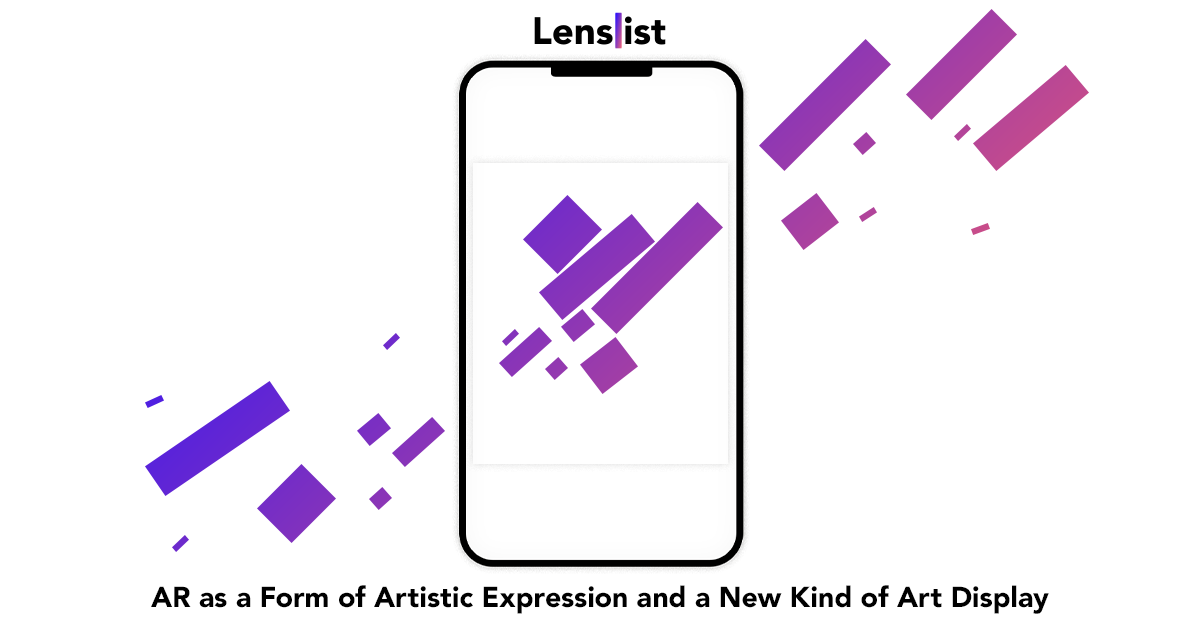 There are three ways in which ART and AR meet: when an AR effect can be recognised as art, when an AR effect is a reinterpretation or is influenced by a piece of art or when AR is used to display or enhance the display of artwork in the museum or outside of it.
AR recognised as art
When it comes to social media AR, it is important to stress that Instagram AR Effects and Snapchat Lenses have enabled many community artists to show their creativity and unique vision. There are creators that, thanks to their graphic skills and imagination, should be recognised as real artists. In her article titled Face Filters for Instagram and Snapchat Are the New Frontier of Surrealist Art, Jessica Herrington claims that:
"The AR face filters (…) are themselves novel art forms. Since we often use social media tools to create AR art, then the creation is inherently a form of post-internet art".
This form of art, according to Herrington, has its unique features, which can be described as follows:
there is no distinct division between the artwork and the viewer, as the user of an AR effect becomes a performer;
as "there aren't always clear instructions for what a user needs to do to get the full experience, the exploration is part of the artistic process";
it is virtual, so the content can be made available anytime, anywhere and it doesn't make any physical change to space or face. In a few words, "it is immediate, reversible, and easily shared";
most often, it takes from surreality and futurism to explore "escapism, relief, comedy, and self-expression".
Some of them tell us a story, like @andypicci's APNEA, which is quite a poignant depiction of ourselves melting into our smartphones. Other artists decide to translate their art into AR medium, like @botanicaneue – a floral designer who added AR botanical headpieces to her real-life portfolio.
@geyzerrr is one of the creators that make effects in a few different styles typical for Instagram, but her PopArt piece is one of the most impressive of hers. @johwska became famous as a pioneering author of silicon-like Instagram face filters.
One of the identification marks of art is consistency in both style and theme, which can be definitely observed in @whiteabysses' impressive neon AR effects.
AR influenced by art
There are also many AR effects that allude to the pieces of art such as paintings or sculpture in various ways. To some degree, few of them can also be seen as a contemporary, technological reinterpretation of existing artworks. Besides becoming a portrayed, famous character, they pay tribute to creators' favourite artists in various ways, eg. creating a game where van Gogh has to run while avoiding ears.
There are many Instagram AR effects inspired by art, but @egeislekel is definitely the most important creator that took interested in them. His many AR effects alluding to the artworks are both very creative and diverse, so it's worth to take a minute to see all of his effects presented on this video 👆
AR displaying art
Several times now Augmented Reality has been used to display art or to enhance the museum experience, eg. by animating the artwork or showing information concerning the piece of art available in the room. One of the most spectacular examples is The Virtual Wing in Tate Britain, powered by Instagram's Spark AR. Eight AR-enhanced paintings were chosen based on "the unusual or untold stories behind them, whether about the artist, subject matter, or historical context that may otherwise go unseen". For example, a once torn-apart Turner's painting Fishing upon the Blythe-Sand, Tide Setting In appears to tear apart once again on the screen of the user's phone. Another AR-enhanced painting is Dora Carrington's Farm at Watendlath. As the case study from tech.fb.com explains,
"This piece juxtaposes the large scale of voluptuous mountains with two tiny female forms in the foreground. Rejecting social norms and conventions around womanhood, the Instagram camera's AR effect triggers an animation in which the relative scales are switched for a powerful role reversal".
Enlive was a project that enhanced pieces of work found architectural sights found in public spaces using AR by providing users with information about them. Meanwhile, nearly two years ago, Michael Haley Goldman, director of future projects for the United States Holocaust Memorial Museum, asked a question: "How do you show the idea of 6 million people who were murdered as individuals, not as numbers?". Augmented Reality was the answer. The pictures of Jewish victims of the holocaust were enhanced with AR by showing the name of each person seen on the photographs.
A very different reason behind using Augmented Reality to display art has been found by the authors of two virtual exhibitions. The first one, which was the effect of cooperation of Intel, Smithsonian American Art Museum & Sansar, was Snapchat AR portal which let anyone experience Burning Man Exhibition using only their phones.
"Although more than 30 million people come through the doors of the Smithsonian's museums every year, hundreds of millions will never be able to visit in person. Virtual and augmented reality creates new opportunities for those people to access Smithsonian collections, research and educational resources regardless of their ability to physically visit a museum or research center," said John Bonini, vice president and general manager of VR, Gaming, & Esports at Intel Corporation via a statement.
A collaboration of Marriott Hotels and LIFEWTR, a premium PepsiCo water has brought in an interesting case of a virtual implementation of art into hotel rooms. By scanning a custom bottle tag, hotel guests were invited to the Facebook AR experience. Once they activated the AR effect, guests could customize their rooms virtually with an augmented reality art gallery available on their mobile device, featuring artwork from 18 LIFEWTR artists.

Is AR the future of art?
Summing up, Augmented Reality has already proved itself as a valuable medium of artistic inspiration and a tool to democratize artwork cumulated in the cities of the most developed countries. We can only hope that more and more museums, galleries and artists will decide to turn their attention towards AR and take advantage of the new ways of experiencing art offered by it. Is AR the future of art? It's certainly an important part of it.