Why "What _ Are You" Effects Are Still So Popular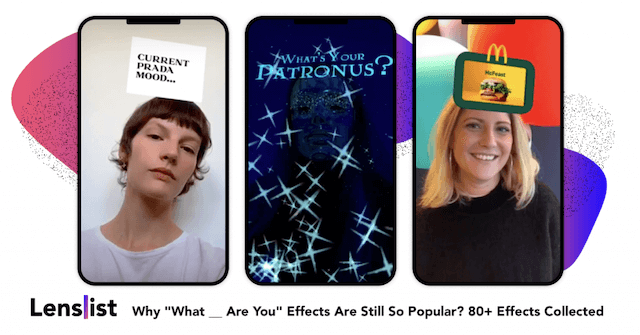 It's been over three months since it started, when around New Years Eve @arnopartissimo published Which Disney? AR effect on Instagram. He surely couldn't have imagine what a trend he was creating! Now, there are hundreds of, as we like to call them, randomizer effects. And over 80 of them are on Lenslist already.
Check out Jimmy Fallon using @arnopartissimo's filter on a show 👇
Why did they become so popular?
We believe that it's the mixture of a few features that make them so fun to play with. First of all, they usually refer to things that we love, like cartoons from our childhood or our favourite food. What's more, they do it in a most personal way – by juxtaposing them with ourselves, so we can wonder if this comparison is true. Much like in the case of predictions and personality quizes, the fun is in waiting for the result and contrasting it with what we (and others) think about ourselves. Plus, they're easy to create.
Why brands are using them for promotion?
Exactly for the reasons mentioned above: they bring their followers fun and engage them using franchise characters or products. What's also important is that the format of randomizer effects has become known by many and thus familiar and easy to use. That's why brands still take interest in boosting their awereness by launching new randomizer effects. That doesn't mean, however, that all of these filters look the same! Below we present to you some of them that stand from the crowd, either with their level of creativeness or their visual quality.
Some most eye-catching randomizers
Blessed by @darkscorpleader draws lots from magic ball and teleports the user into a random place, and @slimshader__'s AR effect refers to the famous Matrix choice between two pills 👇
There are effects that explore characteristic culture phenomena. The special one is Your Patronus AR effect by @maximkuzlin, which is based on a brilliant idea taken from Harry Potter. Disney Characters by @janmahavan, on the other hand, stands out from the crowd thanks to it's quality 👇
When it comes to prophecies, Fortune Cookies are the classic, as is @eurosadboy's effect. Meanwhile, @mitsukokubota had other witty idea: Gachapon, a surprise machine inside your head! 👇
Luxury brands such as @prada (Acronyms) and @maisonvalentino (V Born to Love) have created their randomizer AR effects, too! 👇
Amazing cosmetics brand @colourpopcosmetics created an effect which finds a perfect palette for you, and @aliciakeys has decided to promote her new album with Underdog effect 👇
Lastly, the two food-focused randomizers that we fell in love with: branded What kind of foodie by @dubaifoodfest and What food I am by @ewamos 👇
We hope that these amazing cases of AR filters will inspire you to order your own effect from one of the Creators! 💪