AR talks | Domenico Amalfitano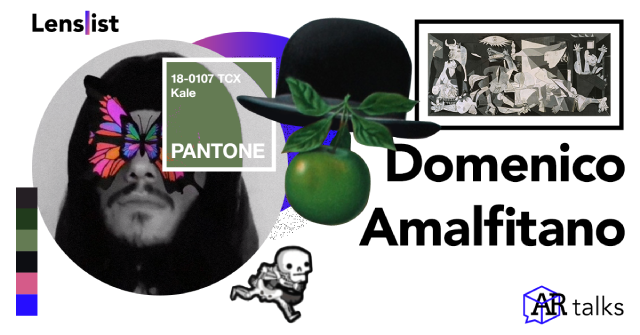 In today's AR talks we guest Domenico Amalfitano aka malf.visuals, a freelancer designer and AR creator from Italy! Let's read his insightful remarks on Augmented Reality and on cooperating with brands.
Hi, Domenico! For starters, please tell us something about yourself. How did you become Instagram AR creator?
I am Italian, graduated in painting disciplines, and I recently completed my university studies in architecture. I have always been passionate about the arts in general, from painting to photography to product design and this passion is very much reflected in my works.
Before Spark AR Studio I knew very little about Augmented Reality, I still remember when I applied to participate in the software beta, I had no idea how to use the program. More than a year has passed now. As a creative, I immediately became passionate about Spark, I spent hours and hours experimenting and creating. After the Facebook hackathon in London, where I met some of the greatest creators and developers in the field of Augmented Reality, I learned how AR can open creative worlds and fantastic experiences.
From then on I started using Augmented Reality also to promote my work, and to make it a paid job.

Audioled, Glitché Instagram Filters
You seem to be focused on a particular type of AR: your Instagram filters resolve around photography and lens distortions. Why is that?
My passion for photography has turned in a completely natural way in the creation of camera effects. My very first filters are photographic effects, such as color correction, vintage looks, black and white (I'm obsessed with black and white) and so on.
I experimented over time with the various capabilities of Spark Studio, and one day without even knowing exactly what I was doing, I created an effect that simulated a wide angle lens. It may seem like a small thing, but I was completely mindblowed. I continued to create filters that distort reality with glitch effects or abstract camera distortions.
And would you be able to choose a favourite effect made by you? Could you share with us some specifics about how you work on your filters? How does it relate to the rest of your digital art?
Actually I don't think I have a favorite filter of mine, usually my personal works that I prefer are the new ones, just published.
But if I had to choose one in particular I would choose 'Antifisheye', because
it partially reflects my concept of Augmented Reality intended as an alternative reality – a distorted vision of what we see, capable of transmitting sensations that we could not transmit otherwise.
This logic is a part of me and it is present in all of my works: images can tell what we don't even imagine.
You also have some experience in creating filters for brands. Do you have some tips for creators that are just getting started?
I had several experiences with brands, even very important ones. What I can recommend, in my own small way, is to always be original. If you have a creative style, I recommend following that. Also, always create quality products, wherever you work. The contacts will come on their own over time.
How is social media AR doing in Italy? Is it popular among people and brands? Are there any special trends that you've observed?
In Italy, as in other countries of the world, Augmented Reality has literally exploded on Instagram in the last year. From influencers to big brands, everyone wants their own filter on their Instagram profile.

KÝKLOS, Loopz Instagram Filters

VIRTUAL EYEZ, Displace Camera Instagram Filters
As for public figures, I noticed that makeup-based filters are very popular, with little stars coming out of the eyes, fake eyebrows and captivating colors. It is a great trend and the numbers of these filters, in terms of impressions, are huge.
For brands in general, trends do not differ much from the rest of Europe and the world. Brands promote their products, often making them available to 'try-on' through 3D models that can be inspected with Augmented Reality… which is a lot of fun.
Domenico, thank you for your time and for sharing your experience with our readers!
If anyone wants to get in touch with Domenico Amalfitano or send him brief, feel free to write to him.