100+ Instagram AR Filters to Try On Glasses Virtually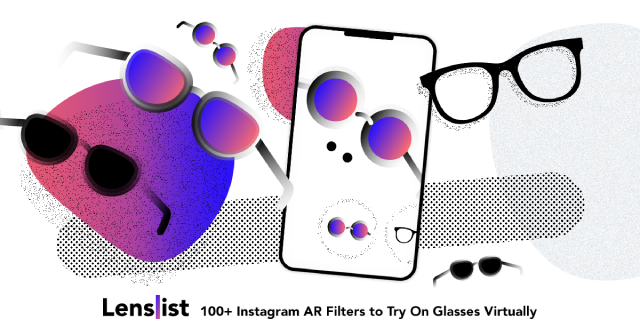 Many realize that Augmented Reality is a perfect tool for creating virtual fitting rooms. But did you know that all it takes to try on eyewear is AR on social media in the form of Instagram filters or Snapchat lens? In this article, we cover some of the best filters made by eyewear brands and give you a collection of 100+ eyewear AR effects.
First of all, the amount of brands that decided to order their own eyewear AR filter is really impressive. It shows their dedication to offer users fresh kind of engagement in social media and their awareness when it comes to using new technologies that perfectly suit their product in their favour. Let's see what they have to offer after almost a year of Instagram AR being available for brands.
Luxury brands: the trailblazers
It's become the tradition that before anyone does something new in AR, luxury and fashion brands do it in cooperation with filter providers. As eyewear is that part of their collections that is worn on faces, they naturally take advantage of face AR filters to promote them.
LongchampFlower by longchamp, Scotch Sunny people by scotch_soda
Dream Sunnies by coach, V Eyewear by maisonvalentino
LES LUNETTES SOLEIL by jacquemus, Kaleidoscope by dior
Eyewear brands and retailers
Many eyewear producers and retailers of prescription and non-prescription glasses also managed to get their own AR filters. From easy-going, experimental and youth-focused brands like Arnette or Gentle Monster to such classics as Ray-Ban, eyewear industry continues to make filters either for fun or as a legitimate try-on (or sometimes both).
My Mars by gentlemonster, Pride Frames by eyebuydirect
PostMalone+Arnette by arnette, Reindeerized by rayban
Tips for creating eyewear try-on filter
there are a few ways to quickly change the model of glasses, such as with a tap, a specific head gesture, or with a native picker on the bottom of the screen. Also, when a brand has more than one filter on Instagram, you can easily jump between them, just like on the gif below 👇

Snapchat and Facebook enables brands that spend money to promote their filters to redirect users of the filter to a specific link – this is currently one of the best ways to combine your AR fitting room with e-commerce. On Facebook, it is possible thanks to AR ads – see how Michael Kors used this feature 🛒

both Instagram and Snapchat have recently announced a better connection between AR filters and online retail – we'll keep you posted on any new possibilities that would become available for brands 💪
Cut & Paste by paradeyewear, Summer by boloneyewear
Best of Winter 2019 by andywolfofficial, Dalston by barnerbrand
Sunglasses & other special filters
Of course, when it comes to eyewear-themed filters, there are some special categories that should be mentioned. Unfortunately, sport eyewear filters are not as widely represented on Instagram as sunglasses yet. We also added some randomizers (aka What _ are you filters) and some fun AR games which are not try-ons, but they're a lot of fun!
Sunglasses
the bezel by glvssbrvnd, NY SHADES by dkny
SVITLO by casta_eyewear, Petite Amour by paredeyewear
Sport eyewear
Phantom Experience by bolle_eyewear, Rush Reactiv by julbo_eyewear
COVID-19
In times of the Coronavirus, when your clients may be reluctant to visit shops and shopping centres, AR try-on filters are a perfect solution. They allow for an individual shopping experience while staying safe and sound in your own home (or even bed ;).
Randomizers
Rosegold Sunglasses by topfoxx, CC X LES SPECS by christiancowan
Games and fun filters
pixel blink by luxoptica.ukraine, Merry Spexmas by misterspex_official

Browse through Lenslist and try to search for other interesting topics using search bar and tags, such as #sunglasses or #tryon 🔎
That's all for now, thanks for reading! Remember to follow us on social media (Facebook, Instagram, Twitter) so you won't miss any news from the world of social media AR filters!