Facebook AR Ads: Why You Should Definitely Use Them for Retail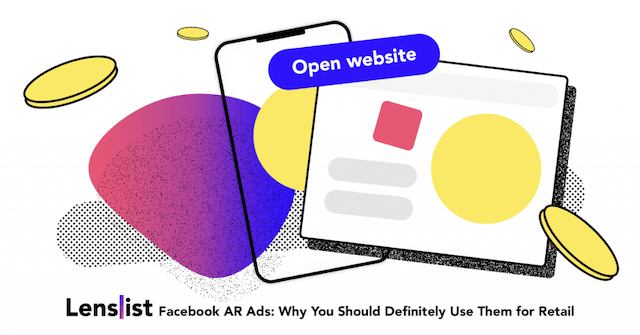 If you're looking for a way to engage your fans and raise brand awareness using Augmented Reality, Instagram is the place to do it. The platform is full of viral AR effects and influencers who use them everyday. If you'd like, on the other hand, to boost online sales by offering your fans a try-on, you should consider ordering an AR effect for Facebook and promoting it using a format called AR ads.
What is an AR ad?
AR ad is a type of sponsored News Feed ad that shows a demo of AR effect and a button to try it yourself. It opens the Facebook camera and activates an AR effect automatically. The user can take a picture or record a video while using it and share it with others via story – just like with any AR effect on Instagram or Snapchat. But, because of one 'tiny detail', this way of distributing your promoted AR content has a huge advantage over Instagram AR when it comes to e-commerce. Why? We'll explain now.
Why use it in retail?
AR ads on Facebook are now special for possessing an almost unique ability: to redirect users outside of the effect with the button. This funcionality is on Snapchat (follow us to make sure you don't miss our article about it!) and it should be soon available on Instagram, though. Using Facebook's AR ad enables you to add a button qith a call to action that will appear to the users over your AR effect and, for example, redirect them to the online store. There, they will be able to buy lipstick, mascara or sunglasses that they just tried-on virtually using AR.
AR: the future of fitting rooms
As the costs that brands suffer from their return policies are increasing and pandemic doesn't slow down, it is time to think about alternate ways for your clients to try-on your products before buying them online. While it's easier to measure your body and see if the dress will fit, it's hard to buy new makeup without putting it on first. And that's why for some 'face-focused' brands social media AR is a sufficient try-on technology and a perfect promotional tool at the same time. With Facebook AR ads you can advertise your new product in an innovative way and at the same time give your potential clients an opportunity to try-before-buy.
💡 Remember
It is important to tell the developer of your AR effect that you're planning on using AR ads to promote it before publishing it.
Sephora was one of the first brands to use social media AR for retail. Leroy Merlin created a series of Instagram AR Effects that prove that furniture brands can also present their products with AR.
Want a professional AR campaing for boosting your sales? Contact us!