How Augmented Reality is Changing Content Marketing Experience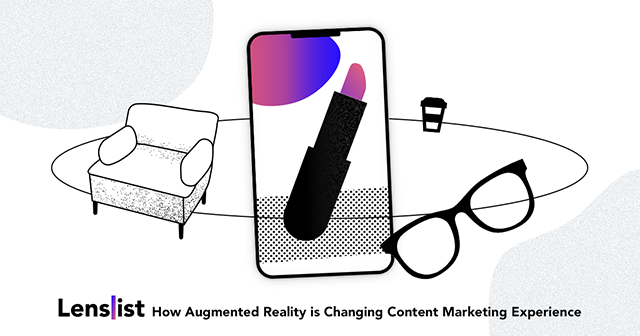 A couple of years ago, when Snapchat introduced its first filters, the platform boomed with new followers. Everyone wanted a photo with a cool doggy-showing-its-tongue face or with a beautiful sparkling background.
Today, augmented reality, thanks to which we have these innovations, is quickly becoming a part of marketing.
According to Tech Jury, 67% of media planners and buyers want to incorporate AR/VR ads in digital marketing campaigns. On top of that, 49% of brands believe that augmented reality can help prevent ad blocking.
Besides ads, augmented reality is also becoming an inalienable part of content marketing. As an example of that, you might have seen Starbucks using an AR filter on Instagram to encourage people buying coffee in reusable cups for its AR Christmas campaign last year:
Such campaigns usually have a snowball effect: not only are the AR filters popular on Instagram and other platforms, but they also give users the opportunity to become a part of the brand's campaign and contribute a lot of user-generated content. Thus, these campaigns get a lot of free publicity.
Many brands recognize this potential of augmented reality in content marketing and constantly come up with more and more applications for it.
So, let's take a look at these examples of how augmented reality is changing content marketing experience and how it benefits the brands.
1. Letting Customers Try Before They Buy
Before, to decide whether you want to buy a product or not, you'd have to go to a store. But while it would work for buying a dress or a pair of shoes, it wouldn't work for eye shadows or lipsticks. It's not always safe to try them on in the store as well, because you never know who used the sample before you.
L'Oreal recognized this problem a while ago, and they decided to give AR content marketing a try to solve this issue
By partnering with an app developer ModiFace, L'Oreal created an augmented reality mirror, using which you can pick the right lipstick, eye shadow, or foundation color for your face type:
You can use the photo of the model which has a skin color similar to yours or upload your own photo from the Gallery to see which foundation color would fit your skin. Then, as you have a final look developed for you, the app gives you a selection of products according to your picks to choose from in the L'Oreal's online shop.
Such a solution is especially relevant right now because of the pandemic. Maria Dickinson, a content marketer and editor at Subjecto, says that "as almost 70% of people started buying online, augmented reality can help them make purchase decisions because they can try the product before buying it."
As a result, offering such content through its AR app, L'Oreal will gain the trust of its customers by offering them a safe and fun way to try on products without having to leave the house.
2. Creating Content to Cater to New Audiences
For big brands that have a very broad audience, it can be quite difficult to target a particular segment of it without losing engagement from others.
However, augmented reality can become an effective solution to this problem.
When Frozen movie came out, Tesco, one of the biggest European retailers, launched a series of Frozen-themed products, which would have got lost among the myriad of similar products from other brands. However, Tesco decided to make a bold move and use the augmented reality app to turn attention to its merchandise.
In Tesco's Discover app developed together with Engine Creative, the retailer targeted its younger audiences, offering them to take a selfie with their favorite Frozen character. Besides, Tesco shoppers could collect Frozen stickers and make them go alive using its AR app:
Credit: Engine Creative
However, Tesco didn't forget to boost the engagement of its older audience as well. In the Tesco Discover app, adults also can find a lot of features to play with and benefit from, including scan-to-shop guides, interactive catalogs, and other gems.
As a result, augmented reality helped the retailer to successfully reach even the smallest segment of its target audience without losing the engagement from others.
3. Attracting More Attention to Important Causes
Apart from product marketing, augmented reality also helps companies support important causes more effectively.
United Nations recognized the viral potential of AR-powered content marketing and used this technology to turn more attention to the #NotATarget campaign. The organization partnered with Facebook Live and VML to create a camera effect that puts the text on the screen as a person narrates it:
Credit: United Nations OCHA
As a result, many people were able to attract attention to their stories, and the UN was able to raise awareness around this issue and their resolution forbidding to target hospitals and civilians in war zones.
Such an approach is a great example for brands to also use AR-powered content to promote the causes they support. Peter Grey, a content marketing specialist at BestEssaysEducation and TrustMyPaper, says that "70% of consumers want brands to support important social issues financially and through content." And, augmented reality has already proven its potential to achieve this goal.
What were the results of the UN #NotATarget campaign?
As it was initially planned, the UN was able to successfully focus this campaign on reaching the millennials, whom they wanted to educate. The campaign also helped to gather enough signatures for a petition to involve more social leaders to start talks about was ethics.
The campaign also united other organizations, which are part of the UN, including UN Women and the World Food Program, that used the campaign's hashtags to cover other stories, including the victims of domestic abuse and people from impoverished communities.
Wrapping Up
Augmented reality is, without doubt, a great solution to bring content marketing experience to the next level.
Companies are already using it to help consumers make the right purchase decisions, engage new audiences, and even promote social causes.
The examples that we covered in this article show that AR-powered content has great marketing potential. It has proven to successfully drive engagement while also delivering unique value to consumers and inviting them to become a part of the new experience involving their favorite brand.
Author bio
Marques Coleman is a content writer at ClassyEssay, blogger at GrabMyEssay, and contributing editor at SupremeDissertations. After working for 7 years as a marketing consultant, he turned his writing passion into a job, inspiring brands and educating them about the innovations in digital marketing. Contact Marques