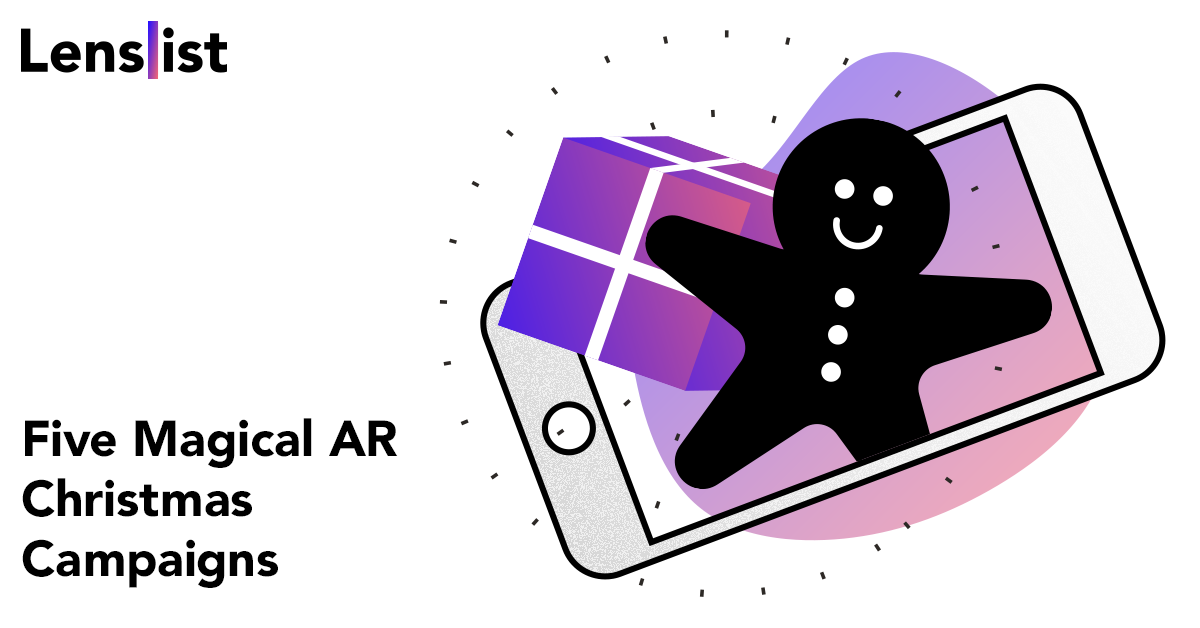 It is well known that Christmas takes a special place in the world of advertising. To be honest, if one year advertisers would for some reason not announce it's approaching, we would probably forget about Christmas completely.
During this holiday time, friends and families are looking for a deeper connection – and Augmented Reality has proven itself to bring common fun for close ones getting in touch via mobile devices. Also, as it's getting colder outside and warmer inside people's hearts, Christmas is the busiest time for charities, which happen to use AR to spread awareness more and more often. Those are just a few of many reasons why brands should not overlook AR as a promotional tool during the upcoming holidays.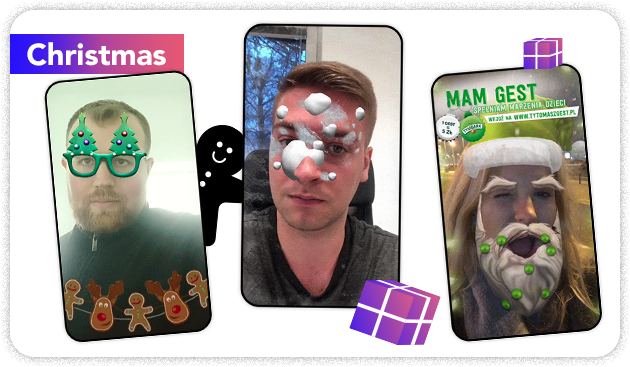 Go to Our Collection of Christmas AR Effects
Whether you're using Instagram, Facebook or Snapchat as the main social medium, you can use AR in a variety of ways to put a smile on your followers' faces. If you'd like to know more about using social media AR effects in marketing, check out our guides to Instagram and Snapchat. In this article, we present case studies of past and present Christmas campaigns which use social media AR to help you come up with the right idea for your own amazing Christmas AR campaign 🎄
Starbucks
Almost two weeks ago (yes, it's not even December yet), Starbucks introduced four Christmas-themed Instagram animated effects which are activated by scanning one of the four limited-edition Starbucks holiday cups. The idea is to focus its guests' attention on those reusable cups and promote an eco-friendly lifestyle. This is not the first time Starbucks uses AR during Christmas time. Three years ago they introduced a Snapchat filter that turned oneself into the whole group of carol singers.
Read more at mobile-ar.reality.news
M&M's
M&M's Snapchat lens stands out from the crowd of "turn-yourself-into-Santa" effects by perfectly incorporating their product into it. Though fairly lights are made from M&M's, they still shine colourfully when activated! And as Santa tends to need a helping hand (or in this case head), the lens could be used by two people – the second one being turned into a reindeer.
Read more at otlsm.com

McDonald's
Face filters are not everything that AR has to offer. Two years ago, Snapchat lens was unlocked by scanning McDonald's Christmas packaging. It summoned a cute, dancing reindeer which could accompany you on a joyful Christmas-themed video. The AR effect alluded to the very popular commercial in which Santa visited McDonald's for some reindeer treats. You can watch it here. Combining AR with different forms of advertisement is the key to a successful campaign. It can build on formerly created connotations and thus help to come up with an idea for an effect that won't be heavily branded yet still profitable marketing-wise. Read more & watch the commercial

___________________
Foot Locker
A "Snapchat unboxing experience" let every sneaker fan virtually unbox Gatorade AJ1's during Christmas time, just before the premiere.
"The innovative lens allowed users to explore the new sneakers in 3D, take them for a walk (and dance) in their living room, and find fun hidden extras, like a basketball hoop. By tapping into the unboxing phenomenon, Foot Locker has turned a product demo into a highly shareable experience that is rooted in sneaker culture."
Read more at thedrum.com
Coca-Cola
Over the years, no other brand succeeded to associate itself with Christmas like Coca-Cola. For a few years now they've managed to add AR to these promotional efforts. Here is one of the examples: Facebook Camera Effect made by Coca-Cola in Kenia which allowed you to #beSanta – and send personalized Christmas greetings to your friends.
Read case study
As we've discussed in the last year's Christmas AR Gathering blog post, at this time of the year, social media AR presents itself as an opportunity for marketers to actually help bring families and friends divided by distance closer together in order to engage in traditional holiday activities, like decorating a Christmas tree or dressing up as Santa. So, if your agency, brand or charity never tried using AR in their campaign, there is no time like now to do it.
If you have any questions or would like to share your AR campaign with Lenslist, feel free to contact us.