Retail of the Future: from virtual try-ons to digital showrooms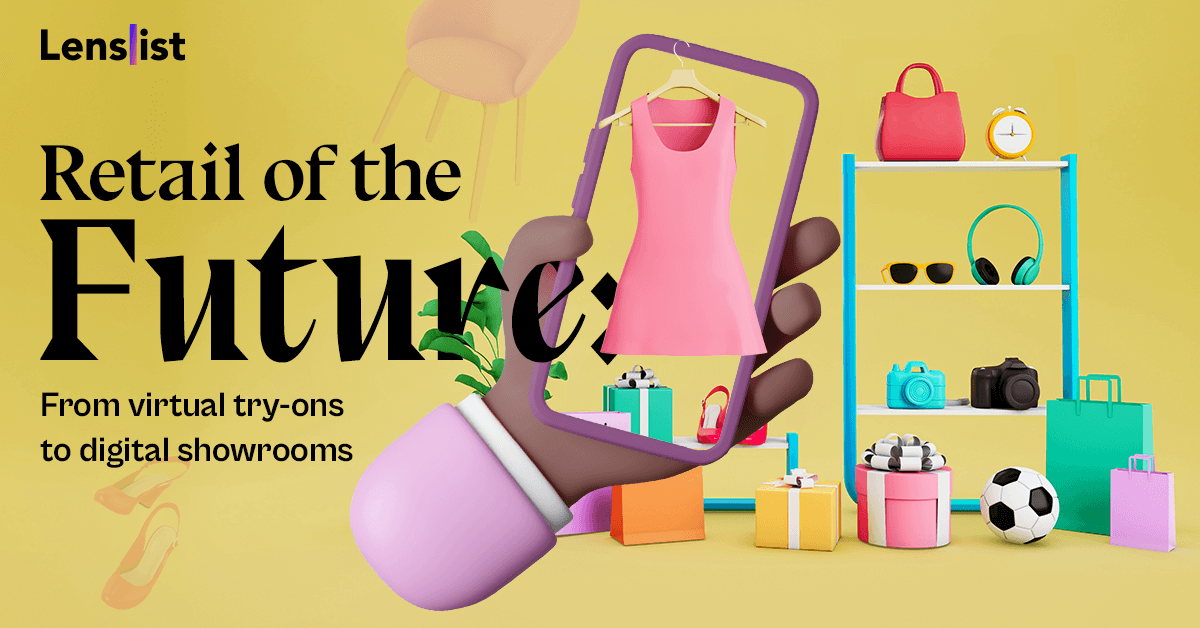 In this article you'll learn:
How the retail environment is being reshaped by innovative, digital solutions.
Which trends dictate the rules of today's retail market divided into individual sectors of Fashion, Footwear, Beauty, Supermarkets and Home Depot.
What can be expected in the future of e-commerce in the light of gaming and metaverse platforms.
Bye, bye regular shopping! Let's welcome a brand new vision of e-commerce.
The world of retail is measured in big-bucks. After all, brands are competing not only for customers but also for the image and position on the market. Following the latest, social and commercial trends requires a lot of strategies to provide a unique bundle of experiences across different channels and audiences. Nowadays in the era of e-commerce, as society becomes more conscious about safety and more demanding in terms of product presentation and promotion, businesses seek ways to satisfy these needs as efficiently as possible.
Some brands are trying to keep up by breaking through with "innovative" and "cool" marketing – which is the case for companies such as Nike, Gucci or Adidas that hold the "marketing gem" title. With their Extended Reality solutions, like Nikeland or virtual avatars, they set a high standard in the world of cutting-edge marketing strategies. On the other hand, there was no web3 or XR tool that could be applied on a large scale, covering the customer demand of the retail industry. Until now. So heads up for a digital revolution!
It may seem that committing fully to a digital future is the only way, however accessible and effective solutions such as Augmented Reality, turn out to be a game-changer and the leader of retail campaigns – and we're talking every industry. Spending so much time online and getting easily overloaded with information makes people crave interesting and unconventional experiences. AR fuels innovation and is omnipresent on digital platforms. Let's take on social media – AR can be integrated into social media campaigns through for example, Paid Ads on Facebook, Lens AR Experiences on Snapchat or Branded Effects on TikTok. Where people are, AR and brands follow.
See how the retail market and its branches are experimenting with such solutions – from simple filters, through mini-games to more advanced ones, like portals and metaverse platforms.
Apparel & Fashion
The fashion world is changing every day, with new trends taking over and a new generation of consumers dictating the rules. There grows a need for pristine shopping experiences, where brands catch the client's eye with not necessarily huge sales – but by letting them enter a whole different world with just one click. Transforming your surroundings into a digital showroom, trying on full body digital outfits or try-before-you-buy apparel is only a small piece of the digital fashion cake.
Fashion market, apart from a strong social media presence established thanks to AR Effects, incorporates digital fashion assets, NFTs and virtual spaces. Oftentimes, all combined into one experience, where clients can purchase NFT's in a form of digital fashion apparel within a virtual space marketplace. Virtual fashion assets seem to be the actual next big thing, as more and more brands try to signal their presence within the metaverse.
Discover how vast the world of digital fashion is!
How to implement AR in Fashion
Footwear
Imagine getting to try on the latest pair of limited Jordans while sitting on your couch at home. Seeing the details and the shoe following every movement of your foot, AR technology can feel almost real. And it's always there when you need it – whether you're not sure about the model, color or aesthetic.
Footwear market seems to make the best out of the metaverse technologies, starting with the most straightforward, yet very utilitarian solution for its customers – virtual try-ons. Some brands offer virtual spaces experience accompanied by gamification, virtual apparel and NFTs marketplace.
The iconic yellow boots were the stars of the latest digital experience created by Timberland for the fans of the brand's OG shoes. This challenging game has been a huge success – and the brand doesn't plan to stop there. Direcion: the Metaverse!
A good pair of sneakers is a must-have piece of your outfit, but a good pair of digital sneakers will take it even further.
PUMA RSX3
by bennycristo
Dior Walk'n'Dior
by Dior
Health & Beauty
Today, brands are increasingly relying on technology and digital innovation, which produces real benefits and fits in perfectly with the current Health & Beauty industry. As a result, we are witnessing an explosion of interactive health and beauty solutions powered by Augmented Reality – a game-changer in the future of the Health & Beauty sector. It tries to attract potential customers with AR social media ads leading to the selling page and ever more splendid social-media shareable AR Effects, such as beauty filters, makeup try-ons or product showcases.
As a highly competitive market, some brands use metaverse technologies to retain customers and boost customer loyalty occurrence, by incorporating virtual spaces along with unique NFTs accompanied by exclusive experiences and offerings. Now customers can seamlessly travel to other worlds inspired by the latest flower scents or magical eyeshadow colors.
Jump into the world of lipstick colors to blush variations, stunning full makeup looks, products visualization, virtual campaigns and beauty showrooms!
How AR Redefines the Beauty Industry
Brazilian Beauty brand Boticário celebrated the Lipstick Day by sharing a collection of NFTs.
byredo colour
by officialbyredo
GardenOfCuriosities
by yvesrocherpolska
Grocery & Supermarkets
Who said grocery shopping has to be boring? Definitely not in the eyes of Augmented Reality. Catching vegetables from the sky and winning discount codes or celebrating national holidays with your favorite supermarket chain and a custom Instagram-worthy picture frame will turn routine shopping into something fun – for both adults and the young ones.
Whether it's the case of hypermarkets with a huge base of clients or a local corner bakery, AR can do it all – from fun arcade games and randomizers to distribution of coupons or quizzes. After all, sometimes people need help in choosing what to cook for dinner or – want to know which type of hot sauce they are. Based on that, AR-powered activations are designed to reward the user, create a positive association with the brand and add to the overall customer experience.
As many supermarket chains and brands have their own mobile apps, buzzing with promotions, discounts or special editions of products, they have also become a channel for a wide scope of eXtended Reality use cases. The easier the way to get to know the product, the more chances of actual purchase. It is especially important in the age of rapid e-commerce development in the revenue shares at many companies.
Marvel Quizz
by leclerc
500MILA Lidl
by lidlitalia
Christmas Minigame
by migros
Home Furnishing Stores
It's often said that our home reflects our soul. Surely the way people design their place must include 'a piece of them', pose as a safe space, comfort after a long day and be practical in daily life. And it's not that easy to measure everything perfectly or create a visual map inside our mind. An extra pair of hands could come in handy, right?
The ultimate support in visualization and planning your space, as well as placement of furniture and outdoor supplies, is Augmented Reality. Home Depot is mainly centered around digital solutions such as World Effects, setting up furniture in your own space, interior wizards and personalizing your decor without having to download anything to your device. You can also decorate virtual spaces to your liking – therefore, it's a huge opportunity for home depot brands to arrange more than just these real spaces.
Selsey
by lens.that" rel="noopener
Never Ordinary
by madedotcom
Clôture Neva
by castorama_france
A Glimpse of the Future: Showrooms and Gamified Virtual Spaces
The space itself can become a virtual showroom accessible to the customers, designed according to the brand's image, values and open for discovering various goods, clothes, makeup or furniture. Immersive digital commerce experiences are already here. Through 3D virtual spaces, brands can create their own commercialized metaverse, where products and services are not only visualized in an innovative way, but allow for a practical and personal customer experience.
Without being limited by time or space, brands are able to open as many shops as they wish and place as many products as they want in virtual shops. The benefits of such solutions go beyond increased sales and lower costs – talk about interaction between a customer and a product, 24/7 access from almost anywhere, or engagement which is not only fun and interesting, but also effective. Anyone with a smartphone, let alone a VR set or passion for innovation, becomes a potential client.
Many top brands are already adapting digital solutions – look at Kärcher Virtual Brand Space, Ralph Lauren Beverly Hills Virtual Store or one that sparked a lot of interest among the gaming community – NIKELAND. This immersive 3D space was built inside Roblox, one of the most popular games among Gen Z. Inside this creative world, Nike fans can construct their own mini-games, play together with friends, wear custom Nike outfits and share experiences together in an open world without barriers.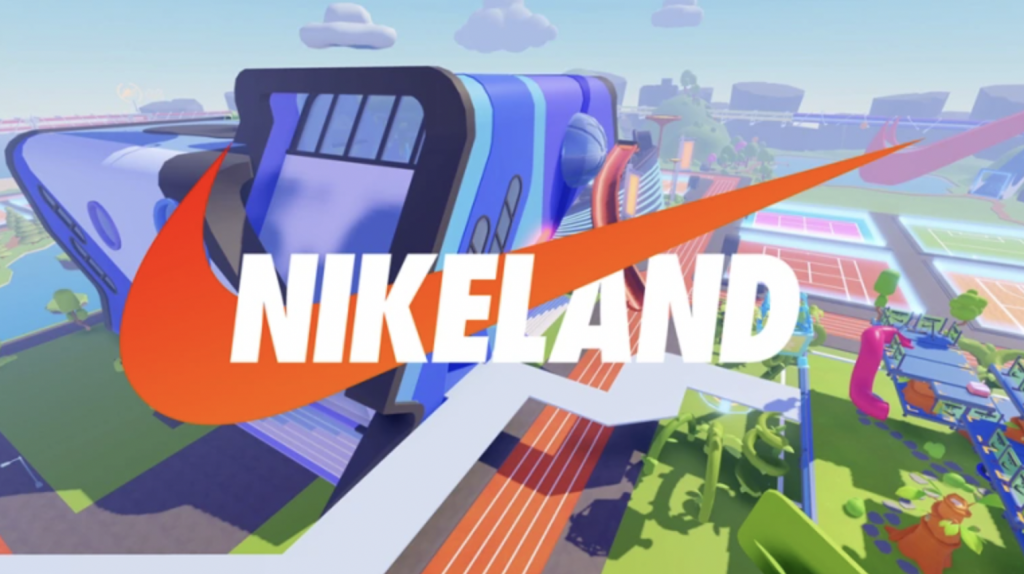 Each of the mentioned digital solutions, from AR filters, through virtual campaigns to immersive spaces, has a unique character and not only does it showcase a wide range of products, but also communicates the brand's values – thanks to virtual showrooms, the relationship between a user and the brand tightens and the communication itself leads to a brand-new purchasing experience.
Immersive solutions put customers in the spotlight – letting them become the face or the star of a campaign, try on products before they are even available in stationary shops, or win coupons simply by having fun!
Even though so far brands are only experimenting with digital concepts, as it involves leaning towards somehow undiscovered areas, the retail landscape is changing in the blink of an eye. With new technologies emerging, brands are recognizing their capabilities. And it's not about silly or funny visuals with no bigger meaning anymore. It's about AR and virtual galleries, about technology, which solves a real problem in the sales funnel – familiarizing the customer with the product and increasing sales.