How to implement AR in Fashion – inspirational guide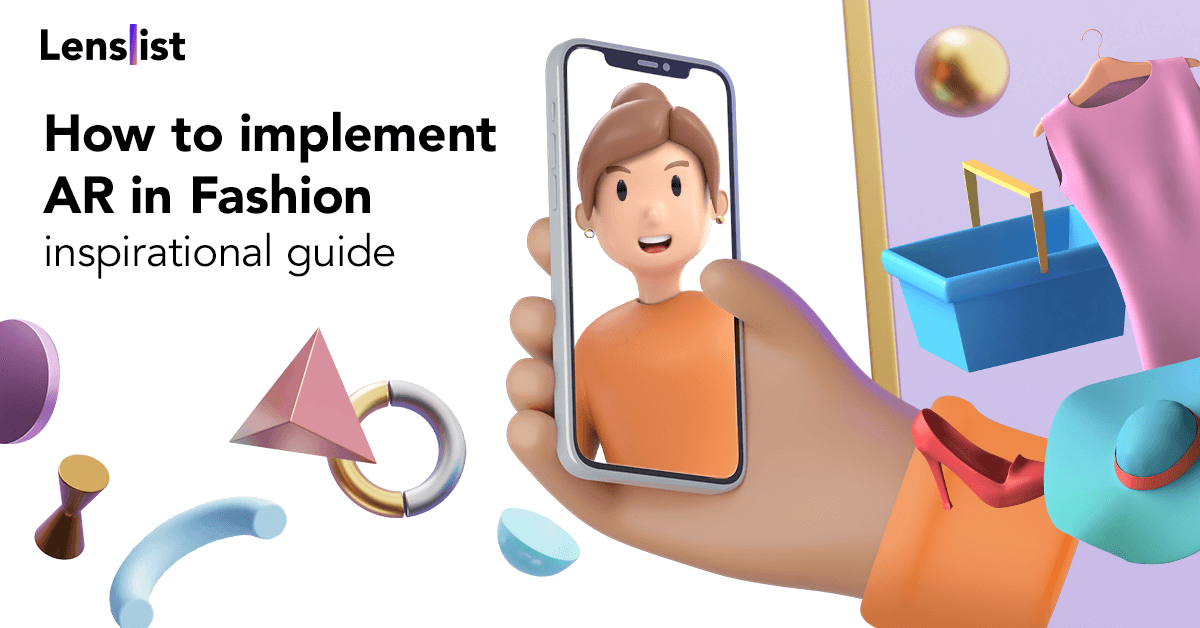 Conquering the fashion industry nowadays must involve the WOW effect – with the amount and intensity of competition for your customers' attention, it's hard even for the best products to sell out without taking your marketing strategy to the next level – we're sure many designers, and marketing strategists can agree. To stand out in this market, you need to captivate your target audience with something unforgettable – what if you discovered that there is a way to win your clients' hearts using the well-tested power of social media and a bit of innovative technology? 😉
The world of fashion is evolving and changing every day. A new generation of consumers is already dictating the rules – online shopping reigns, and it's even more challenging for the traditional types of advertisements to catch clients' attention and make them move their head away from the smartphone – where now – everything happens. The number of digital buyers reaches 2,14 billion, which gives us almost half of the Internet users worldwide.
As managers, owners, marketing strategists – clients are the top priority in every business. The key is to observe the market – are there any new trends? What's hot and fresh in the fashion world? And then – put it all together and take notice of what not only grabs the attention of your customer but also allows them to share it and become your social media style, word-of-mouth ambassador. So what's hot right now? A trend called phygital, where physical experience meets digital – and that's precisely what Augmented Reality does – it simply responds to customers' needs. Thanks to AR, you get your personal shopping assistant, the biggest source of unforgettable experiences, and a sales booster – all in one!
Getting straight to the point – AR supports the whole selling process, from catching the clients' eye through research and virtual try-on to brand experience and finally – the online purchase.
Clients can change their living rooms into their own runways and experience your brand in a way they will never forget – seeing the product you designed placed on their hands, face, feet, in their personal spaces – all digitally, thanks to AR.
Implementing AR in your online store leads to:
94% higher conversion rate
56% of shoppers say that AR gives them more confidence about the quality of a product
61% of consumers say they prefer retailers with AR experiences
Many businesses are driven by real results and inspired by successes born out of collaborations with AR. For instance, let's take a look at Gucci – its first-ever virtual shoe try-on activation on Snapchat was a huge turning point for the brand – they reached almost 19 million people and a positive ROAS (Return on Ad Spend)! According to Boston Consulting Group, two-thirds of luxury purchases are now influenced by digital.
AR isn't only about virtual try-on… Virtual fitting rooms are also now a thing! Timberland chose the so-called 'magic mirror' – an AR-powered mirror that virtually 'dresses' you in their products and lets you receive the image and post it on Timberland's fan page – such a cool way to promote social shopping with AR 👏🏻
Reaching customers online is about listening to and interacting with them – you will find that engagement translates into sales! The ways to capture clients' attention are endless, and you, with your brand and ideas, can find your own – with a strong partner like AR – by your side. Discover what you can do! 👇
Target Tracking & Outdoor Target Tracking
AR Masks
Lack of new ideas on how to show off a new collection and celebrate it with your audience? Let AR Masks take over! With a virtual mask, your fans and users all over the world are given a chance to become the face of your brand – and feel like the star of your campaign ⭐️ Selfies are very powerful and personal – that's why a Face Effect with your brands' message or a celebrative aesthetic will enable you to connect with your customers like never before.
Accessories Try-on
Magic is in the details, as they can breathe new life into the outfit – accessories add creativity and have become a must-have these days! So let your clients try on your brands' new collection of sunglasses, scarfs, hats, jewellery, watches, and even shoes – in a virtual space from their homes. Say goodbye to the long struggle of picking the wrong accessories! 😎
Full Body Try-on
Imagine giving your customers a unique opportunity to try on your clothes virtually – and not only accessories but the whole outfit! Meet Full Body Try-on Effects – a magical feature that transforms real-life clothes into their 2D or 3D equivalents and attaches them to the user's body 👗👕👖 The digital clothes also detect movements, so your customers can have as much fun as they want – like playing with different combinations and hosting a fashion show in their room!
Target Tracking & Outdoor Target Tracking
Bring your designs to life and surprise your audience with an interactive offline-to-online ad! Target Tracking option is one of the unique ways for your customer to remember your brand and associate the whole experience with only good memories 🤗 Use this feature to activate an AR Effect after recognizing a specific point, image, or target. Your ad can go beyond the walls and engage through exciting interactive posters, billboards, or murals – show your complete vision, not just a piece of it.
Challenges
Challenge your users to strike a pose in a new jacket or try to fit with the movements on the screen! Receiving a dare from a brand will actively engage the audience – especially with TikTok and IG Reels taking over most of the time spent by users on their socials – for them, it will be fun and exciting, for the brand – efficient and creative!
Games
Make a score by ensuring your brand interaction with fans! 👾🚀 Designing engaging but straightforward games like collecting items or carrying a hero through a path full of ambushes gives users a lot of fun – and you gain their attention even for twice as long as a regular AR filter.
Quizzes
What do you prefer – this or that? What will you do in certain situations A or B? Surprise users with random questions and they will for sure surprise you back. Themes? Limitless!
Randomizer
An AR Effect using a draw mechanism of answers. It's like asking a magic crystal ball, but questions are already prepared, and answers can be super random and surprising!
Dear AR, tell me how much I will spend on today's shopping spree…
Portals
Open the virtual door and invite users to a magical world inspired by a new collection or a showroom seen in 360 degrees! 🤩 The Portal Effect can transfer users to the heart of a brand by using a rear camera – user can take a physical step into a virtual world, created according to your vision!
As you can see, there are many possibilities of using AR technology in fashion and many top brands are already taking advantage of them. In an interview with TechCrunch, WannaBy CEO Sergey Arkhangelskiy says – "We believe that AR try-on can help customers to shop online and will wash away the difference between online and offline shopping." AR effects from the try-on category can help customers in making a purchase decision when it comes to online shopping and what's more, it's convenient, essentially for those who were using the research offline purchase online strategy.
The development of AR in the fashion industry is happening right now, and it's going to spread with the development of Metaverse – you don't want to miss out on such an amazing opportunity. From projects like DressX, promoted by Institute of Digital Fashion, that enable you to try on clothes in the real-time, to top brands like Tommy Hilfinger, transforming everything from sketches to a showroom in 3D design – AR really reshapes the world of fashion!
Social media AR could be a very meaningful milestone for your company, from creating deeper connections with your customers,who can have interactive experiences with your products and clothes, through boosting conversion and skyrocketing sales, to decreasing the amount of unsuccessful purchase returns. Both for customers and businesses, AR redefines shopping and fashion. It's about expanding your marketing creativity into new forms, so don't sleep on this and take the next leap!