10 AR Filters' Creators You Should Follow | January 2022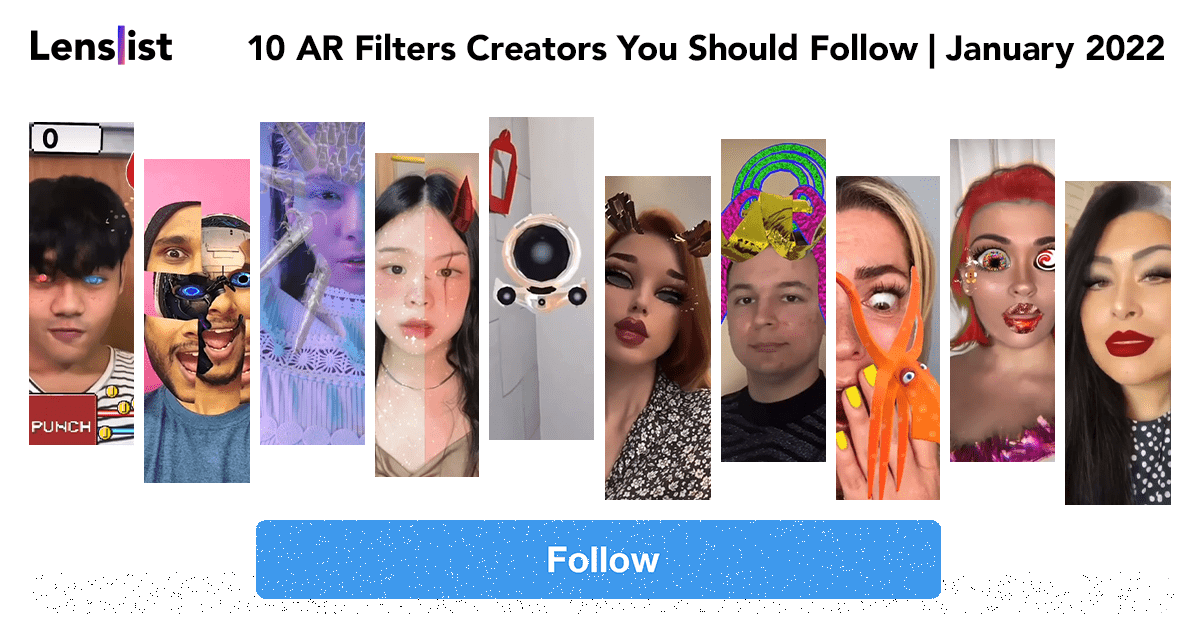 Young, talented, powerful and full of energy in 2022 – let's give a warm welcome to our ten chosen Creators – leading the first 'You Should Follow' edition in the new year! ⭐️ Experimenting with AR and pushing the limits of creativity is what they do – and they are here to show you how AR allowed them to go beyond the visionary boundaries. Many stories began out of curiosity or fun – which then turned into a massive development on a digital scale. 👾💪
Join these fantastic minds – interact with all the Effects and grow your IG list by following the best monthly inspiration ever. 🚀🚀🚀
Victoria Gordeeva

@victoriagordeeva.show
Meet Victoria Gordeeva, an AR Creator based in Tel Aviv, Israel. With her passion for learning, she keeps experimenting with AR and discovering new possibilities to make her clients feel even more engaged ⭐️ Editing, 2D and 3D, illustration, and animation are some of her many skills. 💛
Quote – I'm creating filters, effects using 2D and 3D objects, and animations on Facebook/Instagram. I'm always trying out new features in AR. That will be more and more interesting and immersive, interactive, and engaging for more people and brands.

I started creating not so long ago but I have good results. My clients are bigger bloggers with a huge loyal audience.

I'll be happy to collaborate with you and with new brands.

My Instagram @victoriagordeeva.show

LinkedIn Victoria Gordeeva

– Victoria Gordeeva
More Filters Instagram Website
Aung Nyein Chan

@chaxnsee
Born in Yangon, Myanmar, Aung Nyein Chan (whom you may know as Enchax) is a digital Creator, who proves how much passion brings into creating and overcoming all the challenges of both the art world and the real world. His creative journey has been blooming since childhood, and now his Effects are full of artistic and deep meanings – let's discover them! ⭐️
Hello, I'm Aung Nyein Chan (Enchax), a digital creator with a demonstrated history of working in the marketing and advertising industry. I was born in Yangon on 2 January 2000. Having grown up with an artist father and author mother, I have always been enchanted by numerous artistic forms. The curiosity of exploring my creative potential was sparked when I initially found that augmented reality could bring his imagination into the real world. I became interested in AR technology. Since 2020, he has been creating Instagram, Facebook, and Snapchat filters that capture the vibrancy of Burmese heritage through excitement. My objective is to advance Myanmar culture through AR and let my individuals keep in touch with innovations. These days, I am down to making effects that remind me of my childhood, and my style is marginally changed to something I would like to call " what makes my childhood awesome" including retro art style and design. Since my nation is still developing and under a military coup, the resource and availability are restricted when it comes to creative development but much appreciated to Start AR and Lenslist challenges, I tend to experiment with more ways of exploring Metaverse through AR these days in my spare time. I'm looking forward to creating more effects and enhancing my expertise with a welcome heart for opportunities.

– Aung Nyein Chan
More Filters Instagram Website
Krunal Bharat Gediya

@krazyykrunal
A crazy story from KrazyyKrunal – exactly what we need right now! 🤩 Meet Krunal Gediya, an Extended Reality Creator with a lot of energy – which he puts not only into his Effects but also helping others find their own place 💛 You'll find awesome motivation here!
Hey hi I'm KrazyyKrunal, and I just love creating Krazyyyy XR experiences.

I started my XR journey way back in 2018, with very limited tools available and accessible to create these experiences. My first ever effect was on Unity3D using Vuforia. I was literally amazed how you can bring something to life which is not physically present there. I immediately realised this is going to reform the way we perform our day to day tasks and it is the future!

Now thanks to so many tools and softwares available to build effects across accessible platforms, XR's true potential is going to be unleashed.

It's always fun bringing my krazyy ideas to life and creating these AR experiences and I aim to learn something new and grow with each of my work. I personally love creating educational experiences because I believe XR can help reform the ways we acquire education. And right now I'm in the process of building a community and helping train people and upskill them in this XR space to create the next generation of super creators as we like to call them at i-create.space

Special thanks to fellow creator folks at SparkAR FB & Lens Studio FB group for always inspiring with their amazing work and my best go-to place, Lenslist, for helping creators get recognition and appreciation they deserve for their work. It really motivates all the creators to go beyond with those amazing curation the team has been putting out.

And to the folks out there just starting and scared to try new things, always remember:

"Better an 'oops', than a 'what if'? "

Happy learning and happy creating peeps.

– Krunal Bharat Gediya
Haya.bby

@haya.bby
We are guesting today another awesome ARtist – Lourine Mercyline from Indonesia 💜 Even without any background in Digital Visual Arts, she was able to discover something new and exciting – thanks to AR. The Creators are her inspiration – so now let her inspire you! ✨
Hello, I'm Haya.bby from Indonesia.

I started my first filter effect in 2020, throughout the year I've been practising and educating myself with different style approaches in AR Effects. However, I have no background in Digital Visual Art but I've always loved everything about Arts and Beauty Makeup, so I combined both of my favorite hobbies into AR Effects. I learnt all the basics from Youtube Tutorials, Other Creators I adore from Spark AR Facebook Page. They taught me a lot of new ways, information and ideas for me to combine and play with, thanks to them I am better each time. I got my inspiration mainly from Pinterest, Instagram Feeds, and Movies. I am proud that I've worked with influencers and small brands, most of my clients' filters are either Makeup and Beauty Products, such an amazing experience for me indeed, though one day I hope that I will be able to work with big brands too. Nevertheless, Thank you Lenslist it's a great honor to be featured.

– Haya.bby
Elias

@eliasqamilovich
Based in Kazakhstan, Elias Qamilovich is not only a digital Creator, but also a model, and an artist ⭐️ He loves the whole process of working on Augmented Reality Effects and creating art – his goal is to jointly participate in projects with people all over the world and combine music, cinema, and fashion into something big 💡
My name is ELIAS. I'm 28 years old. From an early age, I was interested in fine arts, comics, and fashion. Several years ago I learned that you can express yourself in creativity by creating the effects of augmented reality. I treated my first effects as entertainment, to try something new, but several years passed and I decided to return to this occupation with a more serious attitude. At some point, past ideas and sketches on paper even began to help me, since I drew a lot while travelling in another country, sketching all my impressions in an album.

I am grateful to every acquaintance with other creators of effects and companies that help us develop in this direction. Thanks to you, we strive to be better!

– Elias
Alexander Kurmanin

@kurmanin_tailor
Let us introduce Alexander Kurmanin – a clothing designer working both with Snapchat and Instagram. His vision of the future is all about 3D and digital 👾 Alexander focuses on painting a unique picture of what our clothes might look like when the boundaries and limitations of the physical world are no longer present – he's certain that digital fashion is what will be worn in 20–30 years 👕👖
This is Alexander Kurmanin (@kurmanin_tailor) from Instagram. Thank you so much for inviting me! It's such an honor!

In fact, AR for me is the next level in the evolution of art, fashion, design and many other areas. It is wonderful that now there is such a large integration of such technologies into social networks, and this is available to absolutely everyone. I started to make masks in Spark AR for fun, but then I continued to do this and study other software. More recently, I've started to adopt digital clothing in Lens Studio – this opens up huge opportunities for creativity!

Inspiration surrounds us all – it is very useful to follow other creators and look for some interesting techniques that you can then rework or do something new on their basis. The main topic for me is self-acceptance, fashion and the game industry. These are the areas in which I plan to create AR stuff and these are the areas that inspire me the most.

– Alexander Kurmanin
Riyazshaheed Torgal

@dream.chaserr28
It's our pleasure to present another talent – Riyazshaheed Torgal – an Augmented Reality Filter Designer and Developer from Karnataka, India. Apart from AR, he's also interested in Cyber Security 👾 His vision? To build a Supportive AR Community for India so that we can introduce more fresh talent to the Metaverse.
It's been A Years that I started creating Filters for Instagram and Facebook

In the Beginning When Instagram Introduced AR Filter, I used to wonder how these things work. I was curious about it but at the same time, I use to think it's not my cup of tea.

In Mid 2020 I came across an article in which I got to know about SparkAR, Right from then my Augmented Reality journey Started.

Made a few mistakes and learnt from those mistakes Worked on my Skills, Created 50+ filters, Worked with 14 Clients, Reached a milestone of 50 Million Impressions.

"Augmented Reality is the Future" and I am proud to be a small part of this process, working and studying how to entertain, educate, support people and do more interactive Things and communication through AR!

Currently, I am starting to learn more skills such as 3D, Animation and Body tracking to build more complex filters.

Lenslist has been a great motivation for all creators to keep trying, discovering new things and getting inspired.

– Riyazshaheed Torgal
Ksenia Dobretsova

@ksumrs
When it comes to beauty masks on Instagram – Ksenia Dobretsova is the boss 😎💄Born in Siberia, Russia, after graduating from an art school she found inspiration in AR, which let her fully dive into the art of makeup and beauty and spread her artistic wings ✨
My name is Ksenia Dobretsova and I'm engaged in creating beauty masks for Instagram. I was born in Siberia, Russia, and now I live in the Ural region. I graduated from art school In 2014, and I painted portraits on order during my school years. What I especially liked was to depict unusual make-ups on paper. In the summer of 2019, I learned about Instagram masks, and they inspired me a lot. I'm really fond of creating beauty effects, and I think that Instagram masks should be aesthetic and reflect the best version of us.

To be, as some say, "fake" in a mask, to change your face beyond recognition with filters is not really about beauty developers. We simplify the lives of bloggers, public figures, and experts. Thanks to us, they spend much less time on makeup, to go live or record a story. Now the boundaries between reality and virtuality are blurring, and I am glad of that. In the future, I plan to improve my skills, study 3D more deeply. I'm grateful to the Spark AR team for the opportunity to create and change the world for the better.

– Ksenia Dobretsova
Vanessa Iwata Uehara

@nessa_iwata
Let's travel to the other side of the world and meet Vanessa Iwata Uehara – a graphic designer from Brazil 💛 From the moment she discovered AR, her creations grew in innovation and Vanessa found herself buzzing with new ideas and opportunities.
Hi! My name is Vanessa, I am a Brazilian graphic designer and I have started my augmented reality adventures 2 years ago creating filters for Instagram. Since then, AR has changed my life and disclosed a universe full of opportunities.

Inspired by movies, comics, dreams and Pinterest pins, I enjoy creating characters and filters that amuses people and help us to express ourselves in an original manner. The majority of my creations are related to makeup and different colors of hair, but I have been studying 3D and animation to improve my knowledge.

For me, AR is a way to practice our creativity looking into the future. I am glad and grateful to be part of this community that is just growing and show to the world new possibilities of creation.

– Vanessa Iwata Uehara
Olga

@lolli.olly
Last but not least, let's meet Olga from Russia, Yekaterinburg ⭐️ After graduating from the University with a degree in financial management and leading a successful career in this field, she felt like she wanted something bigger or more creative – she began to study as a Graphic Designer and found new artistic directions – along with a passion for travelling. Thanks to creating Effects – she can fulfil all her desires, illustration, complex creation logic, AR, 3D modelling and crazy creative ideas.
My name is Olga, I'm from Russia. I have been creating AR filters for two years.

I am inspired to bring to life various illustrations and images of people or dolls. Usually, these are not exact copies of illustrations, but rather images based on motives.

I wonder how it was possible to try on the image that the artist created. Feel the mood and character of the hero, becoming him.

Sometimes these are cartoon dolls that fascinate with their beauty as in childhood. Sometimes these are provocative images. I think it's a great way to express yourself to the world.

I am also interested in creating beautiful makeup, which in real life not everyone can create.

I like to play with textures and materials, it's interesting to create a texture so that a person has a tactile sensation just by looking at it.

I find inspiration everywhere, looking at the colors and textures of nature around me or looking at toys and figurines created by talented artists.

It seems to me that I'm still looking for my style, but one thing is for sure, I love to play with images, embody complex ideas, listen to myself and create AR filters, playing like a child with eyes burning with inspiration.

If I choose one phrase that suits me better, I would rather choose this:

"Make it alive! Accept the challenge!"

– Olga
⭐️⭐️⭐️
If you feel like chasing after even more inspiration – meet more extraordinary Creators and their AR Effects!