10 AR Filters' Creators You Should Follow | December 2021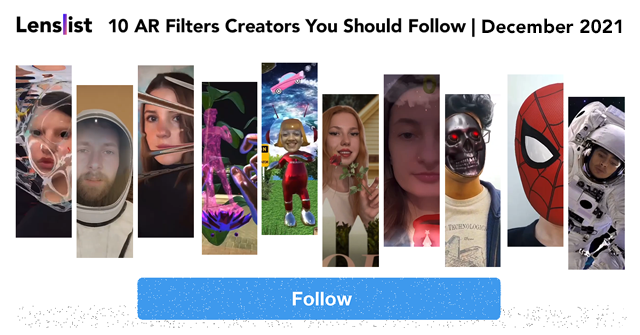 Being able to chat with so many talented Creators is always a pleasure for us! ✨Monthly dose of inspiration from 10 awesome Creators is definitely one of our favorite routines. 💪🏼 Thanks to these fresh and exciting stories we can feel more connected and truly understand the Creators and their ARt ✨ Below you'll find out why, how and what they create, along with their favorite Effects for you to try out👇😄
Get to know them better and don't forget to follow! ⭐️
Alexander Pongo

@pongo.space
Alexander Pongo is a brand strategist and AR creator from Ukraine. He helps
brands to take full advantage of AR opportunities.
As soon as it became possible to create your own filters, I immediately saw the potential of using it as a powerful marketing tool for all kinds of businesses. From apparel to jewelry, from elements of the interior to panoramas. My first experience was a filter for a good friend Myroslava Kozar – a talented Ukrainian jewelry designer. We implemented her magnetic earrings collection in the AR environment. Her clients loved it and I've received plenty of partnership offers from other brands right after.I really enjoy when the filter I created not only entertains, but also benefits businesses and their customers, and I am sure that in the nearest future AR industry will expand the boundaries of e-commerce we're used to, and as a creator – I'll be helping brands to keep up. From the creative point of view – AR widely opens horizons for creating new worlds, where the basic laws of physics are no longer an obstacle. I like to look into the future – what will the first human Mars landing look like? Or capturing an important episode of life, like my first experience of skydiving.

– Alexander Pongo
More Filters Instagram Website
Daria Vishnyakova

@peachyblust
Daria Vishnyakova, an AR Effects Creator from Russia, has always had a special place in her heart for animals and environment – through her AR filters she sends important messages to the world 💚🍀 Her Effects also include lots of other amazing themes like makeup or cinematic aesthetics 💫❤️
I have been loving animals and drawing since I was a child, and these feelings help me everyday. I like AR tools mostly for creativity, because I can show not only illustrations, I really can immerse the viewer into the scene. Also I think that it is very important to attract public attention to attitudes towards animals and ecological problems.

TV shows, movies and makeup often inspire me to create AR effects.

– Daria Vishnyakova
Miguel Angel Lopez Campoverde

@mikeblackhat
Miguel Ángel López Campoverde, better known as "Mike" @mikeblackhat, is a Systems and Computer Engineer from UTP specialized in cybersecurity and software development, member of the Global Meta AR Alpha program and Contributor in the Latam community. Since 2019 he is a creator on the Spark AR platform contributing his work in the creation of the metaverse. He has produced +100 effects and has achieved the title of "Trendsetter".
I started in 2019 to create augmented reality effects for fun, acquiring in the process skills that today allow me to work professionally for large companies.

I have always been attracted to technology, its progress and the way our lives change with each new invention, we live in the era where we are laying the foundations of the Metaverse being the first generation in charge of showing people who are not related to the computer world that a new world is possible, I am very excited about all the opportunities that the Metaverse has for everyone no matter if you are professional or not, Lenslist has been a great motivation for all creators to stay active inspiring new creators who are just starting to be part of this great community.

Currently, I am improving my skills in 3D modeling, Animation and Scripting to create more complex filters. I am also in the process of Spark AR Pro certification.

– Miguel Angel Lopez Campoverde
More Filters Instagram Portfolio
Thainá Gonçalves

@thainacsg
Let's take a look at some of the stunning Effects from Thainá Gonçalves – a nursing student (WOW!) from Brazil 💪❤️ Her work will definitely surprise you, just as much as her story! Thainá proves that AR can be for everyone and you will always find something for yourself 👇
So, my name is Thainá Gonçalves, I'm from Brazil, I'm 23 years old and I'm a Nursing student (yes, quite distinguished hahaha). I make very different filters, I love being challenged and I perform a lot! I still don't see myself in a specific area of ​​augmented reality, I like to do everything, to learn everything! I like to study new things and improve what I already know. I'm very inspired by artistic makeup images, mainly, but also by drawing ideas in general, I use Pinterest a lot as an inspirational social network.

I started 1 year and 4 months ago by chance. We were at the beginning of the pandemic, I started posting some humor videos to have fun and amuse the people who followed me. In August I decided I wanted a filter, but I didn't have the investment value, I couldn't pay. So I decided to do it on my own in my notebook, it took literally 3 DAYS to get a blush with little hearts on my face hahaha. But I managed to finish, people loved it and I became more and more interested in augmented reality, I was fascinated. This filter is still active, I'm proud of it because I worked really hard on something I had no idea about!

In this process, many creators were essential, among them: Kewin Lima, Herculles Goulart, Lorraine Pinheiro, and several others!!! Thank you all 🙂

– Thainá Gonçalves
More Filters Instagram Website
Diana Gysévskaya

@dianagysevskaya
Let's meet another incredible AR Creator based in Saint-Petersburg, Russia – Diana Gysévskaya 💫 Diana has been connected with AR for many years now and her journey had its ups and downs, but now she creates at full speed! 🚀 Her Effects will definitely make you feel magical, dreamy, spacey and a lot more 🤩
Hi, I'm Diana!✨

I started developing AR filters for Instagram at the beta test stage. At some point, it turned from a hobby into my job, and to be honest, after a couple of years of such work, the inspiration and desire to create filters left me.

But! The fire of love for this activity flared up in me again during the competitions organized by Facebook on the theme of the game Cyberpunk 2077 haha. I'm quite a gambler 🙂 In the shortest possible time, I learned a lot of new things and was able to raise my level, this allowed me to believe in myself again and get carried away with this business even more.♥️

My filters don't have a specific style. I create what I like, I think this is the key to success because in this way you really put your soul into the project!

In the near future, I plan to start conquering Snapchat and TikTok, so I'll see you there, bye-bye😘

– Diana Gysévskaya
Kayla Kane

@foot__asleep
Kayla is a creator from Seattle who enjoys working in Blender to create custom 3D assets and portals. She began working with 3D animations in film school and also uses augmented reality to create digital film sets for short animated films.
I find myself extremely lucky to be working in AR so early in its lifespan, and to have been admitted to the AR beta programs of different companies. Just about anything you want to build is possible with AR. I'm most excited about building photorealistic objects and portals, and how those could be used for artistic endeavors, education, community building, and preserving history.

– Kayla Kane
More Filters Instagram Website
Daniele Ventura

@ danieleventuraa
Wow, another amazing Creator who is also a full-time student – Daniele Ventura from Brazil 💜 Connecting her passions and her major, the AR she creates is super fun, colorful, sometimes creepy and a lot more – a full package 👀💪 Read more about Daniele's journey and inspirations!
Hello! I'm Daniele Ventura, I'm currently graduating in Computer Science and I've been able to unite my passion for programming and augmented reality is a fun experience. I started creating filters for Instagram two years ago and I loved the experience of putting my creativity into filters. At first I created beauty filters that I would like to use, the basic filters that every filter creator has done one day. In the last few months I have been able to learn a lot more about augmented reality, I'm loving putting fun objects into people's worlds and getting them to enjoy my filters in their everyday lives.
The competitions created by Lenslist always manage to increase my creativity, I'm having crazy and fun ideas, so thank you Lenslist for always encouraging creators to make super cool filters
Lately I'm working more with filters that have 3D objects, always learning and trying to improve with each filter.
My inspiration usually comes from games, Pinterest, movies and music. I'm always working on new ideas, so I always manage to unite these worlds in my inspirations.

– Daniele Ventura
𝗔𝗮𝗸𝗮𝘀𝗵 𝗠𝗮𝗻𝘀𝘂𝗸𝗵𝗮𝗻𝗶

@extraakash
Let's welcome Aakash Mansukhani – an AR enthusiast and technologies follower from India 😎 Check out Aakash's huge progress over time and believe us – the results are incredible! His portfolio includes so many different Effects that everyone will find something interesting – fun guaranteed 👾💜
Hi, I am Aakash Mansukhani. I am an avid learner & keen follower of the ever dynamically changing aspects concepts and technologies associated with the AR world. For over a year I've explored and experimented with Spark AR and published 30+ filters on my portfolio. The future of AR along with the multiverse is currently limited by computing power and various commercial reasons. However, once the market matures the implications and implementation of Ar in various fields is only limited by our imagination. Being familiar with software like blender, after effects, photoshop. I plan to bring various 3D and VFX components to my future AR filters to create the best possible immersive experience.

– 𝗔𝗮𝗸𝗮𝘀𝗵 𝗠𝗮𝗻𝘀𝘂𝗸𝗵𝗮𝗻𝗶
Ahmad Zacky

@ahdzacky
Ahmad Zacky is an AR filter creator and web developer from Indonesia. Passionate about 3D filter designs and filters containing things like superheroes, cartoons, and games. And he creates AR filters for his hobby and free time.
Hello, I'm Zacky from Indonesia. I became interested in creating AR filters in early 2020, where my coding course website opened a Spark AR class. I am a fan of Marvel superheroes and started creating the Iron Man filter as my first filter. After that, I continued to learn new things like 3D design in Blender and made creating AR filters a hobby, and now I'm starting to get interested in going in a more professional direction.

– Ahmad Zacky
More Filters Instagram Portfolio
Raluca Rohnean

@raluca_rohnean
After finishing a business school, Raluca Rohnean, felt like something was missing. And the missing part was AR 👀🚀 Now she's an amazing AR Creator based in Romania, making many new filters, experimenting with AR and improving all the time 👏🏻💜 Find out what was the starting point of her journey and how it changed over time 👇
Hi! I'm Raluca Rohnean from Romania. I graduated in Business Administration at the Faculty of Business from Cluj-Napoca. But that's not something I'm excited about II was more excited and happy when I posted my first filter. I started creating filters of curiosity and I realized that I like it, that I finally found the place that gives me the chance to create. Also, there is always something new to learn so you never get bored. I started my journey by creating simple filters, just changing colors, after beauty filters and now I try to work more with 3D objects. So that my filters get more creative and interactive. I find inspiration everywhere, but most of the time cartoons and movies. It's almost one year since I started to create and everything is moving so fast. Spark AR is the future of marketing and I'm really glad to be part of it.

– Raluca Rohnean