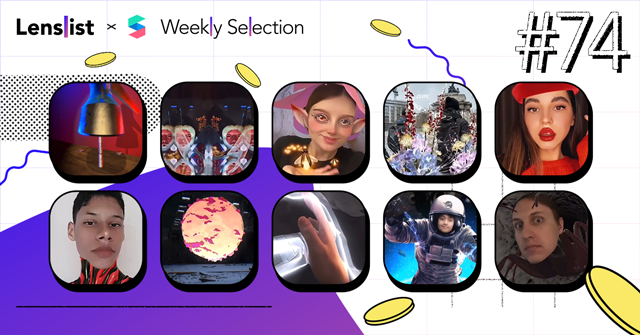 With our last $pecial Edition of Weekly Selection in 2021, we come to you with words of gratitude and reflection ⭐️ Nothing made us happier this year than seeing you grow and engage to make this world a more innovative and creative place for all of us. The determination and hard work you showed makes us super proud and motivated – because in this Community we are all each other's support and motivation 💪 For 2022, we wish you to make these bonds even stronger and keep creating!
Let us present to you our last Weekly Selection this year ⭐️ For the last time we are awarding top 10 works with $1000 each. Many thanks go to Spark AR and its team, who gave us the opportunity to reward many talented and outstanding Effects for 14 weeks straight 🚀
Without dragging on – countless congrats to EVERYONE and thank you for inspiring us all this time 💪💛
Soon the next adventure is going to begin, and we'll make sure to give you lots of opportunities to shine! 👀✨
With a Community like ours – we simply know that 2022 is gonna be even better! 😎
Cheers, and have a wonderful New YeAR ⭐️⭐️⭐️
💡 Our Lenslist database includes thousands of Instagram filters and Snapchat Lenses. Every one of them is teased by a demo video, has a direct link that opens it on mobile social apps, and is tagged depending on its style and functionalities it uses. To help you take full advantage of Lenslist, we've linked some tags related to the filters mentioned in this article. Don't hesitate to try them out!