How AR Redefines the Beauty Industry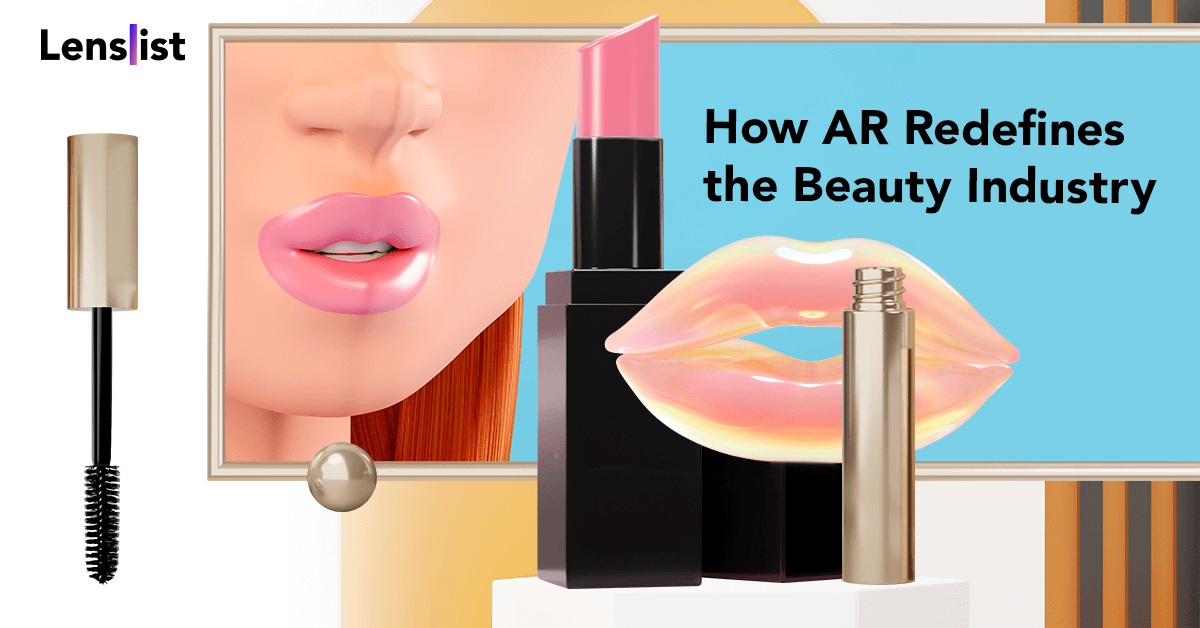 The beauty industry is one of a kind. Not only because of the size but also because of how close, personal and intimate it is to the consumer. To some, it serves as a confidant or best friend, for others an alter ego or a way to express oneself. These personal factors, the visual aesthetic and the industry's dynamics are precisely what captivates so many people watching hours of makeup tutorials everyday! New makeup trends are born minute by minute on Instagram, TikTok, Pinterest and brands are constantly trying to adjust to this more and more digital and fast reality of product release, marketing and sales.
For some consumers, it's simply part of a lifestyle – which was disrupted during Covid-19.
The beauty industry and its users had it rough during the pandemic. With closed stores and the inability to physically browse and try on the desired product, customers were stripped of the chance to perfectly match the colors, shades, combinations to their needs and wants. It was also a huge shift for brands and their marketers, for whom the in-store placement and visibility were a big part of their overall marketing strategy. Economically speaking, we could be looking at a 30% global revenue fall in the beauty industry and feeling Covid 19's damages for years, according to McKinsey's estimates from 2020.
However, with the right approach, understanding of today's fast-changing world and new agile strategies – the beauty industry is far from collapsing. On the contrary, it's looking at a full-on rebirth and Augmented Reality will be one of the most important elements of a huge beauty revolution involving entirely new types of consumer experiences, never-walked customer journeys and a digital shift towards personalization.
How is Augmented Reality leading this virtual makeover? AR has already gotten a head start – not only in numbers or the amount of creative solutions, but the fact that it's used on well-known platforms in simple, yet intriguing and useful ways. It allows clients to browse through and try on a full-color palette and their favorite products in real-time using a smartphone – from home – guaranteeing a safe and successful purchase. E-commerce, beauty and AR all join forces to make customer experience a priority.
According to a global study conducted by Snapchat and Deloitte in 2021, ¾ of all surveyed see AR as a practical "tool" which is no longer perceived as just a toy, but as a meaningful engagement instrument for brands, where in the case of the beauty industry, consumers can virtually try on beauty products – faster, better, easier.
Some big beauty brands, instead of creating AR Effects within social media software, build their own AR applications with try-ons. However, it's more expensive and rather than downloading a desktop app, users tend to choose easily-accessible filters directly from social media, where the AR-product-distribution-promotion machine works perfectly. Plus, on Instagram, Snapchat or TikTok consumers can not just try, but also share and recommend their favorite products to their friends and followers.
With AR filters, showcasing a new collection, shade or perfume takes on a new dimension and transports customers inside your brand's image, letting them dive into the desired mood and become the influencer or the star of your campaign. Whichever message you wish to pass on to your audience or whatever product you want to focus on – AR is the answer and let us show you why it's the right one – with the best, most innovative examples.
AR Product Showcase

While releasing a new product, it's all about finding and creating a bond with the customers. Thanks to AR Effects, this bond is stronger and even more personal. Beauty products float around on users' screens, transforming surroundings into an aesthetic product showcase, where customers can see, browse through, play around with beauty items, feel their aura and then share their experience.
Simple AR Make-up Try-on

With Simple Make-up Try-on Effects, Augmented Reality redefines the phrase magic is in the details. From lipstick colors to blush variations – customers can choose their own from a huge palette – all with a few swipes. Which blush do they match with? What mood would you like for your lipstick to reflect? Let AR guide your clients through many beauty compilations!
Full AR Make-up Try-on

A completed make-up look for users to try out virtually – in other words, a must-have make-up kit! Inspiring the customers and delivering signature iconic looks has never been more innovative and modern. Wearing your brand's digital makeup is something that people will remember and gladly share on their social media – which you will never forget!
AR Campaign Showcase

Through AR and its countless possibilities, which don't apply only to the Try-on option, you can allow your customers to truly connect with not only the products – but the whole brand, its image, most iconic moments, new campaigns, fresh beauty series launches or any news from the beauty world. How do brands do it? A virtual pop-up store is one way, walking through a digital door leading to a magical universe filled with beauty products is another. Creating an app with a personal virtual assistant or using AR as an addition in a physical store? Yes!
From the AR Community

The list wouldn't be complete without top AR Creators, who turn makeup and technology into magic on your screens and deliver stunning non-branded beauty Effects to the Community. In AR there are no boundaries to what you can create and that's what beauty is all about – passion, different variations, limitless ideas and sharing it all with each other.
What we're seeing nowadays is an explosion of interactive beauty solutions, with brands leaning more towards technology and digital innovation – which (un)surprisingly brings real results and settles flawlessly in today's beauty world. As society becomes more conscious about safety and more demanding in terms of product presentation and promotion, businesses seek ways to satisfy these needs as efficiently as possible. In search of modernization, they stumble upon AR which turns out to be a game-changer and the leader of future beauty solutions.
Meta, Snapchat and Pinterest have all developed tools used to create Augmented Reality experiences, which allows beauty brands to dive into social media-based AR technologies and surprise their customers with something new, where truly there are no limits. The biggest brands all over the world have already chosen AR as their marketing and image booster.
And the numbers are here to back it up – 75 of the top 100 beauty brands are now using AR globally to change how products are marketed to and tried on by consumers – these are the words of Parham Aarabi, CEO of ModiFace, a start-up that worked on AR apps for, among others, Sephora and Estée Lauder. Join the beauty leaders now and let your brand become one too!