Best Branded AR Filters in October | AR Marketing Selection October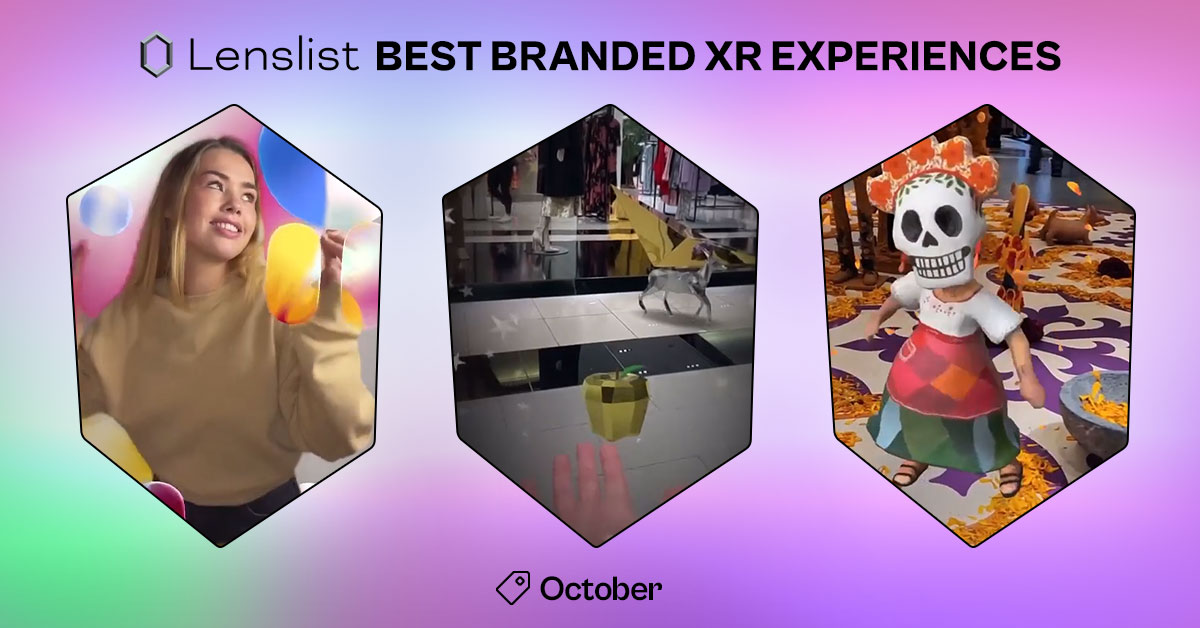 Curious about the latest AR marketing success stories? If yes, then you're in the right place, and Best Branded AR Filters have you covered right here!
To say that October was intense, is an understatement. Halloween, Spooktober, new campaigns, lots of effort and festive vibes is what defined last month's branded world. And once again, Augmented Reality has proved to be the best marketing foundation for worldwide companies and their new, bold, creative and inspiring projects. ⭐️
It's now time to look back at October and all the best branded digital initiatives it came with! 🎃 We hope our carefully chosen campaigns will put your imagination to work as you dive into sound-activated filters, traditional holiday celebrations, metaverse magazines and more! 👇
Our favourite Branded AR Filters
Go Vertical with Meta for Advertising Week
Everyone connected with Social Media, even in the slightest, knows the importance of Instagram Reels. 😉 Aesthetics, visuals or sound are crucial aspects when you want to create a successful and eye-catching video. What if we told you that now, you can utilise AR ads within Reels to boost user engagement even more? 🤔 This was the hot topic of the recent Reels Supercharger Event at Advertising Week in NYC organized by Meta – and joined by top AR Creators and studios such as @mattespray, @videorbit.studio and @ffface.me. Play with their custom AR experiences and explore the depths of Reels!
Go Vertical is based on one of Meta's rules for reels creation. The 9:16 vertical video format is critical to a successful ad, so we set off to create an effect that represented that. Vertical lines and vertical movement were the basis of this effect. Time was not on our side with this project, so simplicity was key. It worked for me because I always love to focus on smaller details. Minor interactions and movements can take an AR experience to the next level without needing too much fluff. Especially with something like reels and in-person activations, effects need to work right away and be super intuitive. Keep it clean and simple!

It's always such a thrill to work on projects like this. I'm forever grateful to have these opportunities, so I just wanted to say thank you, thank you, thank you, to the Meta team and our AR community!
– Matthew Chen (@mattespray)
We created the AR Effect for the effortless shooting of playful Reels and took a kaleidoscope toy as a reference for dynamic change of screen segments. We also outplayed the Safe Zone concept to display the part of the screen that should be active on Reels to avoid intersection with the interface.
– Dima Kornilov, CEO, FFFACE.ME.
Luckily, we also got some inside information about the Advertising Week and Reels straight from Alina Savu, Strategic Partner Manager from Meta! 👇
During this year's Advertising Week NY, Meta hosted a Creative Agency Supercharger event for agencies & in-house creative teams (representing 100+ advertisers). The IRL event was designed to empower agency creative stakeholders to embrace the top performant creative essentials for Reels with AR as a core brand storytelling solution to animate this new content video format for creators and brands.




At the event, AR ads and the important relationship between AR + Reels were featured as a key pillar for unlocking the creativity and innovation of immersive experiences across the Meta platform. The AR presence featured Bianca Bradford, Head of Noram Agency Partners at Meta talking about the creative opportunity with AR and the recent launch of AR ads into the new Reels ad placement, celebrated the latest across the new AR Narrative, custom AR experiences built by 3 commissioned MSPN creators that linked to the Supercharger Reels interactive installation themes, and the perspective and engagement of Meta Spark Partner Network Creators present as ambassadors.

A 3-part activation was delivered:

➡️ AR product specialists & creators, Lianne Baron & Thomas Bourret, shared their creative process in building for AR with Meta Spark & the growing opportunities for creating branded Augmented Reality experiences with a powerful connection to Reels

➡️ Interactive Installations featuring AR experiences as part of larger Supercharger exhibit: 3 custom AR experiences for the AdvertisingWeek NY event developed by Meta Spark Partner Network (MSPN) Creators were launched to showcase the core design principles for building AR experiences for Reels.

The ingrained pattern of consumption and sharing AR on Instagram is through Stories, but we would like to inspire creators to start integrating Reels in their launch playbook for organic and AR Ads effects so they can drive long tail discovery with evergreen short form video content on feed via public Reels videos.

The 3 Meta effects were designed as a way to uncover the foundational creative essentials for building AR effects for Reels (9:16 vertical video with audio on and in safe zones) that we recommend as the first step in building native Reels organic and ads videos. This aims to inspire creators, brands and agencies to keep these principles in mind when launching new AR experiences on Instagram.

Top Takeaways:
➡️ Now you can use AR effects not only in Stories, but also while creating Reels (add the effect attribution in the Reel for user discovery)
➡️ Use these URL structures to open the effect in Stories/Reels + generate the Effect Page in Instagram

To open effect in Reels: https://www.instagram.com/ar/reels/effect ID
To open effect in Stories: https://www.instagram.com/ar/effect ID

➡️ To generate the IG Effect Page – with all the public Reels using the AR effect: https://www.instagram.com/reels/effect_page/effect ID

AR + Reels is a powerful content engine for sharing and critical part of the AR ecosystem in driving discovery + organic sharing

➡️ Creators can start pitching and building AR Ads for brands leveraging the new Reels ad placement.

Use these three quick tips to supercharge your AR content for Reels:
❗Design for Vertical Video
❗Build in safe zone so your message is clear – Reels ads that respected the safe zone had a 39% higher CTR
❗Design for sound ON

–Alina Savu, Meta

¡Vivan Los Muertos! For #ConectAR LATAM
The first meet-up of AR Creators in Latin America, ConectAR, couldn't have been complete without stunning and colorful AR effects celebrating this region's rich traditions and culture. 💃 That's why @yunuene, a contemporary artist from Mexico, decided to celebrate the Day of the Dead through art and technology. In one of the effects made with Tomás Pietravello, she captured the magic of the Xantolo festival (Party of the Souls), which presents traditional dances performed by spirits and involves traditional means, such as sketching and sculpting. All 4 energetic and bursting-with-colors experiences were made for #ConectAR. Long Live the Dead!
Vivan los Muertos is a collaboration with the talented Mexican artist @yunuene. We aimed to accurately represent Mexican traditions, while making the effect light & performant (it's under 2MB!). It was brought to life quickly, using Shaders, 3D Particles, and Music to make a more immersive experience.
– Tomás Pietravallo, Meta.
Bloomingdale's Middle East and #ArtOfGiving
If you want to go shopping Bedouin-style, then Bloomingdale's inside the Dubai Mall is the perfect choice. Especially with Winter Holidays coming soon, shopping centres are becoming more and more crowded. However, if you have some free, safe space around you, why not play with camels and oryxes made of gold and silver? 🐪 Join @lens.that – the Creators behind these effects – and support the #ArtOfGiving!
We had a great opportunity to work with Bloomingdale's in the Middle East. An exclusive department store in Dubai invited us for a special collaboration during the festive season. Statues of Oryx and Camel are displayed throughout the store and our AR work allows anyone to enlive them. We created AR effects that are made as plane tracking. The user needs to move their camera, so the device will recognize the surroundings, and boom! The statues come to (digital) life 😉. The whole idea was to create something visually appealing in a low poly style, and we believe we succeeded in that! But to surprise you even more, this is not the end of this AR campaign… Stay tuned for more, and remember about the #ArtOfGifting!🤍
– @lens.that Team
How-to Makeup with IPSY on TikTok
There are more and more makeup tutorials appearing on TikTok and it's a good thing – finally those contouring skills are on point! 💄 But, unsurprisingly, we have a soft spot for AR makeup filters that work as a guiding tool, showing where, how and what to put. If you like them too, then you have to try out these effects made for IPSY, a beauty membership service. If you're a fan of glam, try out the Icon Box Glam filter made by @sophiekatirai, and the contouring one if you need a bit of help mastering those skills!
RED-EYE Metazine: Metaverse Magazine
You have to keep up to date, even in the metaverse. And that's where RED-EYE Metazine comes in: the first metaverse magazine, a new language of artists and creators supporting an open metaverse where everyone can contribute to its value of freedom and inclusivity. They invite you to experiment with their 3 stunning new AR filters, with purple and liquid as primary actors. 💜
Explore all of the best branded AR filters from October👇
Instagram
Snapchat
TikTok
Here were truly the BEST branded AR Filters, and once again, the ever-evolving Augmented Reality marketing landscape, brimming with inspiring projects and creative AR filters has proved that everything is possible. Brands are seizing new ways to engage consumers – explore them now! 🚀