Snap AR x Lenslist AR Asset Hackathon | WINNERS ANNOUNCEMENT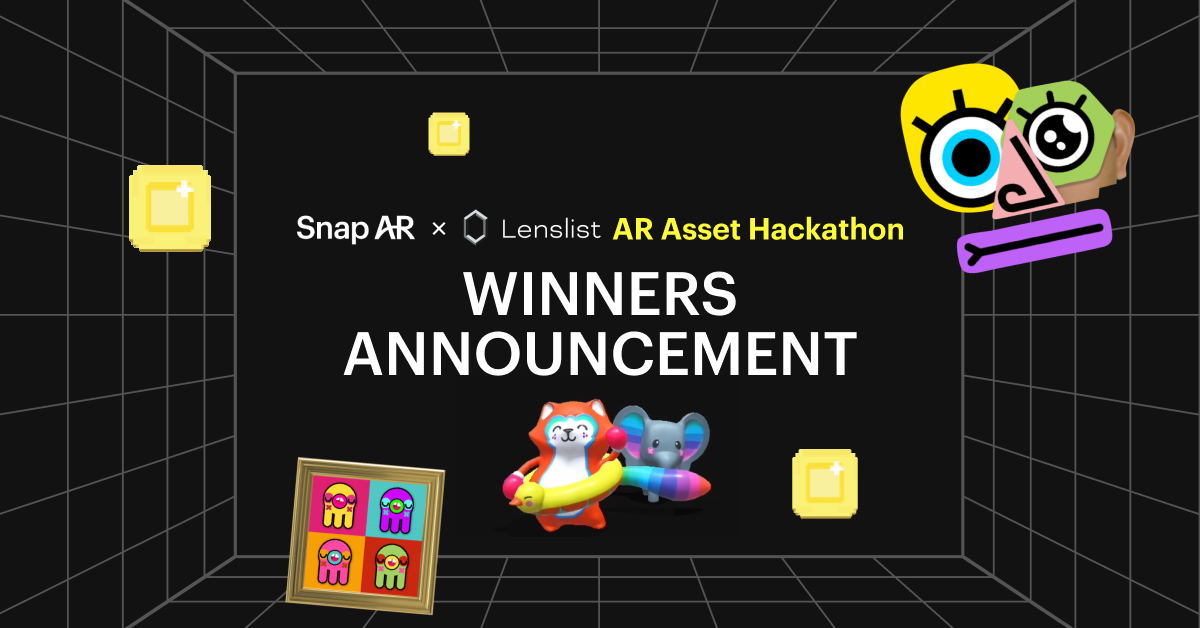 After weeks of patient anticipation, the day has finally come. The winners announcement for the Snap AR x Lenslist AR Asset Hackathon is here!
The choice, of course, was incredibly hard to make, especially with so many powerful assets in all categories. 🧑‍🎨 But don't worry: however difficult, the winners' selection was finally made. The Judges' sharp eyes made sure to reward all of the best projects and their Creators.
This hackathon holds a special place in our digital hearts, as it is the first one focusing on assets, not Lenses. We asked you to think outside the box this time: what's the tool that could make your work easier? What's missing in the Lens Studio Asset Library? What could help both the novice and experienced Lens Creators create even more inspiring Lenses? 🤔
And – as always – you stepped up to the challenge!
What's the prize?
Participants of the Snap AR x Lenslist AR Asset Hackathon were able to win their share of $40,000 prize pool. Ultimately we rewarded 100 projects in 25 inspiring categories with 4 prize tiers – 💎Diamond ($1,000), 🥇Gold ($300), 🥈Silver ($200) and 🥉Bronze ($100).
Keep in mind that the most active asset Creators were able to win multiple prizes and one asset could win up to 3 prizes in different categories! And as a result, we're excited to share that over 50 Creators have been rewarded!
Without further ado – let's see the lucky winners!
Best Technical
💎Diamond Prize
Max van LeeuwenHearts
🥇Gold Prize
Inna HorobchukStep Identification
🥈Silver Prize
Blake GrossCoroutine
🥉Bronze Prize
Max van LeeuwenPopups
---
BEST INSTRUCTIONS
💎Diamond Prize
Yassin BenhaddouResource Bar Pack
🥇Gold Prize
Brendan BrendanMusic Sync
🥈Silver Prize
Aidan WolfHeartbeat Runtime Manager
🥉Bronze Prize
José Haas3D Eyelashes
---
Most Customizable
💎Diamond Prize
Emilio MartinezFlower Maker
🥇Gold Prize
Nikola KazakovDeformable Matter
🥈Silver Prize
Altaha AnsariTransition Material
🥉Bronze Prize
Paul GaileyTournament quiz
---
Saves Developer Time
💎Diamond Prize
Subtropic StudiosToggle Groups
🥇Gold Prize
Michael PorterDouble Sided Material
🥈Silver Prize
Flávia FreireTap to Change
🥉Bronze Prize
Flávia FreireInstantiate Prefab
---
Coolest Visuals
💎Diamond Prize
Mihajlo NestorovićLocation To Location Animation
🥇Gold Prize
Egidijus UckuronisFlowmap Texture Pack
🥈Silver Prize
Altaha AnsariWater Drops
🥉Bronze Prize
Altaha AnsariGod Rays
---
This is the Future of AR
💎Diamond Prize
Jose Luis HaasHand Slider UI
🥇Gold Prize
Max van LeeuwenNuclei
🥈Silver Prize
David Robustelli3D VFX Asset
🥉Bronze Prize
Max van LeeuwenRope
---
This should be in every Lens
💎Diamond Prize
Michael PorterItem Cycler
🥇Gold Prize
Ben KnutsonCustom 3D Particle Spawner
🥈Silver Prize
Krunal MB GediyaCapture Visibility
🥉Bronze Prize
Hart WoolerySmoothing 3D
---
Best Custom Components
💎Diamond Prize
Brendan BrendanMusic Sync
🥇Gold Prize
Aidan WolfHeartbeat Runtime Manager
🥈Silver Prize
Nikola KazakovSound Manager
🥉Bronze Prize
Mihajlo NestorovićSteering Wheel Component
---
Best Materials
💎Diamond Prize
Altaha AnsariGod Rays
🥇Gold Prize
Altaha AnsariTransition Material
🥈Silver Prize
Alex LumarFlow Distort
🥉Bronze Prize
Haval MustafaNeon Waves
---
Best Tools
💎Diamond Prize
Nikola KazakovDeformable Matter
🥇Gold Prize
Emilio MartinezFlower Maker
🥈Silver Prize
Nikola KazakovShake Detection
🥉Bronze Prize
Blake GrossProfiler
---
Best 2D/3D Assets
💎Diamond Prize
Libardo Martinez DurangoROOM HOME ASSETS 3D
🥇Gold Prize
Angelique AndersonTieDye Animated Texture Pack
🥈Silver Prize
Sarah MayerCute 3D Nail Studio
🥉Bronze Prize
Egidijus UckuronisFlowmap Texture Pack
---
Best VFX
💎Diamond Prize
Altaha AnsariWater Drops
🥇Gold Prize
Suraj AroraPortal VFX
🥈Silver Prize
Sara BeigButterflies
🥉Bronze Prize
Altaha AnsariTransition Material
---
Best Other
💎Diamond Prize
Masharzi McCannPortal Filter Occluder
🥇Gold Prize
Scott Martins Barreto12 PRISM OVERLAY PACK
🥈Silver Prize
Karishma Katiyar360 World Maps
🥉Bronze Prize
Hassan RaffiqueWood Material Pack
---
Best Fantasy
💎Diamond Prize
Jeetesh SinghDissolve Shader Material Pack
🥇Gold Prize
Suraj AroraPortal VFX
🥈Silver Prize
Emilio MartinezCircle Patterns
🥉Bronze Prize
Lillian SatoMagic Dew
---
Best Gaming Asset
💎Diamond Prize
Aidan WolfHeartbeat Runtime Manager
🥇Gold Prize
Yassin BenhaddouResource Bar Pack
🥈Silver Prize
Holliday HortonRetro Gaming Pong
🥉Bronze Prize
Scott Martins BarretoGame Life Hearts
---
Best Face Lens Asset
💎Diamond Prize
Hassan Raffique3D Aztec Headwear Model
🥇Gold Prize
Persica Queeney PicardoIndian Turbans
🥈Silver Prize
José Haas3D Eyelashes
🥉Bronze Prize
Sivan Sharifhand money
---
Best Utility Asset
💎Diamond Prize
Mihajlo NestorovićDrawing on Mesh
🥇Gold Prize
Nikola KazakovSound Manager
🥈Silver Prize
Ines HilzEitherOr Quizz
🥉Bronze Prize
Gijs WahlPaint With Hand
---
Best Fitness Asset
💎Diamond Prize
Allan YdeRunning Tracker
🥇Gold Prize
Max van LeeuwenBody Mesh Copy
🥈Silver Prize
Inna HorobchukStep Identification
🥉Bronze Prize
Matthew HudsonWalking Distance
---
Best Education Asset
💎Diamond Prize
Vaibhav SuriColorblindness Simulation tool
🥇Gold Prize
Gijs WahlPaint
🥈Silver Prize
Haval MustafaSolar System Pack
🥉Bronze Prize
Meghan DrabbeStar Detection ML
---
Best Fashion Asset
💎Diamond Prize
Hassan Raffique3D Bracelets Asset Pack
🥇Gold Prize
Sarah MayerCute 3D Nail Studio
🥈Silver Prize
Elsa FzTry On Gloves Pack
🥉Bronze Prize
Maxime CabrolDown Jacket
---
Best Entertainment Asset
💎Diamond Prize
Yusuf OmarEmoji Pack
🥇Gold Prize
Faris AsiriBlock Physics to Ball
🥈Silver Prize
Breno KischCardi B Hair
🥉Bronze Prize
Sivan SharifHand money
---
Best Superhero Asset
💎Diamond Prize
Jacob SchupbachCharacter Eye Selector
🥇Gold Prize
Bangers MashAstronaut Helmet
🥈Silver Prize
Manuel Alejandro Robles NietoBluebeetle Helmet
🥉Bronze Prize
Hassan RaffiqueTrail VFX
---
Best Sci-fi Asset
💎Diamond Prize
Libardo Martinez DurangoFuture Laboratory Pack
🥇Gold Prize
Meghan DrabbeWormhole Effect
🥈Silver Prize
Emilio MartinezCurved Worlds
🥉Bronze Prize
Sarah MayerSpirit Patterns Pack
---
Best Holidays Asset
💎Diamond Prize
Hassan Raffique3D Masquerades Asset Pack
🥇Gold Prize
Tariq AbubakerBedouin Face Veil
🥈Silver Prize
Irin chungXmasFairy
🥉Bronze Prize
Purvasha ChoudhariIndian Festive Makeup Pack
---
Best Nature Asset
💎Diamond Prize
Hassan Raffique3D Verdant Environment Pack
🥇Gold Prize
Scott Martins Barreto10 Animal Material Pack
🥈Silver Prize
Holliday HortonBlack Butterfly Pack
🥉Bronze Prize
Emilio MartinezFlower Maker
Congratulations to all Winners – we're sure this will be just one of the many accomplishments in your creative careers 🔥 Now you can sit back, relax, and wait for our team to contact you about your prize – you should get an email notification to start the prize payment process within 72 hours. Keep surprising us with your talent! We will be looking closely… 👀
And of course we would like to thank all of the participants for taking part in the Snap AR x Lenslist AR Asset Hackathon 💛 Your projects and engagement in this hackathon were truly inspiring, and we couldn't be more proud of the Snap AR Community! ✨
Make sure to share and tag us, when publishing your Lenses using all of the new assets – we can't wait to see them! 🤩