Best Branded AR Filters in September | AR Marketing Selection September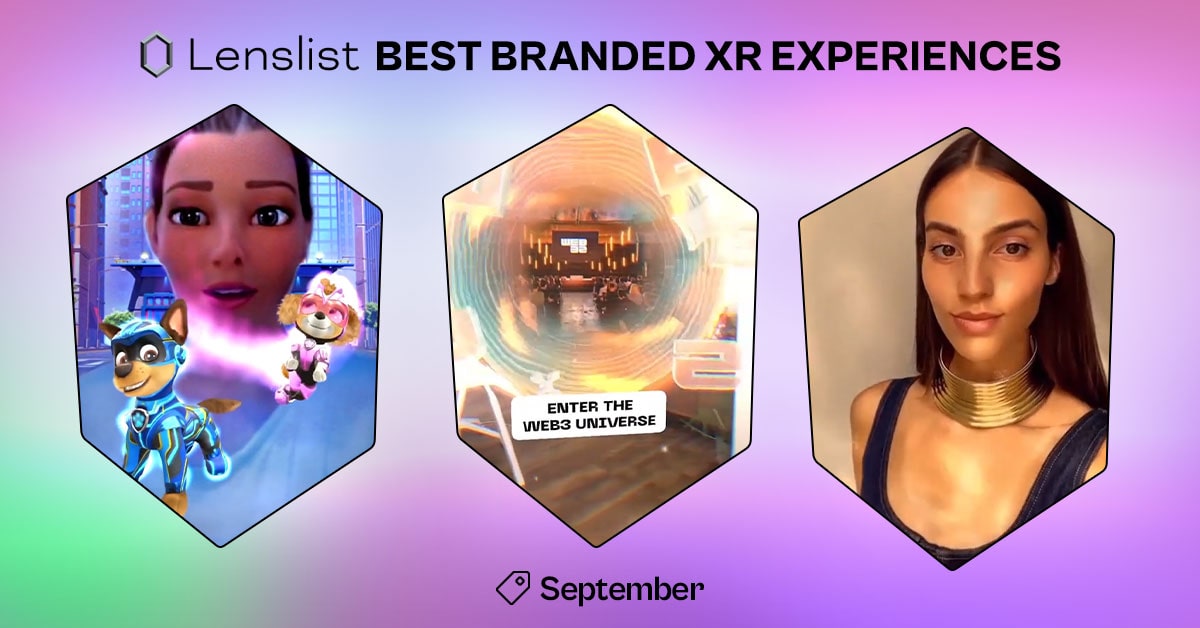 Calling all marketers! 🥸 It's time to look back at September and all the best branded digital initiatives it brought onto our newsfeeds. ✨ Once again, the Augmented Reality marketing landscape has evolved and is full of more inspiring projects! Last month we saw a burst of creativity around AR filters, as brands continue to seize the opportunity to engage with their consumers in new ways. 🤳
We hope our carefully selected campaigns will help you get creative ideas for your next projects and put your imagination to work as you explore advanced Target Tracking filters, anime characters coming to life in 3D or glowing magazine covers. 👇
GLITCH Magazine: DNA AR-powered Cover
Have you ever read a magazine so good or seen a cover so stunning that you wish it became real? Say no more! 👀 GLITCH Magazine, known as cutting-edge and futuristic, decided to bring life into its pages and collaborate with Cloves Filho (@cloves.ar), who perfectly understood the assignment.
Luckily for you (and us), we got in touch with both and GLITCH's founder and CEO – Fernanda Ondarza Dovali. Let them take you through the creative process of these breathtaking 3D pages. 🦋
Cloves:

The cover of GLITCH magazine was one of the 3 AR activations that I was invited to be part of, this being the most challenging and pleasurable to do. After receiving the cover concept, I was very excited about all the creative possibilities of it, designed by the great artist @visualocto.

Unlike some artists, my creative process developed almost in my mind, and the thing that came to mind was animating the vertebrae that surround the model's head. We incorporate real-time animation elements with custom shaders and custom 3D software animations, making the effect more immersive.

One of the biggest challenges was reproducing the glass effect of the vertebrae in Augmented Reality that corresponded to ambient light. Target tracking is one of my favorite features in AR, and I believe it is also one of the best when we are talking about print, in the case of the magazine it was a perfect combination between the disruptive technology of AR and the traditionalism of print.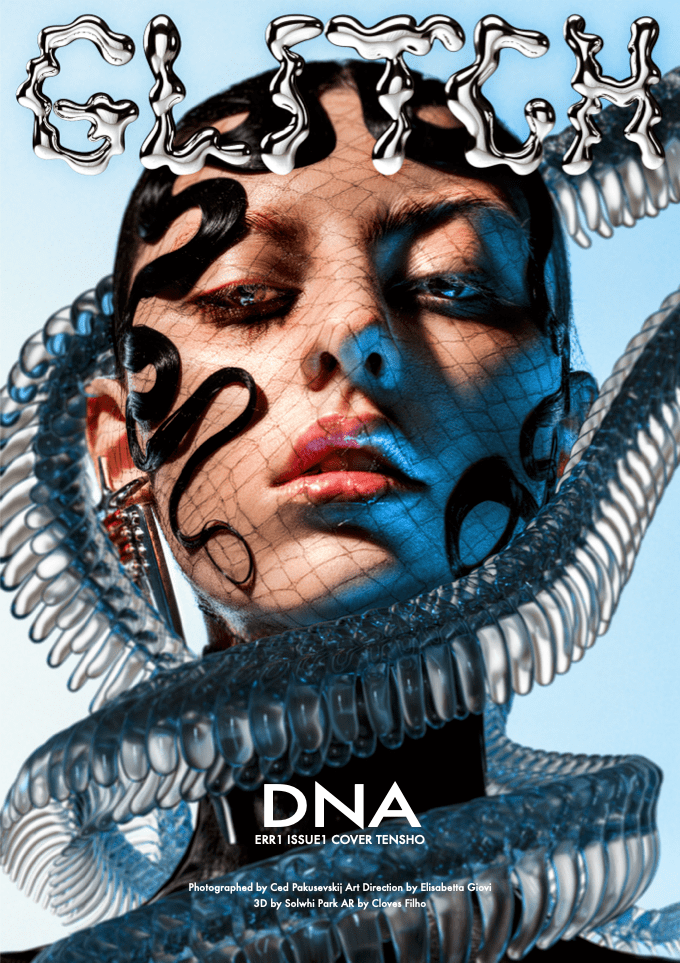 Fernanda Ondarza Dovali – Founder & CEO:

In the intricate tapestry of the fashion world, GLITCH Magazine emerges as a beacon of innovation, a testament to the power of determined vision and an unwavering commitment to redefining industry norms. With the launch of GLITCH Magazine's inaugural issue, we witness not just the birth of a publication but the dawn of a new era. Our industry, too often mired in nepotism and antiquated norms, has been in desperate need of a revolution, a breath of fresh air, and a commitment to unearthing and elevating the voices and talent of the future.

Armed with the cutting-edge power of augmented reality, GLITCH Magazine is poised to disrupt the status quo in fashion journalism. GLITCH is not just about glossy pages and pretty pictures; it is a living testament to the raw and unfiltered energy of emerging talent that's often overshadowed by established names. Through the lens of AR, GLITCH Magazine extends an invitation to its readers to immerse themselves in a multidimensional experience that breaks boundaries, challenges conventions and gives life to the often overlooked visionaries and creatives that are the lifeblood of our industry.

In a world where 'who you know' has been given undue precedence, GLITCH unapologetically embraces the 'what you create' ethos. We, in the fashion industry, have long yearned for a platform that celebrates diversity, innovation, and artistic freedom. With GLITCH Magazine, we step into a new era where talent reigns supreme, and opportunity is accessible to all who dare to dream. The launch of the DNA issue is not just a milestone; it's a manifesto for change. This is the start of a disruption and a celebration of those who are making their mark in the most exhilarating and unprecedented ways.

Today marks a seismic shift in the fashion media landscape. GLITCH Magazine's 'DNA' issue signifies the roots of our journey – a journey fueled by a relentless drive to foster a community, nurture connections, and disrupt the conventional norms that have long plagued the fashion landscape. Within the pages of this debut issue, we embark on a shared journey, exploring the utopian dreams and stark realities that shape us. It's an unapologetic showcase of our true selves through creative self-expression.

The path to this moment has been fraught with challenges and revelations. Our dedicated team, bound together by a shared passion for creativity, has unravelled the intricate web of connections that underpin the fashion industry. We've embraced its nuances and complexities, and it's a privilege to present to you a magazine born from the heart of our collective endeavours.

Let GLITCH be the clarion call to a reimagined future of fashion, magazines, and cherished collectables.
Shop Small with American Express Mexico
Being great supporters and believers of small enterprises, the Mexican branch of American Express has recently launched a 'Shop Small' campaign to encourage all users to help small businesses and communities thrive. 🛍️ To celebrate the movement, the brand joined forces with @synergystudio.io to create two Target Tracking filters, which give away so much positivity and good energy! 🌻
Learn more about the creative process from Nadia Tamez, founder of @synergystudio.io:
This project with American Express presents an extraordinary journey through the heart of Mexico City, where the worlds of urban art and cutting-edge technology merge to celebrate and support local community. The Augmented Reality project is your gateway to a vibrant, distinctive small businesses in the Condesa. By tapping on the AR experience, we invite you to unlock the doors of various local gems. This interactive AR experience not only lets you discover the diversity of the city but also encourages you to #shopsmall and support local businesses, with your American Express card. This experience wouldn't be possible without the synergy with artist Pam Medina, hand in hand with Matraka and Artsynonym.
Rugby World Cup France 2023 x Meta
Meet the Superfans, 20 fictional characters representing each nation competing in the Rugby World Cup France 2023! 🏉 If you're in the mood for some outside activities, grab your AR friends and play – thanks @meta for keeping us fit and all ready for the championship!
Hyundai Card x Da Vinci Motel
A banking company and art? 💱 Why not? Hyundai Card, a credit card brand under Hyundai Motors, decided to spice up its cultural festival, called Da Vinci Motel. Among a broad range of interdisciplinary programs covering art, academia, business and technology, we found three interactive and fun AR filters – they simply couldn't be missed!
Casetify x Neon Genesis Evangelion
Everyone knows that a phonecase should not only be protective, but also stylish. Casetify, a Hong Kong based mobile accessories company has both points covered – and a bonus third for making super-interactive AR filters! 🤖 If you're an anime lover, you'll notice that they are inspired by Neon Genesis Evangelion, the iconic post-apocalyptic series from 1995. Another bonus point if you ask us! ⭐️
Kenner: Shoes of the Future
What we love about futuristic shoe advertisements is that they let us take a big step towards more comfort and resistance. And that's exactly what Kenner, a Brazilian shoe brand, represents. 🩴🦾 Take a look inside two cyber-themed AR boxes filled with surprise!
Let's not forget about the rest of the Best Branded AR Filters from September 👇
Instagram
Snapchat
TikTok
That's a wrap on the best branded AR filters from the previous month! Brace yourself for the thrilling projects that October holds! Will it unfold spooky vibes and Halloween looks? 🎃 We hope so! Don't forget to share with us the campaigns that captivated you the most and till' next time. 🤚