AR NOW #7 – Latest Metaverse News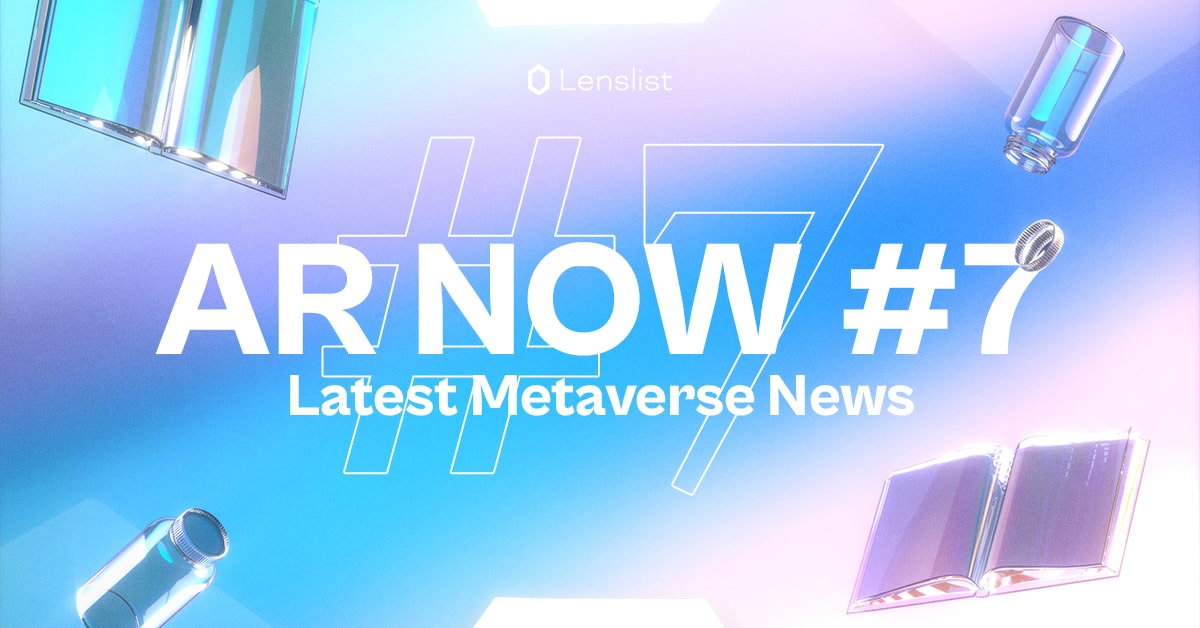 Augmented Reality is leaving an impact on the world: we know that for some time now. And whether it's marketing, education, or pure entertainment – we want you to know everything about it. Here's the latest Metaverse news.
And today we prepared something really special, proving once again that the Metaverse can become a game-changer for all kinds of industries. Another extraordinary catwalk, placed in the Metaverse is just one of the examples of what happened lately in the digital world. Medicine? Music? We have it all! There's even a little treat for all Harry Potter fans! 🪄
Without further ado – let's start the recap! 👀
Fashion
👉 We just love mixing AR, Metaverse and fashion and at this point, it looks like they are becoming inseparable. But we're not the ones to complain! So let's start with Amsterdam Fashion Week, and more specifically: The MESSYVERSE. The event included an immersive, multi-sensory exhibition hosted in Felix Meritis, where visitors could enjoy pieces designed by Lu Yang, Frederik Heyman, and Serwah Attafuah. Aside from the digital display, participants could enjoy the first-ever AFW's fully digital fashion show called Future Front Row,co-created by creators like Isabelle Udo and Allan Gregorio. The line-up of the event includes also brands & artists like: DressX, the Fabricant, Augmented Weaving, Orthodoxx, Code Couture, Mutani, Av0lve and Suza Vos & Harriet Blend.
AR in Medicine
👉 Another day, another medical breakthrough! For the first time ever Augmented Reality was combined with robotics in a minimally invasive spinal surgery. The procedure, led by Dr. Cezar Mizrahi from Shaare Zedek Medical Center, allowed the repair of the complex spinal fracture by providing the best positioning through Robotic technology. AR system, created by Medtronic, allowed a surgeon to avoid placing a screw on a spinal cord or nerve roots. The headset also allows doctors to see all of the previously taken scans and plans uploaded before the surgery.
Education
👉Is AI the future of education? A part of it, for sure! And since we're focusing on more than just AR, we just have to mention Artificial Intelligence news. Open AI published a dedicated guide for teachers interested in using ChatGPT in their classrooms. The Teaching with AI provides specific examples of Artificial Intelligence use in the teaching program, as a help for both teachers and students. There are also suggestions for prompts that teachers can use in their work, for example by creating quizzes, and basic information about how AI actually works. The company also updated the FAQ with an added section about education.
Entertaiment
AR in Entertaiment
👉 Coachella already proved, that AR is the perfect tool for music festivals and this time it was POWERWOLF who decided to enhance their performance for the first time with Augmented Reality. To do so, they collaborated with ARTE and 0221 Mediaagentur to create a giant, digital wolf that fans could see during the performance at the Summer Breeze Festival. Both real-life attendees and those, who followed the live stream could enjoy the additional features during 4 songs: Incense & Iron, Amen & Attack, Beast Of Gévaudan and Resurrection By Erection.
👉 Last, but definitely not least in our news selection, we will step into the magical world of the Harry Potter universe. 🤓⚡On September 1st Warner Bros. announced an extraordinary event, celebrating the start of a new school year at Hogwarts School of Witchcraft and Wizardry. If you always dreamt about getting your own letter – now's your chance to feel like a true wizard! Harry Potter: Visions of Magic is said to be an interactive experience, that will let fans immerse themselves into the Wizarding World through multi-sensory installations, connecting art and technology. It will bring to life our favorite locations from the magical Universe, and allow us to interact with them. The event will premiere in Cologne, Germany in December 2023 and move on to other places.
⭐⭐⭐
What do you think? Is the tech revolution unfolding right before our eyes? 👀 From what we've already seen, it surely looks like that. AR can become a great tool in marketing, science entertainment, and more if put in the right hands, and somehow we're never disappointed.
Check out our LinkedIn, if you want to see what news we have already written about ✍️