Branded Showcase | Coachella Edition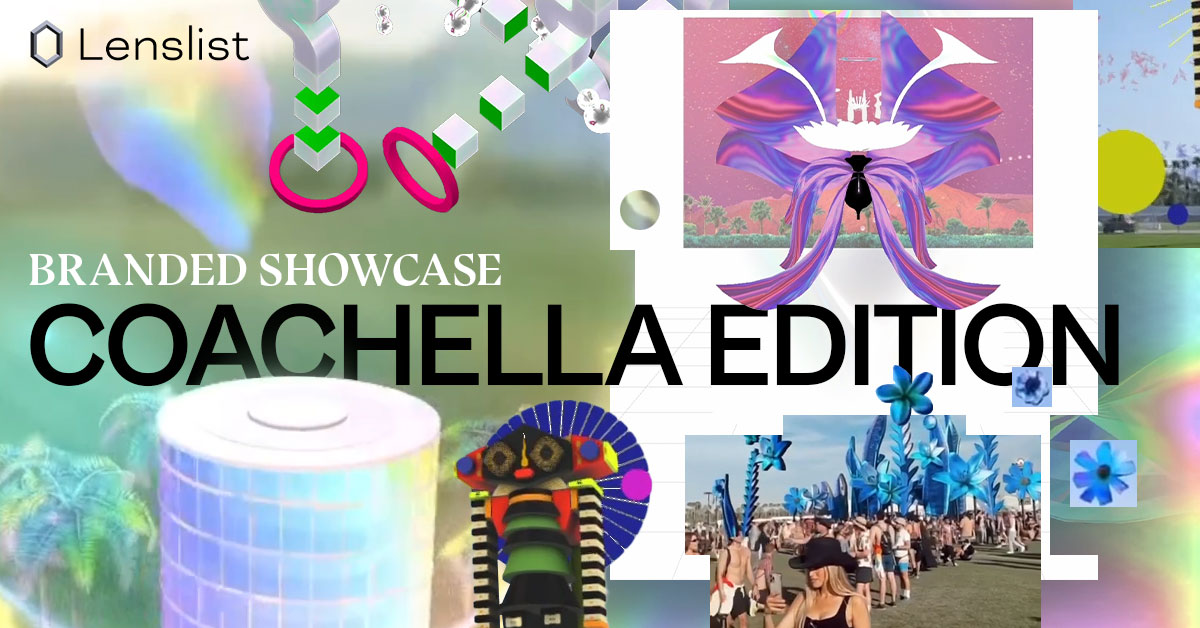 If there's one thing we like to do, it's showing you the latest trends and designs that shook the AR World. 🤖 This time, however, we prepared something special… 😇 With each Coachella we can expect not only one of the biggest music experiences in the world, but also additional features, including AR Effects made by the most talented Creators. And this year certainly didn't disappoint! 🤩
That's why instead of talking about just one project, we decided to use the opportunity to dedicate this edition of the Branded Showcase format to exhibit all of the amazing designs made exclusively for Coachella 2023. 🔥 Creators involved with the project, shared with us details about the process, and how their ideas came to life. 💜

What was the creative process behind your AR Coachella experience?
The Rift
Made by @enuriru & @visualize.mee
Denis Rossiev:
Creating high-quality Augmented Reality projects for big brands is always challenging, from creative vision to technical implementation. Everything must be made at the highest quality level, which often doesn't happen. So I'm gonna point out some interesting technical details that make this quality level possible: optimization.
We should always assume that users can and will launch AR experiences not on the latest iPhone 14 Pro Max. Most users have cheap low-end devices, and even a simple Blur(!) effect made the wrong way can slow down the experience. The more complex the experience, the more critical the optimization is. Why so? AR is supposed to immerse users and evoke emotions and new impressions. That just can't happen when it runs at 15 FPS.
Animations
When we made animated palm trees and put them into the AR scene, we noticed that even just 5 of them reduced performance drastically: because of 3D animations. So I replicated them in shaders: procedurally, manually moving vertices of 3D objects. They run directly on the GPU, so work super fast. I've made tests with dozens of trees, and no performance has decreased!
Sunlight
Have you noticed the beautiful sun flare that comes from the sun in the sky? Often such stuff is made using a universal technique called "volumetric light", by creating a bunch of layers, which is resource intensive. So I wrote a shader that draws dynamic sun flares using only one layer!
3D Grass
A flat plane with a grass texture looked cheap and unnatural, so we decided to go 3D. Real 3D grass is too heavy. So I used the "parallax occlusion mapping technique": there is only a flat plane with a tricky shader that fakes a 3D perspective and draws a grass according to the camera view angle.
VFX
All visual & shining effects are made using low-poly 3D objects and simple shaders with fast procedural animation.
Perspectives
Made by @omega.c
Coachella created the idea of the mirage; a portal-like concept that would spread the spirit and joy of Coachella all around the world. I wanted to create an interactive effect that lets the user create a rift to the mirage by their movements. You can see the iconic Coachella skyline peak through that rift and transport yourself to the event. The waves irradiating from your body connect to the idea of feeling the vibe of Coachella and sharing it with the world.
Tobe Nwigwe's Rift
Made by @aesethtics, @‌vega.us & @‌ceej.vega
Ceej Vega:
For our Coachella experience "Tobe's Rift", I wanted to remain as authentic as possible with Tobe's aesthetic and creative vision. I used his iconic 'sage' set as inspiration and decided to recreate his world in AR for fans to experience. He typically performs with his live band in this set, so the inclusion of instruments was a must.
We used instruments in the scene to add an element of interaction. As users navigate the fully immersive experience, they were able to tap to activate instruments that played a stem from one of Tobe's singles. A combination of all active instruments would sync the stems (including Acapella, Background Vocals, Bassline, Keys, Drums, etc) to play the full track. The set also included empty picture frames which we took the opportunity to add an additional layer of interaction. Each frame was filled with photographic moments of his journey when a user taps.
Additional Team Members on the project:
Seth Brown – AR Dev
Finn Dudek – 3D Modeling/Texturing
Luminous
Made by @paigepiskin
I was so grateful to be a part of this amazing project. For this year's makeup look, Coachella wanted to create a look that was creative with a mirage theme. So I created 7 different makeup looks and a mirage-like aura. For the face makeup, I combined gems, eyeshadow colors, and in some a liquid-like eyeshadow shader. For this liquid shader, I worked with an animated noise patch by one of my favorite creators, Josh Beckwith. I used a lot of render passes to make the aura. It starts out with a delay frame segmentation, and then I used a normal patch to turn it to a liquid-like look and continued to add different effects to it like noise, for a heat wave feel, and sparkles glows and chromatic aberrations!
HOLOFLUX'S Rift
Made by @helena_dong & @guvencozel
Helena Dong:
In collaboration with cyber-physical architect Güvenç Özel, Holoflux's Rift was created as an AR extension of the monumental installation, Holoflux, for the festival grounds.
When Güvenç and I first connected, he already had a compelling concept in mind. Together, we refined the narrative and methodically mapped out the time-reactive states that would correspond with the sculpture's physical transformations, which comprised a day mode, sunset mode, and evening mode, each requiring distinct movements and materiality.
Prototyping began with the evening mode, as it relied on a system of particles that would flow around the structural entity following custom paths, simulating a flocking effect with diverging branches. This was achieved by exporting the 3D coordinates of each vertex within a Bezier curve from Blender and using those values to drive the particles. Credit is due to Yegor Ryabtsov, whose tutorials on particle modifiers were invaluable.
The next phase of the project involved creating mutative materials for the modular objects and imbuing them with the ability to transition over time. Between 6 am and 6.30 pm, opalescence and silver chrome dominated the scene. Then, as the evening progressed, these materials gradually gave way to transparency and assumed the form of luminous wireframes. This part of the logic was built using script and patch bridging.
With the materials and animations in place, the remaining step was to calibrate the position and orientation of the AR elements. I passed the project file to the team in Palm Springs, who finalized the install and ensured a cohesive integration with the artwork.
Having also participated in the Coachellaverse in 2022, this has been a breathtaking journey that I'm grateful to have been a part of once again. As I reflect on the myriad of AR experiences produced for this year's Mirage, it becomes apparent that the true driving forces behind this campaign were the passion and ingenuity of the AR community, fostered by a deep sense of trust from our partners at Coachella and Meta. From the on-site installations to the artist-branded effects, this collective effort informed new facets of creativity in the festival landscape, and I look forward to seeing where this takes us next!
THE MESSENGERS' Rift
Made by @csavenables
I was first invited by Meta to partner with Kumkum Fernando, an amazing artist whose sculptures were turning into Coachella installations. Coachella wanted a digital experience to sit alongside the x3 70-foot tall, physical sculpture installations. From there the brief from the artist described what they wanted to communicate and how the personalities of the three sculptures needed to be brought to life.
We further discussed different animations, and I had to create the textures and materials from scratch and all of the procedural animations in Meta Spark studio. The most fun and interesting part of the whole process was actually flying out and being on site helping the rest of the team troubleshoot, set up the on-site installation, and on-site editing and testing last-minute tweaks and changes before the effects went live and the gates opened.
On-site Team:
Artist – @kumkumfernando
Meta – @itsliannebaron & @tombrrrt
AR creators- @lukehurd
Coachella was a life-changing experience for me, working with an incredible team to produce beautiful immersive experiences at one of the largest festivals in the world, it'll be hard to top!
Harmony the Hare
Made by @balraj_bains & @‌icybitch3d
Isabel Catherine Yayla:
I had the pleasure of collaborating with Coachella to create Harmony, the virtual pet that experiences the festival journey with you. The creative process behind our AR experience, Harmony the Hare, was a collaborative effort between myself, Balraj, and the Coachella Team.
From what originally started as an image of a bunny created by the Coachella Discord Community, Harmony came to life the more we worked on her. It began with extensive brainstorming sessions, where we came up with ideas and sketches for a virtual pet filter that would be both entertaining and immersive for festival-goers.
Balraj Bains:
It all started when the Coachella discord community imagined an AI-generated sidekick called 'Harmony the Hare' from which I wanted to imagine how we can let the user almost forget there is a screen between them and this character. We discussed various visuals and interactive elements which I built out in Meta Spark and Isabelle built the hare model and base textures in Blender. I added a fur shader to add softness which incorporated volumetric audio-reactive rainbow spots as she helps you discover the music festival!
Building out the many aspects of the logic was a continual process and considering we had 2 weeks, it was a spring. I made a script to check what minute of the day it is to transition between sunset/rise, day and night fur. I also tested out movement-based interaction which works on your up and down position in relation to her. When you're close to the ground she will turn and run to you, but if you suddenly stand up, it scares her to jump away. That involves taking screenshots of values whilst moving up and down which was an interesting process, almost a workout. There are music shapes that appear the stronger the bond you have with Harmony.
Overall we wanted a fun audio reactive to accompany you through the festival!
Isabel Catherine Yayla:
Once we had settled on the concept of how we wanted Harmony to look, I began sculpting the 3D model, detailing every aspect of its appearance to create a realistic and engaging character. I then rigged the model by adding bones throughout the body so I could control its movement. Then I animated the character with over 20 unique animations, including jumping, sitting, and eating grass.
Additional content provided by icybitch3d
To enhance the user experience, we wanted Harmony's appearance to change from day to night. So I textured the model so that it would morph from a light blue in the morning to a golden color at sunset and then to a dark color at night, creating a truly immersive experience that would reflect the changing environment of the festival. This involved extensive testing and experimentation to achieve the desired effect.
Additional content provided by icybitch3d
After the model was complete, I sent it to Balraj, who set up the Spark file and integrated the animation sequences. I then worked on creating mist around the character using a frame-by-frame animation style to place all around Harmony. Once she was complete, I then created additional 3D animations of the character, adding even more depth and personality to the filter and experience.
I used a variety of tools and software throughout the creative process, including Blender, Photoshop, Procreate, Substance Painter, After Effects, and Meta Spark.
Working with Coachella was such an incredible opportunity, and we learned so much throughout the creative process. From developing new techniques and workflows to collaborating with others to bring our vision to life, every aspect of the project was a learning experience.
Overall, it was an absolute pleasure to work on this project, and we are thrilled to share our hard work with the world.
The integration of AR and digital experiences at Coachella has great potential to expand what reality is, making it more interactive, immersive, and engaging. This is just the beginning of a new era of experiences, where the boundaries between the physical and digital worlds will continue to blur, opening up new possibilities for creative expression and user engagement.

As an XR designer who had the incredible opportunity to work on an AR Coachella experience, I feel that this was an exciting and innovative way to enhance the festival-goer's experience by bringing the digital world into the real world.
BeckyChella
Made by @synergystudio.io
The AR experience is inspired from Becky G's artistic direction for her performance at Coachella. It is composed of a virtual world with 3d ambiental elements including the flowers and cactus abstracted from the dessert scene. These elements are audio-reactive and will move to the rhythm of Becky G's live performance. The experience is also composed of a person segmentation that emits an aura with the colors of the sunset inspired in Becky's manifesto for Tresluce. Te luce bien. Celebrating your true authentic light and colors complimented with four selfie looks with Tresluce's make-up delicately integrated.
The 3d ambiental elements are curated to compliment Becky G's live performance and stage set. The transparency and iridescence in the 3d flowers and cactus seek to reflect what is being presented, adding another dimension to the spectators' interaction with Becky's performance evidencing how everyone is connecting Becky G's music and vibration with and to the elements moving to the rhythm of the sound.
With each tap, the user will unlock a different look. Honoring self-expression and authentic beauty. Adding a fun complement to one's unretouched beauty. The words – te luce bien – are made with rotulos. A traditional Mexican hand-painted technique for lettering, giving voice to the dreams, the boldness. The unapologetic confidence. Color and culture.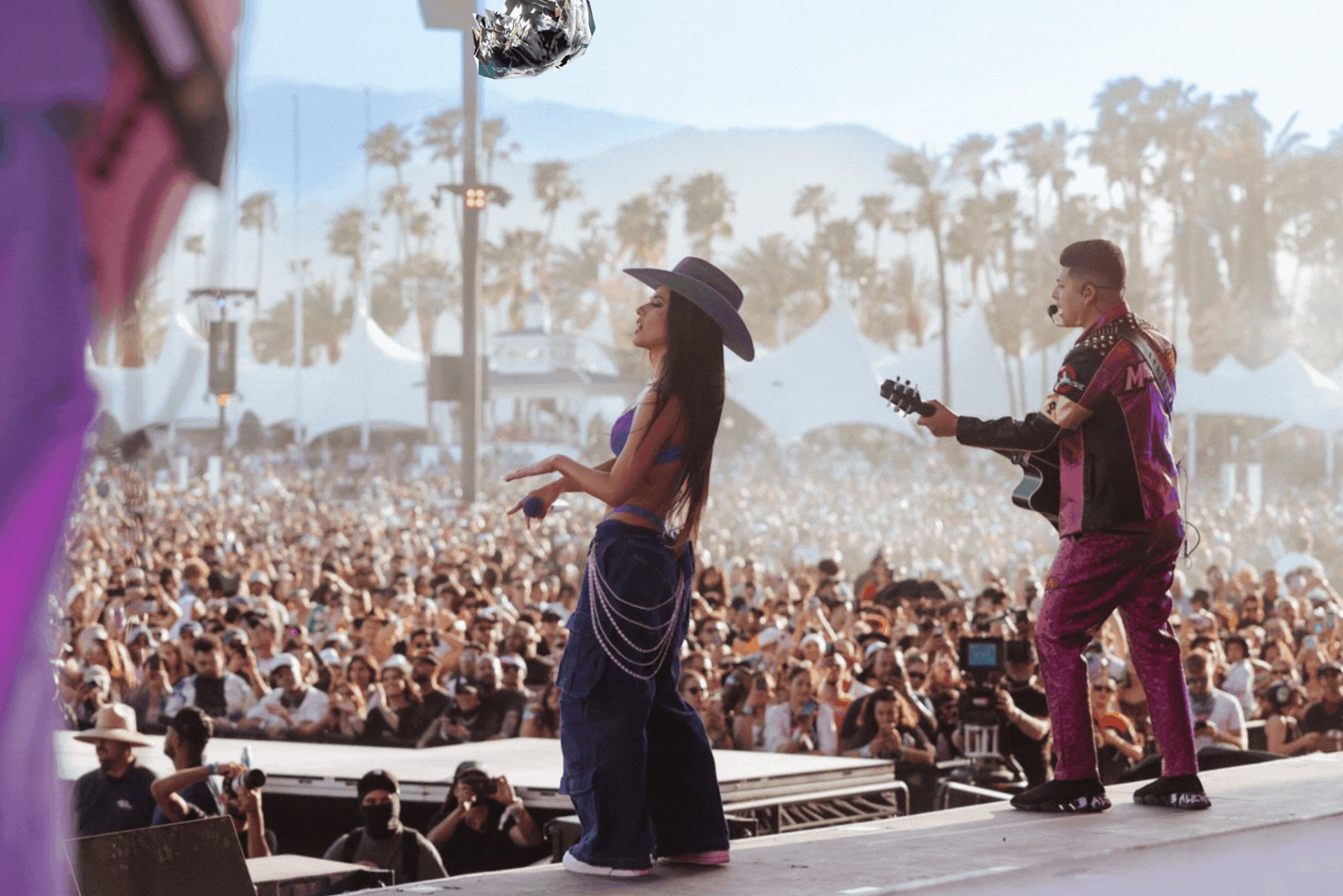 Check out the whole process 👉here👈!
EDEN'S Rift
Made by @bethwickerson
Eden's Rift was an AR installation extension for Maggie West, and it was groundbreaking in so many ways. It was the biggest installation of West's career, Coachella's first photography installation and it was also one of the world's largest 3D color photography installations, reaching heights of 56 feet! With photos mounted on steel structures, Eden was double-sided featuring cool tones on one side and warner hues on the other. The original concept for the AR extension was to create clusters of flowers on either side and have a few pieces floating mid-air in between. As the project evolved, we realized we needed to bring everything off the ground and the arrangement transformed into a floating bouquet with the AR pieces hovering above and smaller pieces continuously floating up into the air.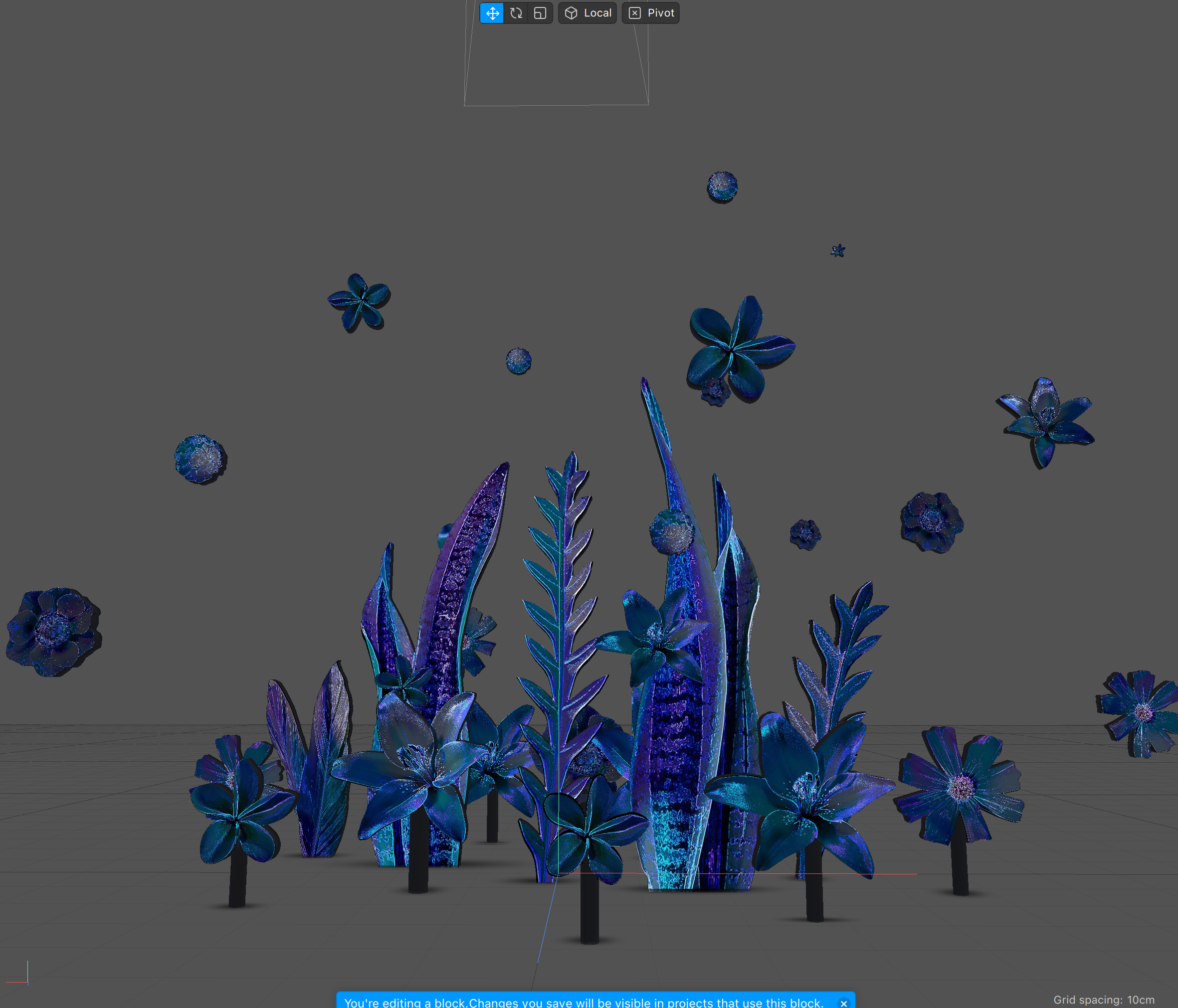 Like many of the on-site installations at Coachella this year, Eden also featured a nightly projection show, which added endless variations in color and light. To complement the night projections on the physical installation, the AR flowers would also adjust to display a new set of bioluminescent image materials at dusk. I created four versions of texture animations to complement the night projections. They were incredibly intricate and highly detailed SVG animations, I am so happy to have created them, but in the end, for such a large-scale piece we opted to use only the night-look photographs as the textures. Like the entire site-specific experience itself, it existed briefly to connect the artwork and the viewer in a new dimension, but the ability to reimagine the scenes lives on indefinitely.
Mirage Oasis
Made by @gijswahl, @dunawaysmith, @lukehurd, @willselviz, @janmahavan & @itsliannebaron
Gijs Wahl:
For Meta x Coachella I was invited by Lianne Baron to synthesize the artworks created by my collaborators Heather Dunaway Smith, Jan Trejo & William Selviz to create a grand finale to a scavenger hunt: The Mirage Oasis. The effect was to contain the three flowers made by my co-creators, and the guiding motive of their fusion was to be the desert Mirage: a source of energy emanating from the flowers, the visitors, and from the landscape itself.
In order to establish a relation between these three I developed a floating installation that is at once geometric & organic, technical & natural, like music. Its placement as an augmentation in the landscape makes it real and tangible, while its audio-generative movements, transparency, and its changes over time make it fluid and mysterious. I wanted to relay the visitors' focus from the present and the objects that surround them to what connects the present to the future: their own dance through time.
This collaboration exemplified my favorite way to work: to be challenged and inspired by each other and to invent and experiment with new material in a small amount of time. Too little time for thinking all too much creates this unmistakable nervous energy that feeds creativity. For me this way of creating doesn't feel like building something, but as if the work just grows up all by itself.
This was a massive project (the Meta Spark mainframe was designed by Luke Hurd and the Mirage motive guiding all the Coachella AR by Denis Rossiev) that came together through the work of 6 different creators, and I'm still glowing with pride to have been a part of it!
New and beautiful things happen when people dare to bring their differences and put them together. Collaboration is creativity.
AR Flower
Made by @dunawaysmith
Coachella is a music festival held in the desert, which was themed "Mirages" in 2023. When I began to think about mirages, I realized that they offer us exactly what we need the most, when we need it most. In the desert, this means water. It fuels all of life, transforms the world around us, and flows through each of us. So, I looked to water for inspiration: the way its presence (or absence) shapes the world, its mesmerizing movement, and the way it reflects the changing sky.
In many ways, water mirrors our reality back to us. My mirage flower does the same. It changes color and shape based on the time of day when you find it. And, since Coachella is a music festival, I also wanted to create a piece that responds to music (in real-time), so, the petals and stamens change scale and color based on what the flower hears.
After receiving a creative debriefing for the Coachella and Meta teams, I met with the other artists to collaborate and create a unified vision. After that, it was time to hit the ground running. I am an illustrator, so my process always begins with sketching. I typically start with an "inspiration" illustration that captures the overall design, vibe, and color palette. That illustration will be the guiding light for the rest of the build process.
Most of the 3D elements were sculpted in VR using Gravity Sketch. (VR sculpting has become my new obsession. It's unbelievably gratifying to capture your physical gestures in 3D form.) I also used Blender to model, add materials, and animate my 3D elements. Adobe After Effects was the tool I used to create the animated textures for the petals. Finally, I brought everything together in Meta Spark. Using the scene workspace, the patch editor, and a little bit of code, I was able to add the time and audio interactivity, lighting, particles, and much more. Then, it was time for my Twilight Desert Blossom, to join the other treasures in the AR scavenger hunt.
The unbelievable amount of creativity (and hard work) involved in this year's Coachella is truly mind-boggling. Without a doubt, it was one of the most ambitious and beautifully executed AR campaigns I've ever seen. It was next level and I'm so honored that I got to be part of it.
Coachella App Module
Made by @triggerxr
Kevin Chan:
Created in partnership with Goldenvoice and Niantic, we created the Mirage Explorer, an AR experience within the Coachella Official App that invites fans to interact with their environment and unlock their creativity through an energy source known as the Mirage.
The Mirage is fueled by the collective energy of artists and fans from around the world. Therefore, we wanted to find ways we could have an AR experience that could be enjoyed by both fans at home and festival goers alike. Ultimately, we decided on a concept that simply requires the user to tap on their screen. With each tap, our experience would generate festival-like butterflies, vines, and flowers on the walls and ground of their environment.
Each piece of greenery was procedurally generated, spawning with randomized combinations of color, size and shape. What resulted was an experience that was unique to each fan, as no two experiences were completely the same.
What did the process of organizing such a worldwide event look like? How does it feel to connect all people in one place working towards one digital vision?
Lianne Baron (@itsliannebaron) – AR Partnerships at Meta
Luke and I will be sharing much more of this vision in depth during our talk at AWE 2023 in Santa Clara, happy to encourage folks to keep an eye out for that.
To pull together this many of the world's top AR Creators in collaboration with Performing Artists and Installation Artists required a highly efficient approach to communication and understanding of the workflow for a program of this magnitude. It started off as a vision to continue the narrative established at Coachella 2022 where we explored AR in the Coachellaverse, and have that evolve to what became The Mirage this year – the dimension where creative energy exists and connects the artistry that fuels the Coachella Valley Music Festival.
Working closely with the Innovation Team at Coachella, I wanted to include as many AR Creators in this program as possible and really explore what it means to collaborate on such a high-visibility project. We ended up engaging 15 of the world's top AR Creators who built an incredible collection of 21 effects for The Mirage. Along with my teammate Tom Bourret, we met weekly – and even more frequently towards the event date – to ensure all projects were moving along as intended.
We staggered release dates for the effects, with several released in advance of the event:
⭐ The Rift (Welcome Box) | Denis Rossiev & Olga Isupova
⭐ Performing Artist – BLACKPINK's Rift | Matthew Chen & Denis Rossiev
⭐ Performing Artist – Tobe Nwigwe's Rift | Ceej Vega
⭐ Luminous | Paige Piskin
⭐ Perspectives | Adrian Steckweh
To manage the effects launched at the festival, our team arrived on-site four days in advance to calibrate and refine. Our small but mighty team consisted of myself, Tom Bourret, and Luke Hurd as project leads with Sophie Ye for internal product support. Tom managed the on-site Art Installation calibrations, Luke was the lead on the "Gather Together" Scavenger Hunt.
⭐ Art Installation – Guvenc Ozel & Helena Dong | Holoflux's Rift
⭐ Art Installation – Vincent Leroy & Charly Bourgain | Molecules' Rift
⭐ Art Installation – Maggie West & Beth Wickerson | Eden's Rift
⭐ Art Installation – Kumkum Fernando & Christian Venables | The Messengers' Rift
Scavenger Hunt – Gather Together
Art Direction and final build: Luke Hurd
⭐ Scavenger 1 – Oasis Serenity Flower | Jan Trejo
⭐ Scavenger 2 – Desert Twilight Blossom | Heather Dunaway Smith
⭐ Scavenger 3 – Solar Flare | Wlll Selviz
⭐ Scavenger 4 – Unlocked final Gather Together AR Art Installation | Gijs Wahl
We added a Coachella 'sidekick' effect only two weeks before go time:
Harmony the Hare – Balraj Bains x Isabel Yayla
And had two unpublished Performing Artist collabs that ended up being exploratory studies with work by:
⭐ Kyo Park
⭐ Isabel Palumbo
As well, we worked with Piper Zhou to imagine a world with a wearable AR wristband (in true Piper style!)
And last but not least, I tied in my program created to support and encourage the young women of Girls Who Code to work with performing artist Becky G as the onsite performing artist collab, led by Nadia Tamez and the team at Synergy Studio.
To manage this grand scale a project required efficiency – I refer to it as The Triangle where you have:
⭐An Innovative Partner: Coachella is very well experienced in the AR landscape and speaks the technical language needed to have quick conversations to keep the project moving
⭐Creator Pairings: Pairing the right Creator to the experience – not just based on their skill set but their capacity to manage themselves in a fast-paced build and also have an understanding if the experience resonates with them, so they bring the 'magic' to the final effect
⭐AR Product Support: Essential for quick troubleshooting and building a solid experience
Ensuring you have all elements of The Triangle is essential to effectively manage this massive scope of work!
Massive shout out to all of the people who contributed to make Coachella 2023 the grandest collaboration of AR effects + creators that I have seen to date.
⭐⭐⭐
And there it is – all of the amazing creations designed for this year's festival, created by the most talented ARtists. 🧑‍🎨 As expected, Coachella stepped up to the challenge and it turned out to be an impressive event full of immersive experiences, that allowed attendees to dive into the digital world and enjoy live concerts at the same time. 🥳 We are already wondering what they will have in stock for us next year… 👀