Branded Showcase | Filtre Experience: Fashion Week's effects' show-off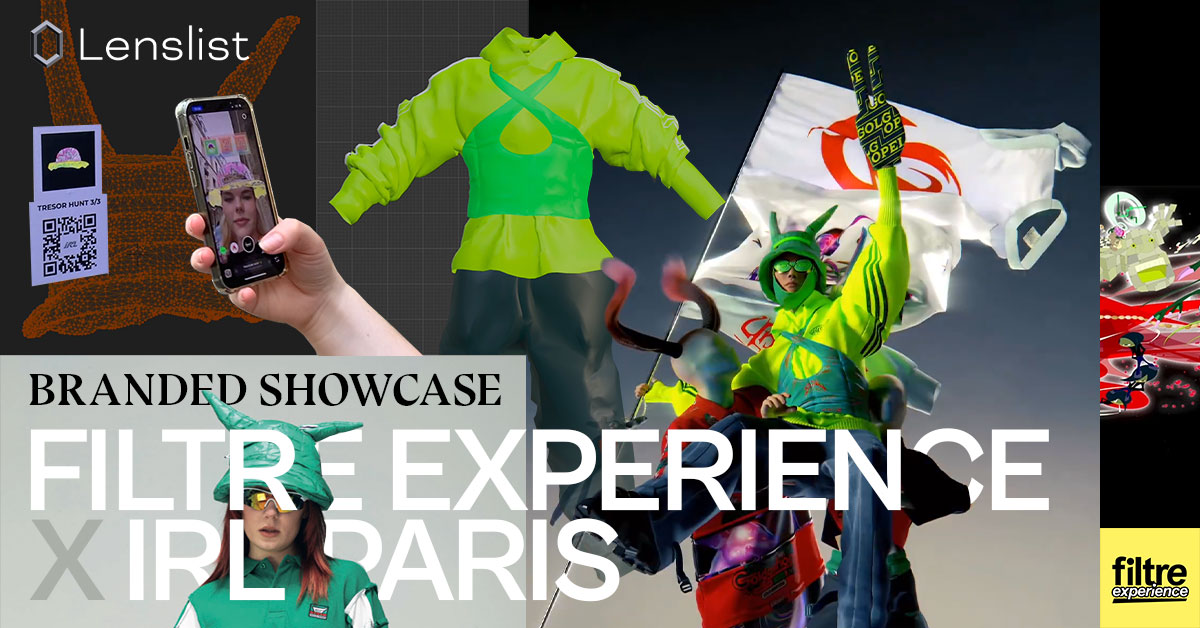 We've already introduced you to Filtre Experience, but the studio's not done surprising us with their work in the AR World. 🤯 Now it's time to showcase the company's latest project, and Bastien Saroléa told us all about it. Everything you need to know about the collaboration with IRL Paris for this year's fashion week is right here, ready for you to unveil all of its secrets. And we must admit – it's impressive! 🔥
This digital journey will bring you to the stunning world of fashion, with Augmented Reality used to accompany it in the most creative ways. 👠 Whether you're in a mood for a real-life scavenger hunt, or want to have fun with the AR try-on, Filtre Experience took care of everything. And the best part? They told us how they did it!
Are you interested? All you have to do is look below 👀⤵️

What was the starting point of the collaboration between Filtre Experience and IRL Paris? Who approached whom and how?
IRL Paris is a streetwear event happening during the fashion week in Paris. It's focusing on new emerging fashion brands that are used to release drops an that have a strong digital influence.
We were put in contact by the awesome GLGTH design studio based in Paris with which I'm used to work with.
IRL Paris needed urgently some AR developer to make theses AR experiences working in 10 days, and I'm glad we did it.
Treasure Hunt
A virtual treasure hunt to collect 3 digital clothing pieces in Le Marais, in Paris.
The cool thing with this effect is that it's using the cache feature from Meta Spark to write on the local phone storage. That way we can find an object in the city, close the app, then later, when we re-open the filter, it remembers that we found the previous objects.
That's a great option for collecting stuff in the real world.
The Wall
A giant AR wall art of 26 meter long.
According to the Meta Spark documentation, you could use the Target Tracker in fixed mode to trigger your effect once then have it working on the 26 meters. But it did not. So I had to fond another solution.
I ended up using the planetracker in an unusual way:
1. Detect any stable plane (floor, etc.)
2. Display an overlay at screen and ask user to align it with the real image in real world, tap the screen
3. Once tapped, the whole effect position is adapted to the real world image and it's now fully trackable like a normal AR World Effect on a very long distance.
A week later when I gave another workshop I understood that this technic could be really useful for different use cases, basically when you need to exceed limits of Target Tracker.
AR Mirror
Third effect is the classical AR Mirror for a Virtual Try-On.
So I tested the Lens Studio 3D body tracking capability to make an AR Mirror for the fashion week in Paris. That was a crash test and as of now, it's not performing well enough to be presented to brands as a new marketing solution. The cloth physics is way too sensitive (even with small values) and the body tracking is lagging and most of time breaking. It feels like using the Kinect few years ago…
There are other technologies in the market like Zero10 that works a lot better for an AR Mirror. However, Zero10 is only meant to be used as VTO – you can't have all the cool AR stuff you could have in Lens Studio. I'm hoping that Lens Studio will improve their 3D body tracking quickly.
What are the 3 most important things to keep in mind when creating a fashion AR effect?
As of now, if you want to use Lens Studio for a full body VTO, I don't think it's a good idea. It's not working properly enough to be showcased.
Unfortunately, your audience will get the exact opposite feeling. Instead of something great, beautiful and innovative, they'll notice bugs, lags and weirdness.
Instead of a full body VTO, focus on full multiple animations around the body. Think augmented decorations instead of clothes try-on.
E.g.: Put different graphical elements from your campaign turning around your audience in 3D. Get the wow effect by focusing the user on enjoyable elements like this example from Zero10 X Coach.
How was the collaboration going? Was it hard to both develop these effects and then set them up for the event in such a limited time?
Yes doing all theses 3 experiences in 10 days only, was really challenging, it went fine and following that I'm now very excited to be invited to build similar things for one of the biggest streetwear event in the world, the Complex Con. in California, during November 2023.
⭐⭐⭐
Digital fashion is one of our favorite types of self-expression, and we are always happy to see it thriving. 🌸 And luckily, the community is full of people with crazy amount of passion and creativity to do it!
Of course huge thanks go to Bastien and Filtre Experience for sharing all the knowledge and experience gained from the project. It was a truly inspiring adventure! ✨
Find more of his work on the global filter-experience website here, and on the French website here.