ARound the World – How XR is Redefining the Travel Industry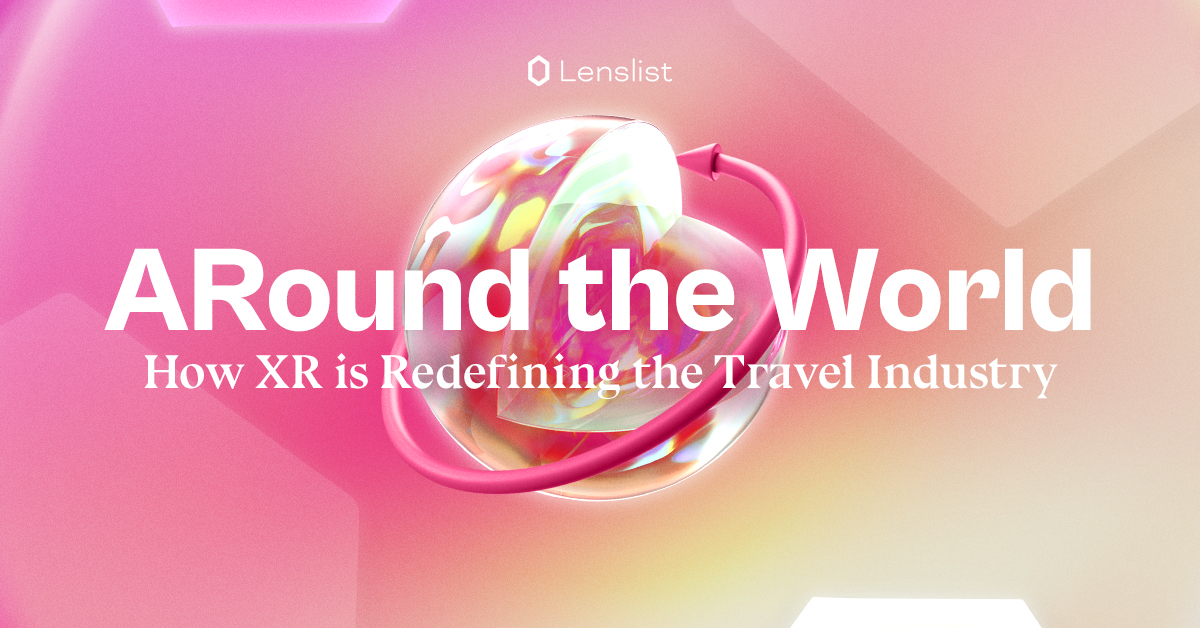 Travel is essential for our growth. We can, of course, learn about unfamiliar places from books or the Internet, but it won't replace the amazing thrill of exploring and experiencing in real life everything our planet has to offer. The digital sphere can, however, coexist with real-life traveling, making it an even more interesting experience.
One way to do that is through Augmented Reality, which is already revolutionizing the way we experience the world and culture. Whether it's because of the geo-location filters, or making festivals a much more interesting experience through implementing special AR features.
And since we're officially mid-summer, it's about time to present you with a last-minute digital travel guide!
It sounds a bit counterintuitive, doesn't it? After all, we travel mostly to take a break from technology and for once focus our eyes on something different than our small screens. But when you think about it, AR can really be a useful tool to enhance the experience, without leaving us feeling disconnected from reality. But how exactly can it work? Well, there can be a few ways to do that.
👉 AR Travel Guides
👉 360-degrees view
👉 Geo-location filters
👉 Digital exhibitions
👉 Festival features
All of them can be also used in different ways. To make it less complicated, we can divide it in two categories: practical tools and entertaining features, that enhance the experience, making it more fun for us as tourists.
Practical travel tools
Traveling is complicated. As much as we want to enjoy the experience, there's always a layer of stress that comes with planning a trip. While technology can't take all of the trouble from us, it can turn out to be a great support in the process. Let's take the language barrier, for example, which is the most common obstacle in going abroad. Luckily, apps like AR translator can help us navigate through foreign surroundings without getting lost. You don't have to waste your time on writing everything into the translator, or take a picture and wait for it to convert into text. All it takes is scanning the area, and translation pops up right on your screen!
We can also find AR features in the two most important areas of planning a trip: food and accommodation. With hotels, 360-degree view is probably the most common feature, that can provide not only helpful information but also fun, aesthetic features. For example, Holiday Inn used AR as an additional tourist attraction for its guests, by implementing a virtual display of celebrities that stayed in those hotels. Some accommodations, like the Mansion or Premier Inn, decided to use this technology for informative purposes to see brochures or maps of the area through your smartphone's screen. In restaurants most often Augmented Reality is used as a way to display the menu. Apart from practical benefits, it can also become an additional creative feature, by adding 3D animations to simple text.
Our favorite inventions, however, are the AR Travel Guides. It's a map, GPS, and an encyclopedia all in one! Apps like CityGuyd, Zumoko, or City Guide Tour will help you in discovering all secrets of the visiting area. All you have to do is open the app and point your camera at the surrounding area. Voilà! All of the information will pop up on your screen, making it easier to absorb information visually, instead of searching for everything separately on the internet. No matter if you want to know more about the landmark's history, or find the nearest restaurant – AR Travel Guide will do the job perfectly. In our opinion, it sounds quite revolutionARy.
Enhancing the experience
If we look at the short history of AR, we quickly notice that it bloomed with the release of Niantic's Pokémon GO. And even the game itself could be connected to the travel industry. Since the area of the scavenger hunt wasn't restricted, the character could follow you literally anywhere. While no one specifically booked a trip just to go on a digital journey with Pokémons, it was common to see a lot of them near landmarks, or other areas popular among tourists. And this trend is still alive! Niantic did it again with the Peridot App, which allows your digital pet to join you on your vacation.
We can confidently say that geo-location filters are the base of AR tourism. This mix between GPS and Augmented Reality can completely transform the experience, for example by visualizing how a particular place looked in the past, witnessing a historical event unfold before our eyes, or even transporting you to the world of your favorite TV show. And it's truly a unique experience. After all, normally we couldn't see dragons flying around, wouldn't we?
While visiting at least one museum is an obligatory part of the trip for most people, some still find it a bit boring. But we're way past that! Nowadays, most galleries use AR not only to make the experience more interesting and engaging but also to make the educational process easier through the visual use of technology. Not to mention it's a great way to find out more about local artists since they often collaborate with museums on creating such displays.
Muséum national d'Histoire naturelle
The exhibition came to life through collaboration between Muséum national d'Histoire naturelle in Paris and Microsoft. The name of the display, Revivre (To live again) was referring to the story of extinct animals that visitors could observe through dedicated Lenses as if they were alive now.
The Art Gallery of Ontario, Toronto
This spectacular exhibition had one goal: to prolong the standard time visitors are spending looking at one piece of art. To make that come true, digital artist Alex Mayhew worked with The Art Gallery of Ontario to create a one-of-a-kind experience called ReBlink. Through the mobile app, visitors could interact with displayed paintings, and see them act as if they were living in the 21st century.
Art of London AR Gallery
On the contrary to the exhibitions mentioned before, this one was happening live in the streets of London. Both historical and contemporary paintings were displayed from Trafalgar Square to Green Park, available to all locals and tourists. The National Gallery collaborated with the Royal Academy of Arts and the National Portrait Gallery, to bring 20 art pieces to life through AR.
But we can't talk about summer traveling without mentioning festivals. And those are always filled up with AR Experiences! We already mentioned this year's Coachella, which at this point we could also call the Landmark of Augmented Reality, but it's not the only example of how technology is transforming the experience. Whether it's a photo frame that you can use to take a themed selfie, or dedicated experiences during the event – you can be sure there will be something to play with! The good thing is, we already wrote about it! Find out everything about AR in festivals here.
What's next for the travel industry?
These are just some of the examples, but the truth is that the possibilities are endless. As always, when we talk about technology's impact on the industry, we start to think about what the future holds. And seeing current trends on the market we can't shake the feeling that AI will have its own impact. If you know what questions to ask, artificial intelligence can already be a great help in the process. Preparing the whole plan for the trip, finding the best flights, and showing you the most affordable accommodations are just some of the things that AI can do. Of course, right now technology can only do so much, and we can't forget about bringing our own brains with us on the trip. But in a few years – who knows! Maybe having the summer of our life won't require lifting a finger?