Everything you have to remember from Lens Fest 2022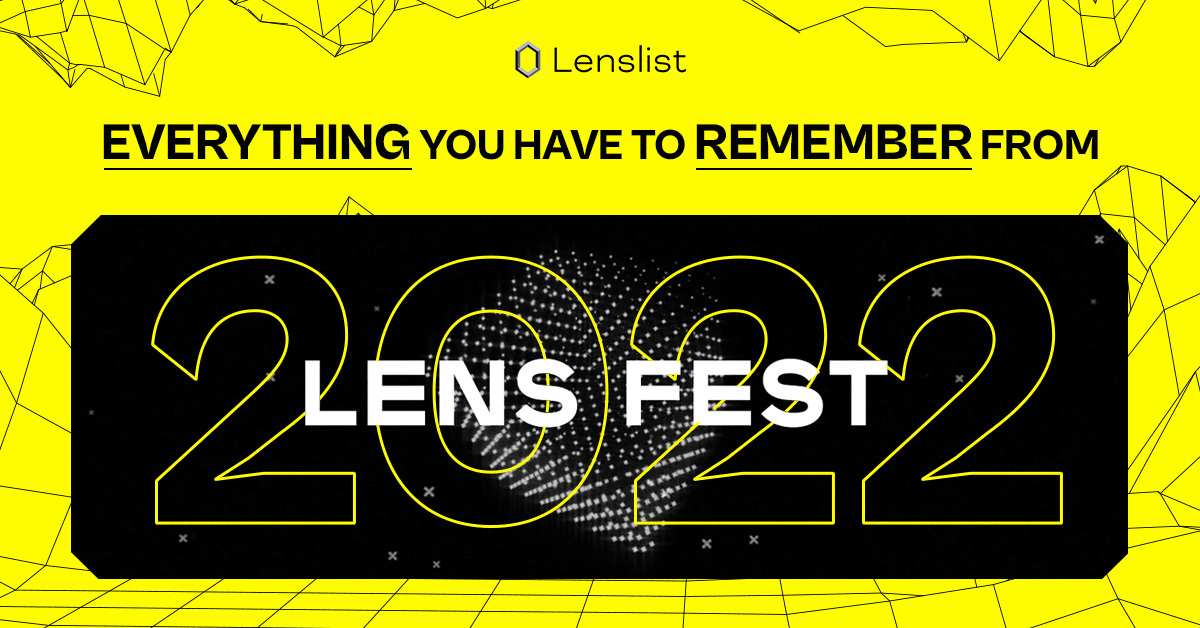 Among the rise of high-tech novelties and competitive search for innovative solutions worldwide, Snap AR has been a powerful playground for turning visions into reality for a couple of years now. With such a broad AR ecosystem, every year brings new updates and stories worth sharing, from success stories of partners to memorable projects. To celebrate the constant growth of the AR Community, including artists, developers and brands, the fifth edition of Lens Fest brought together all the AR essentials from 2022 – marking the most important stops along this year's Snap journey.
During this edition we could listen to the Snap AR team members, industry experts, and various brand leaders, witnessing the changes and new opportunities in the Snap AR ecosystem, including new monetization opportunities for AR Lenses on Snapchat, a throwback to some of the top Snap AR-powered experiences, and revolutionary new product updates across Lens Studio, Camera Kit, and more.
Learning from the AR Community and Brands 🙌🏻
What fuels the growth of Snap AR are the people – visionaries, artists, developers and brands, coming up with new and even more unique ways to use the power of Augmented Reality. It keeps pushing us to explore how we can engage the Community on the daily-life level, as well as surprise clients with never-seen-before mARketing ideas.
With Snapchat's ecosystem amounting to over 300,000 AR Creators and Developers contributing to more than 3 million AR Lenses this year, Lens Fest spotlighted some of the most successful projects that once again prove how AR builds and enhances AR experiences.
Jump into some of the most creative visions this year!
Building a Fashion Lens With JEVELS
Building an Interactive Play Lens With Balti Virtual
New monetization opportunities 💰
During the conference, Snap AR announced new monetization opportunities for AR Lenses on Snapchat, including the ability for developers to build Lenses with digital goods that users can purchase with Snap Tokens. This innovation is set to open up new ways for Snap AR developers to earn money building compelling Lenses. Some of the current In-Lens Digital Goods projects involve Phil Walton's Potato Lens with its extra-stylish accessories, customizable earrings from JEVELS or The Booth by Bryant.
In addition, Snap AR launched Lensathon, a global competition in which developers can compete for a total of $200,000 in prizes by building revolutionary Lenses using Lens Studio's advanced capabilities.
Product updates in Lens Studio and Camera Kit 🎉
Lens Fest wouldn't be the same without exciting updates in Snap's advanced AR platforms – Lens Studio and Camera Kit. Developers will be able to use a new feature, called Lens Cloud – Remote Assets, which allows users to store up to 25MB of content in the cloud and get access to your assets anytime and anywhere!
For Camera Kit enthusiasts, an upcoming update will be a big step towards utility and accessibility, as Snap is introducing web-based experiences.
The Future of (Snap) AR 🚀
The questions arise on the subject of what we'll see in the future of Snap AR's story and what more it will offer – whether it will be even more advanced AR Spectacles or steps towards the metaverse. One thing, however, is for sure – Snap AR is moving towards creating an ecosystem, where AR will be the foundation of innovative, captivating advertising, and the market in general. Mike Boland, Chief Analyst of ARtillery Intelligence and Editor in Chief at AR Insider, compared AR to the early days of the internet, stating that it will eventually meet and exceed expectations, but it will take time to fully develop. He also mentioned that the shift from selfie cameras to world-facing cameras and the increase in practical AR Lenses are indicators of AR's maturity as a market. Fun and practical? AR is both!
For the fifth time, Lens Fest provided a valuable opportunity for AR Developers and Creators to learn best practices, discover new monetization opportunities, and stay up-to-date with the latest developments in the AR world. It also served as a celebration of the global community of Lens Developers, who have built more than 3 million Lenses for Snapchat and their own mobile apps, and whose creations are used by more than 250 million Snapchatters on average every day. That's some numbers to be proud of!