10 AR Filters' Creators You Should Follow | April 2022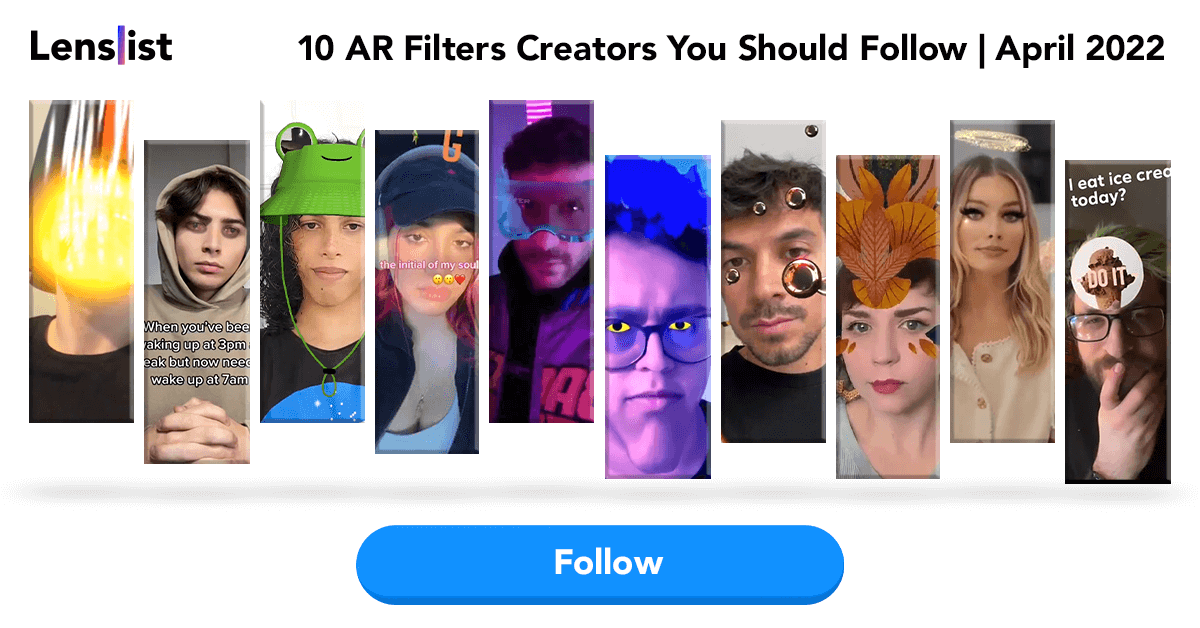 💛 ShARing is cARing! 💛 That's why today let's share some inspiring AR wisdom and hear out amazing stories straight from the Creators! We love scouting around for creative minds across the world and the AR platforms. 🚀🌎 The variety of styles, different experiences, artistic backgrounds is precisely what brings the Community together in our 10 AR Filters' Creators You Should Follow – April edition. 🌸 Let them refill your batteries and try out their favorite Effects! 👀
Ollie Tyler

@ollietyler
London Based Creative Developer & AR Technologist, with over 5 years in the interactive technology industry. A huge passion for Augmented Reality and creating memorable and exciting experiences for a large variety of users across Marketing, Ecommerce & Just for fun!
I have been building AR experiences for Marketing for the past 5+ years for a range of big companies, and have used that experience to build some exciting social and community effects! In the future I am going to be looking at creating some bigger AR experiences and games that span outside of socials and into the wider app and web space.

With filters especially on Tiktok, I aim to create filters that can be used to tell a story and allow the users to take reign on where the filter goes, for example my crying eyes filter was created with the aim as something you could use to show yourself trying and failing to hold back tears, which created some hilarious storytelling opportunities.

Going forward I am going to aim to publish each of my filters on Tiktok, Snap and Instagram simultaneously so they can be used in each of the the platforms Tiktok-like explore (reels & spotlight)

– Ollie Tyler
Contato Ravel

@raveldias
AR Creator and 3D assets designer with a unique, cute, angelic aesthetic. His Instagram is filled with magical Effects, creative compositions, tutorials and Ravel's personal artistic showcase.
Well, when I started making filters I always tried to make filters that I had never seen before so that I could be a Creator with different filters and different styles. So since I started making AR filters I've taken several courses where I could improve my knowledge on the subject in order to always improve the quality of the filters so that the user has the best experience on Instagram.

– Contato Ravel
Pegah Fallah


@pegahcode
Up-and-coming AR Creator based in Canada with several viral Effects in her portfolio. Her goal is to create AR experiences that are loved by all. Some of her other passions are software development, crypto, and 3D art!
My main motivation for making Augmented Reality filters is seeing the creative ways people use them. Seeing the different trends people start using my filters for is super rewarding and usually hilarious. I generally make any random filter that comes to mind with the goal that at least one person will find joy in using it. I started my journey in January 2022, and so far I've mainly been making gamified/interactive filters, and subtle beauty filters.

My background is in software development, and I love learning about new technology, which is where my interest in AR began. I love being able to add a second layer to reality, animate spaces, and bring any concept to life. I use AR as my outlet for creativity and strongly believe in its applications in many industries. My plan for the future is to continue creating experiences that people love, and to further evolve my skills in AR.

–
Pegah Fallah

Allan Gregorio

@allangregorio
Allan is a Brazilian-born artist with a keen interest in the limitless potential of new digital formats present for creativity and artistic expression. With a huge AR portfolio, a lot of experience with brands and many exhibitions, Allan is sharing his visions with everyone around.
My inspirations come from many different places. I tend to believe that you bring to your art all the movies you have seen, the places you have visited, the music you have heard, the people you have loved, etc.. – I was drawn to the fantasy world from an early age too. Harry Potter, X-men, Animes, MMORPGs and anything related to it.

I am happy to use AR as a tool to express myself and help people to express themselves too. It's very beautiful to see many faces around the world wearing my creations and sharing stories with others.

– Allan Gregorio
William Willson

@willlenscreator
20-year-old Creator based in Australia, he's been making Effects for about 2 years now and fell in love with AR since the very first day. The process of learning has been very exciting for him and he can't wait to be a part of the future of AR!
I have come a long way in my Lenses creations. I have become more advanced in VFX, materials and scripts. I can still remember my first Lens and can't believe how far I have come since then, many skills have been developed. My inspirations come from life experiences, imagination and also sometimes from films I've watched.

My future plan is to try and keep creating and improving these skills I've learnt along the way. I also hope to make Augmented Reality the future.

– William Willson
More Filters Instagram Snapchat
Bruno Wendricky

@bruno.wx
Bruno is an AR Creator based in Brazil and his AR journey started back in 2019. Since then, he's worked together with many brands and apart from creating fun Effects, he uses his skills to spread AR among students and educational fields in Brazil.
Hello, my name is Bruno, I'm from Brazil and an AR Creator since 2019. In this journey I worked with several incredible brands such as: Taco Bell, Microsoft, Vivo, Clickbus and others. I started studying Augmented Reality because funny filters started to spread across Brazil, but I didn't have any on the topic I wanted – students. So I decided to create my first filter and I loved this area. I always thought about how I could use that tool in real life and not just makeup, phrases, games so I made my first project for the students – a project to use Augmented Reality within public schools in São Paulo.

My inspirations come from my day life, something I saw on the street, a movie I watched, a series, etc. I try to mix a little bit of each style of filters and I always make filters that I can use. From now on I want to dedicate myself to getting to know other Augmented Reality platforms and be able to have my work known by more people and brands.

One last piece of advice for anyone who is a Creator or who wants to be: don't give up. Sometimes it seems like we don't have cool ideas every day, that we're out of the trends, but know how to respect your limits and at the right time, good ideas come!

–
Bruno Wendricky
Allan Berger

@aln3.0
Allan is an AR Creator and a 3D artist based in Vienna. He's also a Founder of Enlive Studio, an AR agency working with brands worldwide, and he has built his own 3D garden on Instagram. All his skills and experience meet together in Augmented Reality.
Hi, I'm Allan, based in Vienna and I work in the field of Augmented Reality and 3D. For me it's all about staying curious, exploring and working with new technologies. I'm fascinated by patterns, textures and shapes of flowers and love to intersect them with the fiction of the future and the world of digital fashion. I am grateful to have had the opportunity to work with high profile clients from a variety of industries and amazing artists through Augmented Reality. Find out more on my Instagram profile.

What I love about AR and Filters is that you can express something in so many individual and interactive ways. I think it's very exciting that skills like storytelling, creativity, motion graphics, 3D, and coding can all come together beautifully in AR.

With the introduction of Filters on Facebook and Instagram in 2018, I founded an AR agency "Enlive Studio" where our team provides services to a variety of global clients in Europe, the Middle East, and the North America region as Spark AR Partner.

I am very excited and curious about the future of AR and VR.

– Allan Berger
Heather Dunay Smith

@dunawaysmith
Heather Dunaway Smith is an XR artist that blends storytelling, illustration, animation, interaction, and audio into immersive art experiences. Her work has included award-winning mobile games, virtual worlds, interactive museum exhibits, interfaces for AI-generated art experiences, and AR/VR artworks.
In AR, anything is possible. So, I try to push my imagination to its limits. I'm hoping to inspire curiosity about what might be possible in the real world. Perspective shift is one of the greatest gifts that art can offer us and AR is the perfect tool to create it. When people are reunited with their sense of wonder, wonderful things happen.
I'm interested in blurring the line between art and audience, by creating experiences that listen, adapt, and play. I feel like when you offer true agency, experiences are more personally meaningful, because people feel ownership over them.

– Heather Dunay Smith
More Filters Instagram Snapchat
Ana Paula Lopes Angelo

@bloganap
Since the very first time Ana saw the Effects on Instagram back in 2017, she has been actively creating and revolutionizing marketing and art through Augmented Reality. Her favorite aesthetics circle around fun, cartoon, beauty and magical vibes, along with some inspirations from Korean culture.
My name is Ana, I live in the south of Brazil and I got to know Instagram filters in 2017 with the Effects that Instagram launched. In 2018 I made a video on my YouTube channel talking about Instagram filters and how people could find and use them. At the time there were very few Creators launching the Effects and this video went viral and brought a lot of followers which encouraged me to review the new Effects daily in my stories, indicating the releases. In June 2019 I started to study Spark AR and became a filter Creator. I like to focus on beauty, angels, cartoon and funny effects for people to have fun with the experience and now I'm taking a chance on game filters too.

To inspire me to create, I pay attention to what people have been consuming on social networks, some hot topics, to see if I can adapt it for some Effect that people like to use. I really like Korean culture too and it's another segment that inspires me to create Effects.

– Ana Paula Lopes Angelo
Dan Schenker

@heydanschenker
Dan Schenker is a strategist and photographer from northern New Jersey. He's probably exhausted from chasing his two young kids around or collecting too many hobbies.
I've been making AR filters infrequently since 2019, but it's really picked up in 2022. I had been building out my portfolio as a 360° photographer and was looking for a way to let my followers interact with them virtually. I followed a tutorial to publish a 360 portal Lens for Snapchat and I was hooked from there!

Since then, I've mainly focused on silly or irreverent kinds of filters. I'll throw a randomizer sticker on someone's face or put a giant AR banana on my dining room table. How else would people on TikTok learn clearly VERY important information like what kind of bagel they are?

I'd love to continue collaborating with Creators and brands to dream up new and interesting ways to engage their audiences. AR isn't going away any time soon, and I'm excited to help folks dip their toes in as it becomes more prevalent in our daily lives.

– Dan Schenker
Oof, what an amazing dose of fresh stories and creativity! 🤩 Seeing how each of the Creators has grown makes us very proud and excited to see what they'll come up with next. 🚀💪 Check out even more awesome Creators and stay tuned! 👾