Acute Art: How art culture settled down in the virtual world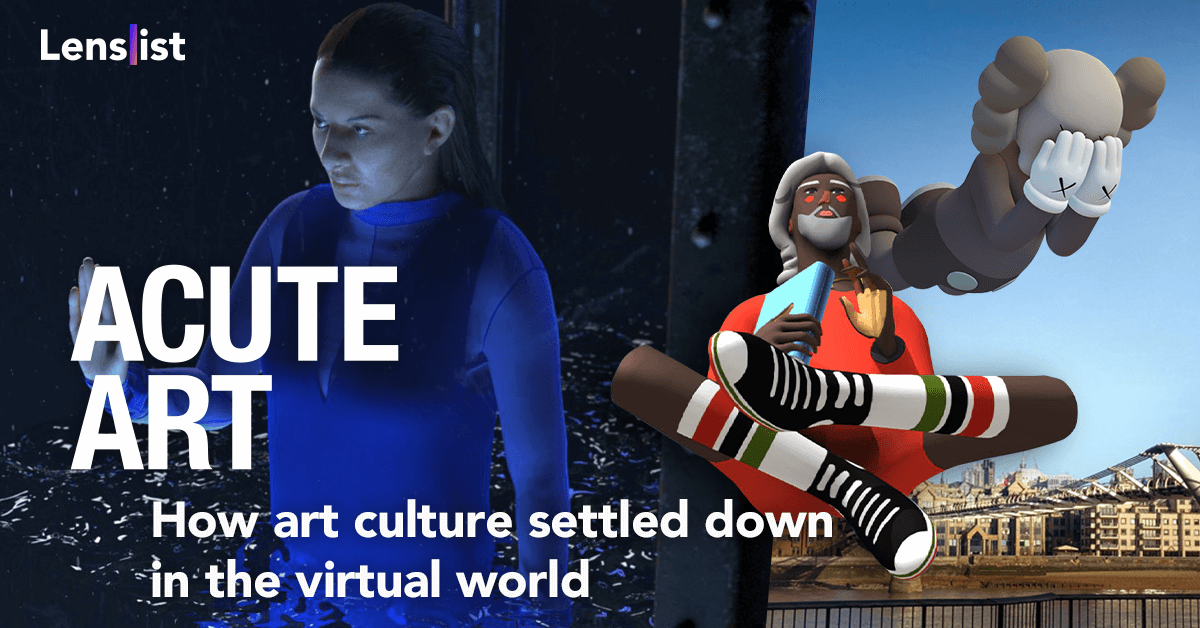 An app that gives you artistic freedom. A platform that features worldwide artists. A virtual exhibition on your phone. A digital portal that takes you to an art gallery – where you decide what piece of work you'd like to place in your room, or… anywhere. Meet Acute Art – a creative space bringing together artists and technology to deliver something that goes beyond what's known as traditional.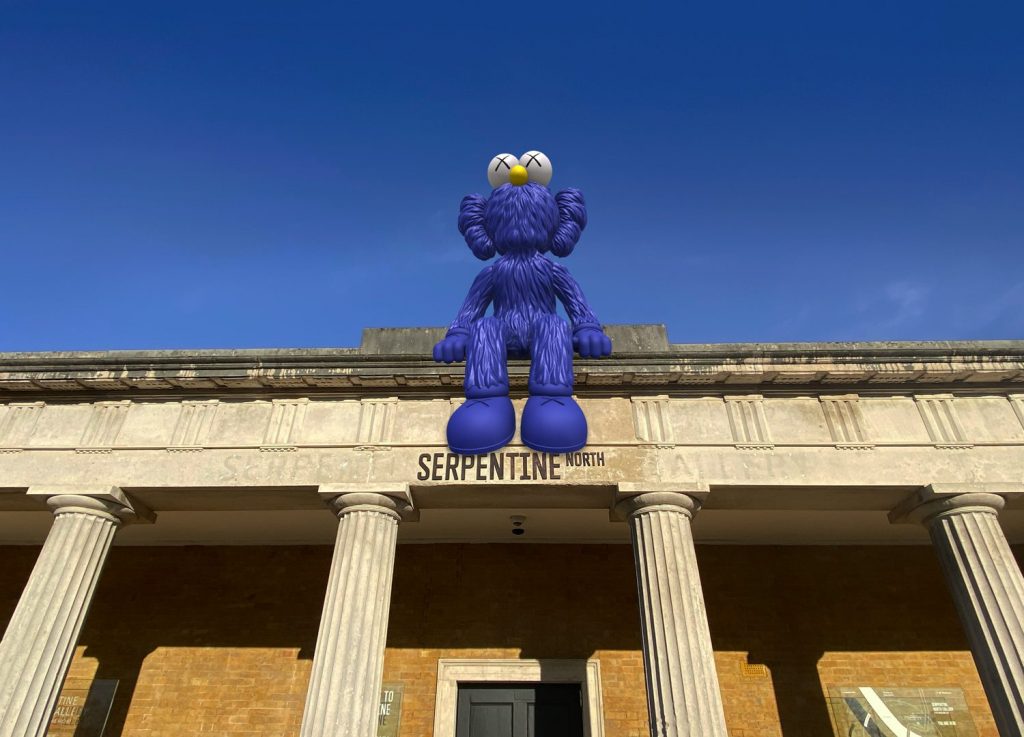 Acute Art KAWS New Fiction
What exactly does Acute Art offer to its users and how can artists take their projects a step further? Through the Acute Art website, a free app or other creative media, users can fill their spaces with renowned artworks, interactive installations or projects made by artists all around the world – it acts as a curator, digital partner – you name it. Founded back in 2017 by Gerard De Geer and his son Jacob, then since 2019 directed by none other than an iconic name among artists – Daniel Birnbaum. With a master plan and a mastermind, the Swedish art critic led Acute Art on the digital path – filled with AR, VR, outstanding collaborations, virtual galleries and a perfect blend of traditional and digital art, or – engineering base and artistic expertise.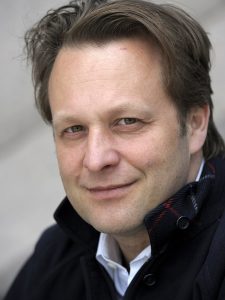 Daniel Birnbaum
Acute Art makes its field, its resources available to artists, and gives them a tool, a space to experiment with new media and new technologies – such as Augmented Reality – which adds so many valuable layers to existing artworks. The relationship between the user and the art itself tightens, becomes widely accessible, yet at the same time very personal and intimate – each person interacts with it differently, chooses to see the installation outdoors, or maybe place a sculpture in their room. AR lets art transcend the physical world and become flexible and adjustable.
There are truly no limits – both for the users and the artists. Artists always seek new ways, unconventional steps and innovative media – Acute Art marks all three.
The history of Acute Art's featured artists and collaborations is filled with creative genius from around the world – names like Marina Abramović, KAWS, or Jeff Koons do ring a bell, don't they?
When visionary minds meet technology, a digital performance begins. Some of them are delivered through VR, like Marina Abramović's Rising – where users face her being locked up in a tank filled with polar ice melting or Jeff Koone's Phryne – taking users on a walk in a virtual idyllic garden where they meet a metallic ballerina.
Teetering on the brink of virtual and real worlds, some installations, sculptures and artworks let users experience a story in AR. Dreams of a cloud levitating above our heads or placing the iconic KAWS artwork in our own room are now real – and available for everyone on the AR-powered Acute Art App.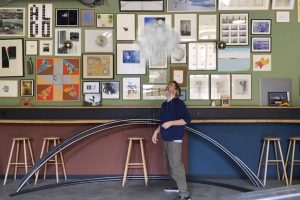 Acute Art Olafur Eliasson WUNDERKAMMER
Art works as a therapy – and with AR it becomes so much more individual and intimate. Imaginary Friend, a virtual sculpture created by Nina Chanel Abney, is a levitating character that accompanies you through all your worries and with calming words, anywhere, anytime – becomes a user's personal talisman.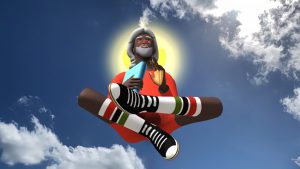 Acute Art Nina Chanel Abney Imaginary Friend
A projection that integrates with people's surroundings and lets them see more – artists have realized that going beyond traditional 2D models opens so many not-yet-explored ways of experiencing, feeling and understanding art. It allows artists to think about space and how art corresponds to it. What's more, people tend to feel more connected to art that is placed in a space they know or feel comfortable with.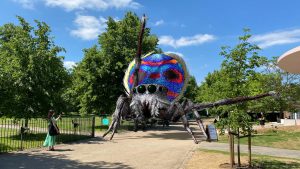 Acute Art Tomás Saraceno Webs of Life
How our space can be managed, how it can be expanded digitally and transformed into a virtual gallery – is another aspect of the future of art, a very metaverse-like one. In a world absorbed by the pandemic, tools like Augmented Reality took over like a storm and opened a door to a whole new dimension of exhibitions. The most recent collaboration, which sparked a lot of interest among not only artistic society but also the gaming community, is one created by KAWS, Acute Art and London's Serpentine Gallery.
NEW FICTION, KAWS's first solo exhibition, apart from physical artworks, included those viewed in AR and… virtually in a worldwide-famous game Fortnite. Known for multiple in-game concerts, Fortnite did something that was never done before and that can turn the virtual art world over 180°.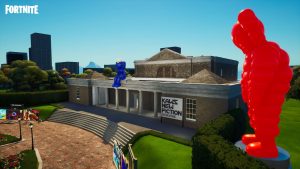 Fortnite KAWS New Fiction
Parallel worlds: the real one in London and the virtual Serpentine Gallery replica – in Fortnite Creative. These two worlds created by KAWS mean that engaging people beyond the exclusive art sphere has become possible and this art is accessible to everyone, whether physically or virtually, and what's most important – can happen anywhere without being limited to museums or traditional galleries.
KAWS x Fortnite exhibit had a wide appeal among art lovers, gamers and fans worldwide and is still open for visiting and exploring with a code found here.
The creative combination of art, new technologies and digital adventures is the future – where users all over the world can see beyond, interact in their own ways and discover innovative experiences like never before. Platforms such as Acute Art – with their cutting-edge approach to technology, art, artists and audiences, or, gaining popularity, virtual galleries prove just how much more immersive and engaging the relationship between a person and an artwork can become. Both older and new generations are more than ready to pave the way for digital storytelling and creating art that's unique and – collective.
Dive into the future of ARt and discover more artists, projects and recent collaborations on the Acute Art website.