10 AR Filters' Creators You Should Follow | October 2021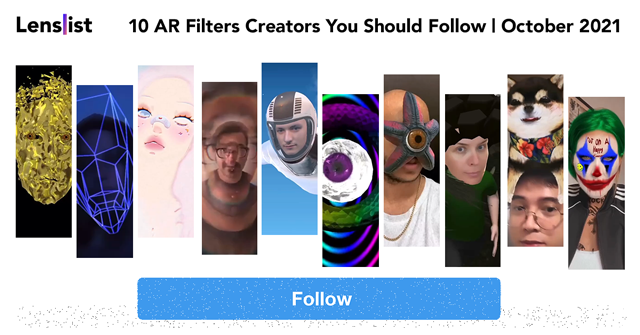 Warm up your thumbs, because we have another 10 Instagram Creators you should definitely follow! Take a look at their incredible stories and advice. Don't forget to use their filters for more inspiration 👇✨
Pierre-Henri Janiec

@janiecph
Pierre-Henri has a wide experience in creating AR filters for the music industry and other brands from different fields. He is also passionate about photography and new technologies, so no wonder his hobbies came together in a form of amazing AR designs!
I am an expert in the creation of AR filters for the French music industry. I created filters for many artists like Hoshi, Suzanne, Caravan Palace, La Femme etc.

My favored software are Spark Ar, Lens Studio, Blender, Substance Painter.

– Pierre-Henri Janiec
More Filters Instagram Website
Kevin Koci

@kevinkoci
Kevin is an Italian Creator, who has been familiar with Spark AR Studio for more than two years and finds it as an excellent medium for exploring his creativity.
Hi, I'm Kevin Koci. I can consider myself an AR creator but my background isn't related to Augmented Reality: I actually have a degree in economics.

I discovered Spark AR Studio two years ago and I started to create effects for fun.

I started learning and I saw a great opportunity to show my creativity through my effects. They go from LUTs to 3D effects, from memes to more artistic ones.

I love to see people having fun with my effects and receiving positive feedback motivates me to create more.

Now, I plan to learn more about 3D modeling so I can create more elaborate effects.

– Kevin Koci
Jio Alano

@jio.alano
Jio is a Filipino artist with a background in architecture. His main interest is 3D graphic design that he can transfer to an AR world.
I've been fascinated by graphics and 3D arts since I was a kid. Growing up, my interest just intensified.

When I took up architecture, it gave me the avenue to hone my skills more using different 3D software.

The filters that I create are mostly inspired by games I play and fantasy films I watch. The joy I get when my creations are appreciated by many is indescribable.

– Jio Alano
Mario Doblev

@doblev
Mario has been creating AR filters for 2 years now. He is really drawn to the glitching aesthetic, which you can easily discover by exploring his AR portfolio.
I'm a Product Designer and a full time AR enthusiast, I have created filters for Snapchat and Instagram/Facebook since 2019.

I would say I have a particular taste for the glitch aesthetics and that definitely gets printed on most of my AR filters.

I consider my digital artwork my own creative source of sanity, I use it as an excuse to blow some steam from my "day job".

Every time I design an AR experience I try to hide a little easter egg on the filter for those who are extra curious.

Thanks for the support using my filters! …you should definitely check-out: wariio.com

– Mario Doblev
More Filters Instagram Website
Yekaterina Koninina

@konininak
Yekaterina is a new-comer Creator from Russia with a head full of ideas! Her main source of inspiration are fantasy films, anime and her cutest 10-year-old son.
I am a novice creator, six months ago my friend asked me to make a filter tattoo. I didn't know anything about it, but my desire to help her was great. I started training. It was not difficult, besides, I received money for my first effect. I realized that I wanted to learn more and create more complex effects. In search of information, I found the community of Spark AR Creators, where I got a lot of experience and a lot of inspiration from all the creators. I am very grateful to them for openly sharing their knowledge.

A new world has opened up for me, which I study daily, pumping my skills to create more interesting effects. It was a pleasant surprise for me that my training effects after attending Spark AR Creator Days workshops were included in the Weekly Selection by Lenslist. This gave me the energy to continue immersing myself in AR creation. I plan to master the production of effects for Snapchat and Tik-Tok, 3d modeling: I just need to find the time for this. Of course, like any creative person, I have many ideas that I would like to implement. I am very close to topics with content for children, as well as covering environmental problems.

As for my style, I think it is in the process of formation. But I can say for sure that I like working with 3d models.

Since childhood, I adored anime, fantasy films, and science fiction, which contained special effects, and so I always drew inspiration from this. I studied programming at the university, I also have an art education and an experience in interior design. But my work has always been far from my university degrees, although there has always been creativity in it. So it seems to me that now I am in my natural environment, which I am very happy about. The main motivator and connoisseur of my effects is my 10-year-old son, who is studying at a VR / AR lab and wants to be a creator. It looks like we will have our own team 😄

– Yekaterina Koninina
Faith Adewale

@purpleplexed
Faith is really passionate about giving back to the community. He treats AR as the way to create art that can connect and reach millions of people all over the world.
Creating experiences with Spark AR has been a revealing and thrilling experience. One that has allowed me to create art that millions of people around the world can interact with and has also given me the opportunity to create experiences for brands and people who believe in the power of AR. It's been a smooth journey filled with constant learning, evolution, and collaboration.

Augmented reality is here to stay, so I'm building experiences that people can use over and over again, from virtual galleries showcasing talented African artists (gallery x by me and Anthony azekwoh) to branded effects that allow brands to connect with consumers organically.

Currently, I'm working daily to improve my skills and learn more (that never stops). I'm also working on creating a world-class Augmented Reality studio in Nigeria. I think the future will be exciting and I can't wait to see how we grow.

I am a functional creator, I make things that serve a purpose, so I do not necessarily have a style. Each effect was made to solve a problem, e.g game effects for boredom, virtual galleries for art exhibitions without the limits of space and time. Other times I simply make random things for fun to see where I can push spark AR too.

I'm inspired by nature, experiences, and some other amazing creators like Josh Beckwith and the brilliant Noland Chaliha. These are creators I admire and look up to in areas of expertise and creativity.

– Faith Adewale
Kate_lovepaint

@kate_lovepaint
Kate is a Russian Creator that started her journey with AR Filters back at the beginning of the pandemic. Her style is super versatile and one-of-a-kind!
My journey into the world of Art design began during a period of self-isolation. I saw a YouTube video with the lesson on creating an Instagram filter and decided to try it. And I was very carried away by it. I have taken many courses and training to improve my skills. And now I am very happy that I have such an opportunity to be creatively realized and receive a feedback for my work from a lot of people who love my filters.

AR design is a wonderful opportunity to realize the creative potential and I am glad that I took advantage of it. I am very inspired by cool makeup artists, heroes of movies, books and I try to create unusual and vivid effects – which may not be often applicable in everyday life. But I like to create something unusual and bright.

– Kate_lovepaint
Bảo My

@bomi.is
Bao My is an AR Creators based in Vietnam. She's a very experienced Graphic and Motion Designer and the aesthetic of her filters is inspired by anime and manga artstyle.
My Journey to Anime/Cartoon AR started when I was trying an Anime Filter from Snapchat. I really love how it looked with the colors and texture, everything was perfect, but the problem was that it turned me into a boy. So that's when I tried to find a way to become an anime/cartoon girl.

My inspiration comes from my love of comics and manga. I always dream of a world full of 2D and 3D characters living together, with their own unique styles and species.

I'm planning on making more filters with different art styles and interesting 2D characters, with some frame-by-frame animation integrated, to add more dynamic to the scene.

– Bảo My
More Filters Instagram Portfolio
Cybersup

@cybersup
Maria works as a freelance AR creator living in Russia. She enjoys the creation of abstract filters for brands as well as individuals. Her hobbies are musical and visual compositions and 3D modeling.
I create abstract filters for people to use in their creative work. I love it when the ordinary or the unusual is transformed into digital art.

– Cybersup
More Filters Instagram Soundcloud
Pedro Afonso

@pedroafonsodesign
Pedro is a Brazilian Creator with huge experience in Spark AR. He works with brands and always tries to provide incredible and innovative experiences to their audience.
Hello everyone, my name is Pedro Afonso, I currently work and live in Brazil. I am a generalist 3D artist and when I discovered the world of AR in 2017, I decided to combine these two amazing fields and the result was being able to bring really cool experiences to users with AR.

In late 2020, I had the privilege of being one of the Brazilians invited to become a Spark AR Partners.

Today I am working on developing my company focused on AR and 3D, however, as an individual creator I could already develop amazing works for movie releases, music releases, toys, characters, games and also non-profit projects like the Suicide Prevention campaign in the yellow September 2020.

My goal is to be constantly evolving as a professional, working with what I love, helping professionals and companies to provide amazing and innovative experiences for their audiences.

I like to make people's eyes shine with the combo of simplicity, technology, and quality in my projects, and working with AR brought me the possibility to challenge myself every day with the countless possibilities of exploring how to turn simple everyday things into experiences in augmented reality.

I thank Lenslist for bringing such inspiring work, introducing creators that have become references for me, and for supporting the creators of augmented reality.

– Pedro Afonso